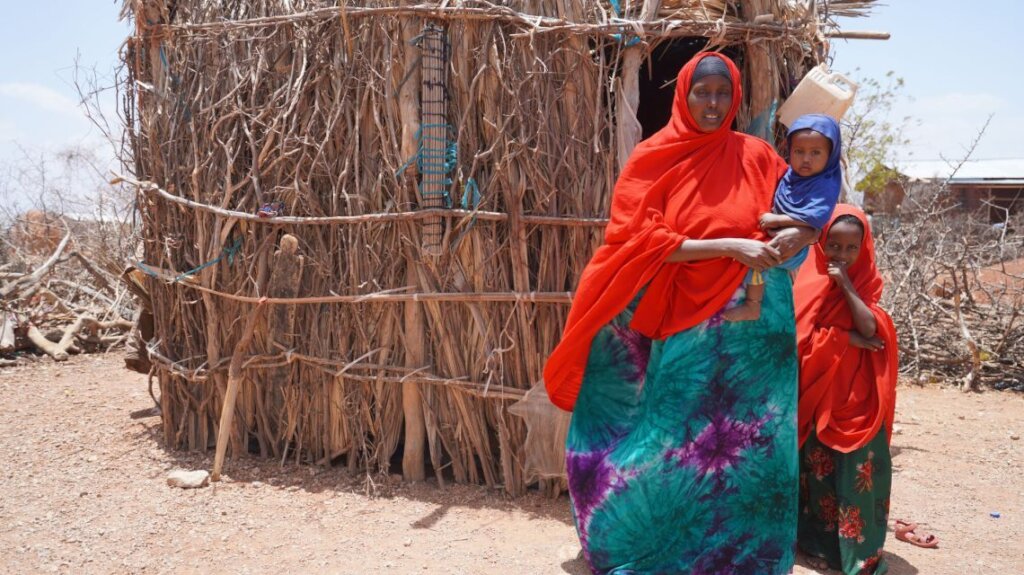 The following report has been adapted from an account written by Concern Worldwide's Emma Kelly in May 2022.
******************************************************
The Horn of Africa is currently experiencing its most severe drought in 40 years. A staggering 15 million people across Ethiopia, Kenya and Somalia - most of whom are already living in extreme poverty - are acutely food insecure. This is when a person's inability to consume adequate food puts their lives or livelihoods in immediate danger.
It is expected that this year, 5.5 million children across Ethiopia, Kenya and Somalia will be acutely malnourished, with more than 1.6 million of them expected to be severely acutely malnourished, and famine is a very real possibility in Somalia. The staggering truth lies in these facts:
One person likely dying every 48 seconds from hunger in Ethiopia, Kenya and Somalia
20 million people at risk of starvation this year
3.5 million people in Kenya facing extreme hunger
7.2 million people in Ethiopia waking up hungry
In Somalia, 3 million livestock are dead and 1 million people have left their homes in search of food and water
Most people in the Horn of Africa are farmers, and are reliant on the land and their livestock to survive. So when drought strikes, there is an immediate impact on their ability to work and feed their families.
For example, in Kenya, a drought emergency has been declared with between 80% and 90% of reservoirs and dams drying up in Turkana, its largest county in the northwest of the country and one of the hottest and driest counties in Kenya. Here, lakeside communities can no longer survive on fishing, while pastoralists are losing their livestock. More than 1.4 million animals are believed to have died in Kenya alone as a result of the ongoing drought.
The Horn of Africa's dependence on agriculture would make severe drought difficult enough to weather, but a number of factors have exacerbated the situation. Climate change has not caused the drought, but has made it worse and prolonged the conditions. This is despite the region being one of the least responsible for climate change, being responsible for just 0.1% of global carbon emissions.
And while it may be happening thousands of miles away, the conflict in Ukraine is having a disastrous impact on East Africa by creating a perfect storm for food insecurity. Ukraine and the Russian Federation provide around 30% of the world's wheat and barley. Thirty-six countries import more than 50% of their wheat from Russia and Ukraine, including Somalia, and this has led to food prices rocketing in these countries in particular, as well as Sudan and South Sudan. Ethiopia's cost of a food basket has risen by 66%, with Somalia's rising by 36% between February 2021 and February 2022.
Concern is responding to this crisis supporting health clinics to deliver nutrition assistance and providing emergency cash transfers to affected communities. This allows beneficiaries to afford nutritious food to feed their families. Our teams are also repairing broken boreholes and shallow wells and vaccinating livestock against diseases in an attempt to keep them alive during the drought.
We are continuing our work to improve access to adequate and safe water, largely through ground water abstraction infrastructure and enhanced adoption of sustainable water resources management practices in both developmental and humanitarian emergency contexts.
However, the crisis in the Horn of Africa will require a $4.5 billion (€4.2bn) commitment globally for an effective humanitarian response in the region.
Amina Abdulla, Concern Worldwide's regional director for Horn of Africa, explains: "Shockingly, we are fast heading to where we were in 2011. Many of us will remember the scale of the drought in East Africa back then, the number of lives lost, and the length of time it took the humanitarian community to launch an appropriate response and help support communities to the point where they could recover.
"For families struggling to feed their children today in parts of Ethiopia, Somalia and Kenya, there is not a moment to lose. The response is already six months too slow. We must act now."