Project Report

| Oct 13, 2020
Our Greatest Tool to Fight Malnutrition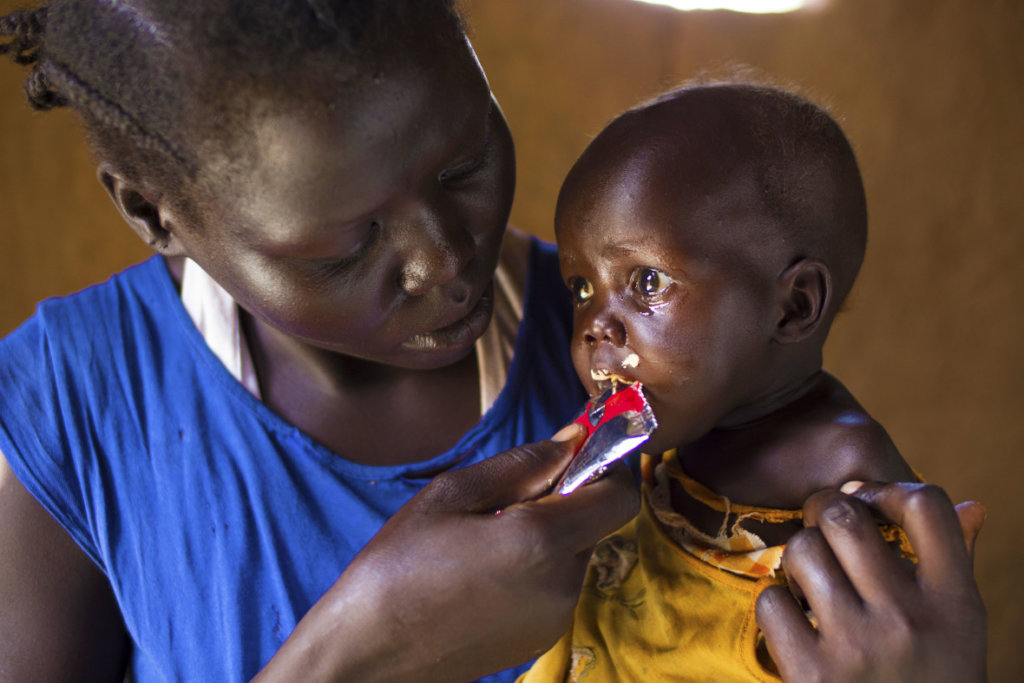 This year marks the 20th anniversary of a hallmark Concern Worldwide program, one that has revolutionized the fight against hunger around the world: Community-Based Management of Acute Malnutrition (CMAM).
With hunger on the rise in East Africa and beyond due to COVID-19, we wanted to take this opportunity to give our generous supporters an in-depth look into the development of what continues to be our key method for facing the hunger challenge head-on.
***
During the hunger emergencies of the 1980s and 1990s, children with severe acute malnutrition required around-the-clock care at therapeutic feeding centers (TFCs). The nutrients were delivered through therapeutic milk, which required on-site preparation and clean water. Because of the need for 24-hour medical staffing, TFCs were few and far between. Mothers would often need to leave their homes for weeks at a time, which meant lost work and other children left behind.
Recovery rates were low because moms would often withdraw their children before they received full treatment to return to work. Infection was also a risk in the crowded patient wards. Millions of children unnecessarily died because they were too far away, relapsed after an incomplete course of treatment, or were exposed to other illnesses.
Community-based care seemed to be the solution, but there was one more problem: At the time, there wasn't a suitable therapeutic food that could be used at home by mothers. Everything required water and if the family used contaminated water, they risked further harming their child.
RUTF (ready-to-use therapeutic food) gives malnourished children the vital nutrients they need to recover. The original and most well-known RUTF, Plumpy'nut, is a peanut-based paste served in a foil pouch. This means that it's portable, non-perishable, and can be eaten by babies who aren't yet ready for solid foods.
The exact ingredients for an RUTF can vary based on the brand, but the standard RUTF has the same features: high in calories, nutrients, and vitamins to help children suffering from acute malnutrition rapidly gain weight.
In 2000, famine swept through the Horn of Africa, threatening millions of people in Ethiopia. The government had banned TFCs as they believed them to be ineffective. This gave Concern an opportunity to pilot its new CMAM program model with Plumpy'nut.
Community members were trained to recognize the signs of malnutrition using tools like MUAC tape (which uses the measurement of a child's arm as a correlation for malnutrition). They were also trained in how to administer Plumpy'nut at home. Children were then monitored through home visits by these trained health workers.
Together, CMAM and RUTF proved to be a powerful duo. In emergencies such as famines, the child mortality rate can often climb to 20 to 30%. With the combined use of CMAM and RUTF in Ethiopia, mortality rates were 4.5%.
In 2007, the World Health Organization, UNICEF, and the World Food Programme issued a joint statement recognizing community-based therapeutic care as a best practice, setting in motion a global spread for this transformative approach.
With just small packets of peanut paste, Concern Worldwide and other humanitarian organizations have successfully treated millions of acutely malnourished children and continue to do so today.
In a time when travel and interpersonal contact must be limited for public health and safety, the CMAM model has become even more indispensable. When COVID began, Concern created a guide for health and nutrition staff to adjust the program to continue treating children experiencing extreme hunger during lockdowns and with minimal risk of viral transmission.
Thank you for your support of our efforts, including CMAM, to combat hunger in East Africa. Concern could not innovate, adapt, and grow without the generous help of people like you!