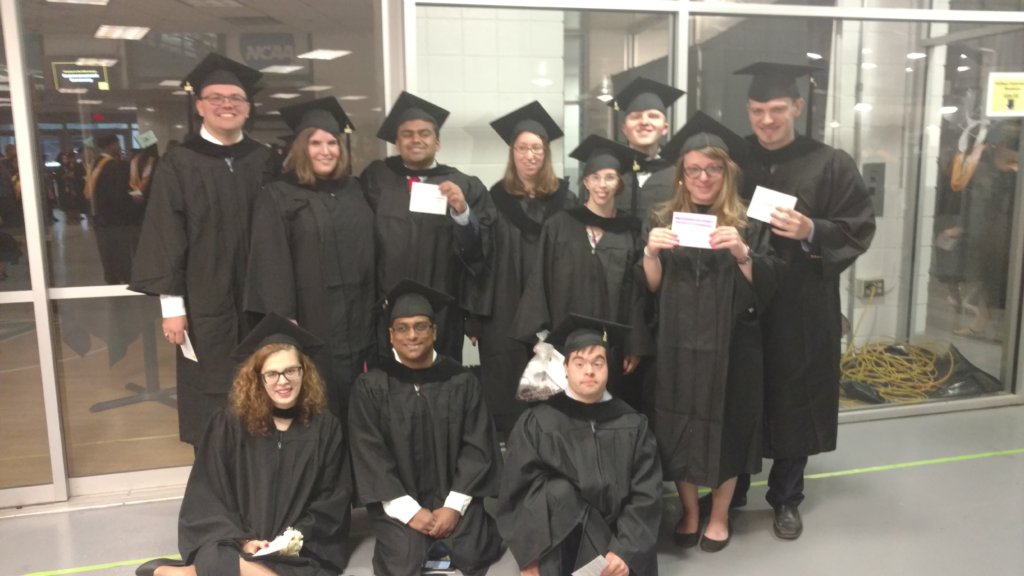 Greetings to our supporters and donors!
Thank you for making our programming possible - each and every donation has truly made a difference!
We are excited to report that The College Experience is growing by leaps and bounds. In August, we will welcome our largest incoming class to date: 21 new freshmen from five different states! During the 2017-2018 academic year, we will be supporting 39 students in total on their journey towards achieving independence. We have big things planned for the new school year!
In May, eleven of our seniors received their certificates of completion during the 94th Commencement Ceremony at The College of Saint Rose. They anxiously waited in the wings with hundreds of other undergraduate and graduate students, and when their time came to cross the stage, they all did so with confidence and grace! Now, many of our seniors are scoping out area apartments and are preparing to live independently with roommates and limited staff support in our Transitions program, beginning in August.
One of our seniors was recently featured as a guest speaker and an advocate during the "22Q at the Zoo" event in Utica, NY! Amy spoke about how her life has been impacted by her disability, Deletion 22 (also known as DiGeorge Syndrome). Amy is passionate about educating others about her disability, and inspiring others not to give up on their dreams!
We are a 12 month program, and during the summer our students continue to develop and grow during the Summer I and Summer II sessions. During the Summer I session, we were able to offer students a lot of great electives to choose from this year, including: Intro to Acting, Fashion Art, Painting, Pioneering and Wilderness Education, Intro to Blogging, Entrepreneurship, and Meteorology! Students are also enrolled in many core content courses that will help them to further their independence and understanding of what it means to be an adult in today's society, including: Human Sexuality, Bus Navigation, Summer Cooking, Recreational Planning, Social Skills, Problem Solving, Community Involvement, and Employment and Internship Prep.
During the Summer II session, students will continue with some of their courses, and they will also spend some time engaged on recreational trips that they have planned themselves! Recreational planning is an important component of our summer sessions, as it allows students to practice so many skills - from the research skills used to look up activities, to the communication skills used when placing calls to different venues. Of course, students must also use financial reasoning skills to determine if the trips are within budget! Some of the trips that students are most looking forward to include visiting the Brox Zoo and going horseback riding on a ranch. Many of our students are animal lovers!
Thank you for all that you do to support our program! It means the world to our students and our staff!
With Gratitude,
Katie Fahrenkopf