Project Report

| Apr 2, 2013
Completing the Construction of the Ecohostel
With the support of Rainforest Partnership, the communities of San Antonio and Calabaza in the Colibri Cloudforest, in Junin Province, Peru, have been promoting ecotourism as alternative and sustainable way to create jobs for the two communities. In order for the Colibri Cloudforest become an ecotourism destination, Rainforest Partnership is supporting the efforts of these two communities. San Antonio is currently completing construction of its eco-hostel and Calabaza plans to build an eco-lodge once the eco-hostel in San Antonio is complete.
With San Antonio community's master mason and master carpenter leading construction efforts, the community has embraced the construction and worked well with Rainforest Partnership's project coordinator, Eusebio Alanya Quinones. Thirty community members participated in the construction of the eco-hostel's second floor. Construction of one room and finishing touches, such as varnishing, and supplying bedding, blankets, mosquito netting, are the only tasks that remain on the second floor. The construction of the eco-hostel will be completed in early May 2013. The first floor, which has been finished, includes the kitchen and the dining room, which will also serve as community meetings. The second floor includes the bedrooms, a women's bathroom, and a men's bathroom
The community expects the business to grow and increasingly benefit the community and the cloudforest. Part of the proceeds will be reinvested in the hostel and some proceeds will go to community improvements for roads and gardens, and for reforestation. Initially, the ecolodge will create four jobs for the community in the management, maintenance of the ecolodge, as well as jobs in food preparation and guiding. The community hopes to host scientists, students, and teachers as well as tourists for a richer exchange. Although the ecohostel is not finished, the community has already hosted Professor Julio Alvarez of the University of Central Peru and his students for two days and two nights.
Overall, this project helps the communities of San Antonio and Calabaza protect the ecological and economic resources of the forest. Caring for the cloud forest not only helps to create a sustainable environment to attract tourists, but also helps the community's economy as a whole – when the cloudforest is healthy, coffee and bananas can be grown more sustainably and productively, and trees improve soil structure and help prevent landslides. Being a new eco-tourist destination, the communities hope that visitors see for themselves the reason for the landslides on the roads and the effects of a changing climate.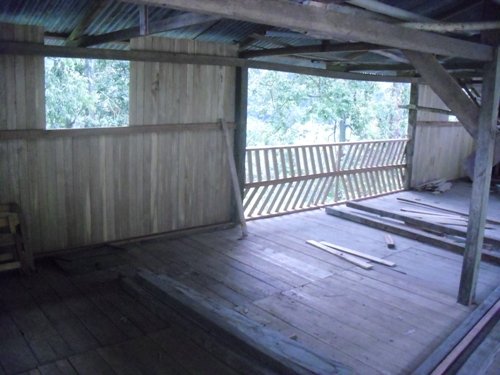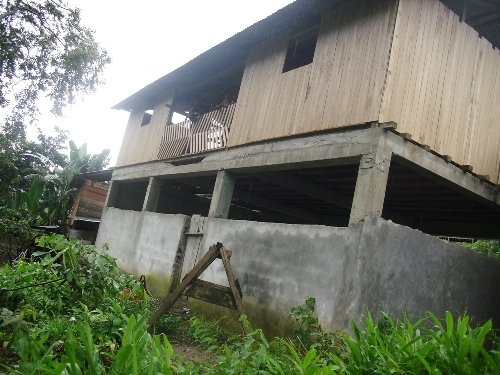 Links: