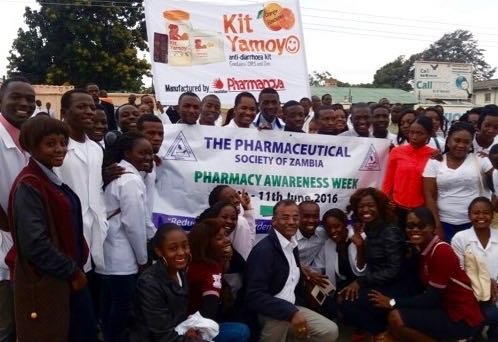 Our work is all about saving children's lives, one at a time. Until now, we've concentrated on Zambia. But this year, 2016, is the start of something big. I hope you'll come along with us!
Influencing key organisations and networks is now right at the heart of our aims. Last month, in Zambia, Kit Yamoyo was presented at the Pharmaceutical Society of Zambia's Annual Conference. There was a very enthusiastic response, and we'll now be contacting similar associations across Sub-Saharan Africa.
What's more, ColaLife is being supported by Ashoka to work on a globalisation strategy. It will focus on countries where:
we can convene a network of existing players around a market-based effort
we can have the best chance of a big impact (number crunching mapped against ease-of-access)
we can get a manufacturer, government and NGOs willing to take up our Open Source offer, as well as a guide to commercialising Kit Yamoyo (our next big job) and support from ColaLife, if they need it.
Our work on better design and distribution has also featured strongly in an international publication:
These are the key messages we're aiming to promote globally:
We are here to support local manufacture, existing systems, complementary programmes
Listen to your customers! They know what will help them.
Make it easy! Design is key: small sachets, co-packaged ORS and Zinc
Affordability and desirability go hand-in-hand
Education and awareness are key to drive demand
Meanwhile, in Zambia the work goes on. A Global Giving field-visitor, Aleia Bucci came to see our project recently. She says:
"Shop owners throughout the compound [slum area] all expressed the positive impact Kit Yamoyo has had in their community. The introduction of Kit Yamoyo has not only saved lives, but has increased the level of education surrounding prevention of diarrhoea in the future as well."
We now have:
1,220 trained small retailers, selling to communities all over Zambia
70% - 90% of retailers with stock in 6 of our 9 provinces – we're aiming for 80% across the board
Most small shops are selling between 1 and 4 kits a week to their community – our target is 1 to 2 kits
28 stores in Zambia's biggest supermarket chain selling Kit Yamoyo
Our fieldworkers update progress every week, and you can see a weekly snapshot here.
The next couple of years will be an interesting ride – stay with us!