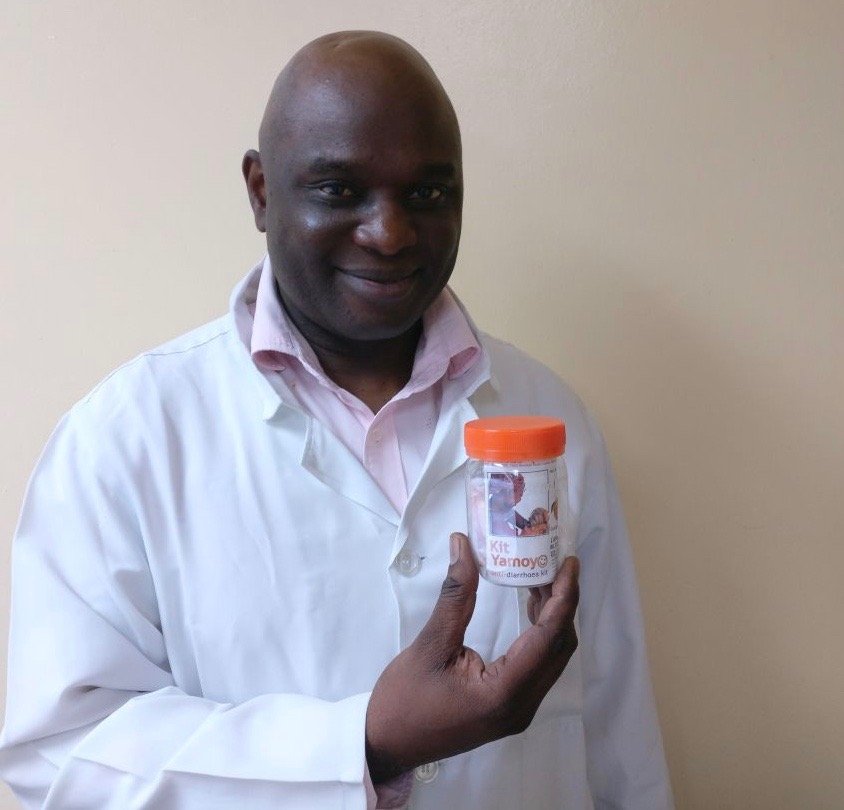 Simon and I have just finished a busy trip to Zambia. It's been great to see how much now moves on under its own steam - without us in the country. This is our strategy: to embed the Kit Yamoyo (as the 'Aidpod' is now called) and everything that pertains to it, in Zambia, so when the current funded projects end in 2018, the world's first children's diarrhoea kit adapted for home use continues to be made, sold, bought and used by parents and carers.
Still, sometimes a little trouble-shooting is needed.
Here are three highlights from our recent trip:
1) The Kit Yamoyo Screwtop to launch in Shoprite
Kit Yamoyo currently sells in two formats – the 'original', which, as well as ORS and Zinc, contains a small soap bar for hand-washing, and a new low-cost, no-VAT line, without soap. So that customers can differentiate the two versions, we are going to re-package the 'original', and launch a new, locally produced jar, beautifully designed by our packaging partner, PI Global.
Mohammed Umar, CEO of our local manufacturer, Pharmanova, went with Simon to negotiate this new line onto the shelves in Shoprite. This is not as simple as it sounds – supermarkets negotiate one of their most valuable assets – shelf space – very hard! But the aptly named Lucky Ngandu (luckily for us!), head of Shoprite's Buying Division, saw an opportunity to launch this new 'premium line' as part of Shoprite's baby promotion in April.
So, we have left Pharmanova to get production of the new screwtop up and running - in 6 weeks! Pharmanova have now taken over all aspects of Kit Yamoyo production: costing, pricing, sales and manufacturing decisions. "Don't worry," says John Chintu, Quality Control Manager at Pharmanova. "It will be done." We're not worried!
2) Mainstreaming public sector supply of life-saving ORS and Zinc
Meanwhile, in the public sector, Zambia's Medical Stores Ltd (MSL), the government distributor, has finally agreed to ship out a box of 150 Kit Yamoyo (branded as a Ministry of Health product) with every box of Health Centre supplies delivered out to the district facilities. Again, this seems like a simple decision to take. But changing a process at a government agency is not plain sailing – it takes persistence, politeness and persuasion.
Each box of Health Centre supplies, sent out bi-monthly (one box per 1,000 population) contains 100 ORS sachets (sufficient for 50 children) but ONLY 100 Zinc tablets (enough for only 10 children). Despite over a decade passing since WHO recommended Zinc with ORS (it makes a huge difference to recovery and immunity) today fewer than 1% of children in Africa get the combined treatment. The agreement with MSL is one step on the way to changing that.
Next step: lobby WHO at international level to get the Essential Medicines List changed, so that instead of two separate items, co-packaged ORS and Zinc is listed as one item for childhood diarrhoea. Again, a seemingly simple change: watch this space!
3) Launching Phase 2 of our rural market development project
We are working in 14 rural districts that are key government targets to improve child nutrition in Zambia. Diarrhoea - and in particular low Zinc levels - exacerbates malnutrition. Typically, 45% of children in Zambia are stunted – up to 70% in some areas. If a child is stunted at age 2, he or she will never reach full potential - physically or mentally.
To cover all of these districts, new staff, employed by our partner KZF, will promote Kit Yamoyo in communities, ensure government health centres order the kit, and train and support small retailers. We arrived in Zambia in time to help KZF put together a full day of staff induction, bringing in the existing fieldworkers and setting them into groups to share lessons with their new colleagues. With presentations, brainstorming, role play and technical training on the use of tablet computers, we tried to make the day both fun and productive.
Our new field worker from Chinsali district enjoyed the day immensely: "I wondered if I could do the job – but now I know I can do it and I will enjoy it very much," she told us, at the end of training.
Chinsali is where Simon worked in 1987, and where he was originally inspired by the coverage Coca-Cola could achieve to work on distributing a diarrhoea kit for children.
Thirty years later: we made it!