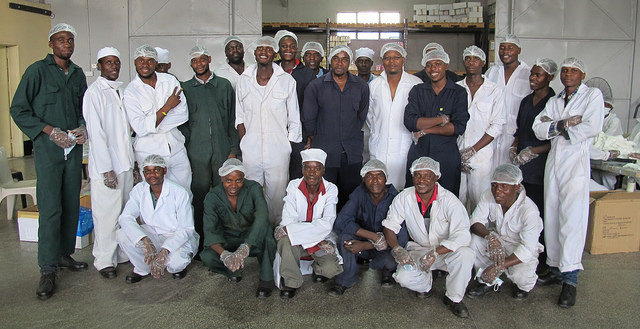 At this time of year, we take a break from the ColaLife Roller-coaster, to look back and see what last year brought, before taking a deep breath and starting on next year's targets.
At the beginning of the year, we wondered if 2015 would be our 'breakthrough' year: moving all of the learning and designs we took from our earlier trial into a self-sustaining market. We're not quite there yet, but we are ready to roll, as our Top Ten shows. We are always amazed at how much has happened in just 12 months - so much of it through the help of our many supporters across the world. So, these are YOUR achievements too - we could not have done it without you!
1. Supermarket chain agrees to stock Kit Yamoyo nationwide
Small shops are the best way to reach deep into communities in Africa – but to really establish Kit Yamoyo as a commercially viable product, available and sustainable for the long term, right across Zambia, we knew we had to get a supermarket chain on board. Well, right at the end of 2015, we did it: the well-known African chain, Shoprite, has undertaken to sell Kit Yamoyo packs - at close to cost-price - in all its stores nationwide.
The Country Director, Charles Bota, was very complimentary: "We have recognised, in the neat little Kit Yamoyo pack, a winning world class design that complies with international health standards, Zambian regulatory requirements and with what our customers want. When the right quality, pricing packaging and value is available, buying local is best for us and best for Zambia."
2. The biggest order yet!
In Mar-15 our Zambian pharmaceutical partner, Pharmanova, won an order to supply 452,000 ORS/Zinc co-packs, closely based on the Kit Yamoyo design, to the Ministry of Health. This has led to 24 new jobs at Pharmanova - a new team, engaged full-time on making the government-branded pack, as well as assembling 'Kit Yamoyo' for the private sector.
3. ColaLife wins GSK and Save the Children Healthcare Innovation Award
One of the top prizes in the world for innovation in child health, this award has really opened up possibilities for a small charity like ColaLife: as well as the prestige and the publicity, this cash prize - together with donations from our Global Giving supporters - has helped us start a major project in Zambia's capital, Lusaka. This is co-funded by the UK's Department for International Development: DfID. (See Number 5)
4. Market development in remote districts: the KYTS-ACE project
This project began in February 2015, and is helping us reach some of the most sparsely populated areas of Zambia. KYTS is shorthand for 'Kit Yamoyo Transition to Scale' and reflects our ambition to scale-up distribution across Zambia – even challenging remote areas.
5. Our best shot at sustainability for Kit Yamoyo in Zambia: the KYTS-LUSAKA project begins
We've been trying for nearly 2 years to raise enough funding to launch a big project in a densely populated market to establish Kit Yamoyo sustainably for the future. Finally, in Apr-15, we heard from DfID that ColaLife's bid had a provisional award to work in Zambia's capital city, Lusaka. The due diligence process was rigorous and took 6 months, but by October the much anticipated KYTS-LUSAKA project had begun. We have 30 months to make it a success.
6. The Cola Road film made available for download
Claire Ward - the maker of The Cola Road - an award-winning documentary covering how ColaLife started in Zambia - has made her film available for free download. It gives a beautiful picture of Zambia and the early challenges we faced.
7. Telling the world... spreading the word
ColaLife's strategy for impact is to give away everything we have learnt - from designs to data and from challenges to success stories. This year, ColaLife spoke at some prestigious venues, including the UK's Royal Society of Medicine.
8. Memorandum of Understanding signed between local partners
Our best marker of success will be if Zambia (and other countries) take on the ideas, designs, and lessons we've learnt, so that ColaLife is no longer needed. When local partners sign their own agreements to work together, we can see that beginning. By November this year, the influential Medical Stores Limited (MSL) had agreed to distribute to government health centres, and will also carry advertisements on its vehicles, at no cost, for at least a year. Since MSL's vehicles travel all over Zambia, this is a key win to advertise Kit Yamoyo widely.
9. More awards and accolades!
The awards kept coming in 2015. In addition to the GSK and Save the Children Award, we were honoured to receive the following awards and accolades:
- Resource Efficient Pack of the Year at the UK Packaging Awards.
- Finalist, with honourable mention, at the Index:Awards 2015.
- CEO and co-founder of ColaLife, Simon Berry, was elected to the influential Ashoka Fellowship of 'Social Entrepreneurs': there are more than 3,000 fellows worldwide.
10. ColaLife produces a Doctor!
In December, our Public Health expert, Rohit Ramchandani, defended his Dr PH thesis, to some the biggest names in Public Health. Rohit has given us the rigour we needed for our work to be taken seriously in the Public Health arena. Next year, we hope to see our findings published in academic journals.
Read more about our Top Ten here:
.... So, what will 2016 bring?
Well, on 12th January we fly out to Zambia to meet our new project manager. Chibale Malekani will have the exciting task of launching our market development project in the capital, Lusaka, and the surrounding province. She will be organising a wide range of activiities to get the new Kit Yamoyo anti-diarrhoea kit well known across the city, and beyond: ranging from street drama and training sessions for community health workers and small retailers in the city's 'compounds' (slum areas), to radio and TV, billboards, and work with the 'formal market': supermarkets and pharmacies.
ColaLIife would like to send heartfelt thanks to all of our supporters, and our very best wishes for 2016!