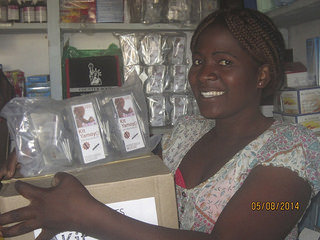 During a busy summer break back in UK, Simon and I were delighted to hear from Rakesh, who is managing Kit Yamoyo manufacture in Zambia, that 50,000 Kit Yamoyos have been sold since we began the project, just 2 years ago, in September 2012. Just under half of these kits (21,823 to be precise!) were sold with the help of vouchers - and a BIG thank you to all our supporters for helping us to achieve this. As we move forward, towards a sustainable market, we are also delighted that over half of all sales have been for cash. And, as production is now all undertaken in Zambia by our local manufacturing partner, Pharmanova - where Rakesh is Marketing Director - all the profits are going into local pockets: from the factory to the shop.
Shortly afterwards, our fieldworker in remote Katete district, Elias Lungu, confirmed that 30 cartons had arrived at the local wholesaler. These contain just over 1,000 kits - and we know that will save at least 3 children's lives. As we come into the end of the dry season, good fresh water sources can become scarce and diarrhoea becomes a real issue. Elias told us that, in just 2 days, 7 of these cartons were sold to local shop-keepers like Christine, pictured, who can improve their livehood, as well as the health of their community, by bringing Kit Yamoyo to sell to local mothers.
Now that Kit Yamoyo is available for anyone to buy, in a free market situation, it's amazing to see what happens. Six of our newly trained retailers in remote Eastern Province are from villages that border Malawi: Muchenjeza and Sindamisale. And with Africa's porous borders, Malawians are coming across into Zambia to buy Kit Yamoyo, and taking it back into Malawi - where access to good, simple medicines is, if anything, worse than in Zambia. So, market forces are helping distribution to expand - all by itself. Our big hope for the end of this year, is to get another fully-funded project, so that we can boost this process - and get Kit Yamoyo established in two more countries.
Meanwhile, the same market expansion is happening on Zambia's border with Mozambique. At Mr Phiri's shop, in Mtandaza, he adeptly shows our fieldworkers, Albert and Elias, how he teaches Mozambican customers to use Kit Yamoyo. Donations from Global Giving are helping us to continue this simple but vital training of local retailers - often miles away from any clinic - so they can show customers how to treat potentially deadly dehydration from diarrhoea using Kit Yamoyo in the home; as well as the importance of using the soap provided for hand-washing; and how to make water safe to use. He tells us he now has equal numbers of customers from Mozambique and Zambia: "Those that are Zambian, and those who come from outside, they are same-same. They like this Kit Yamoyo." Even in this far flung remote rural area, Mr Phiri has successfully transitioned from sales using just vouchers distributed by the project, to cash sales.
We know though, that not every mother can afford the full retail price needed to make the product sustainable for every one in this 'value chain' (about $1), so we were also delighted, last month, to recieve our 350th donation via Global Giving! We are now working on a simplified voucher system to help the poorest in rural areas.
Please keep the support coming - and we hope to reporting more exciting news at the end of the year! Watch this space!