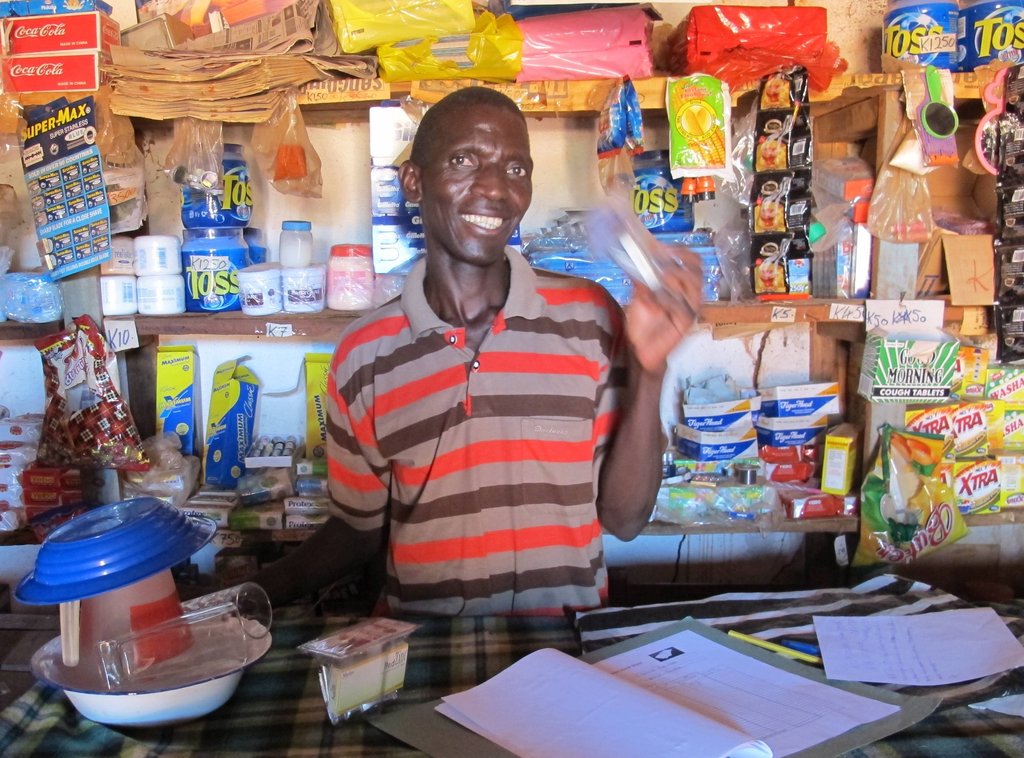 This month's report is straight from our field worker in Katete District - Elias Lungu - who is very impressed with one of our newly recruited retailers....
Mr Banda runs a tiny shop in Chipopela village, about 50 km north west of Katete town in eastern Zambia – and more than 8 hours from the capital, Lusaka. Born in 1967, he only went up to Grade 7 at primary school due to financial constraints. He is married with 6 children.
Mr Banda started his business in 2000 and has been in his current shop since 2010. Once or twice a month, he sets off to Katete town to buy the groceries that people in his remote village rely on: soap, sugar, exerices books, pens, biscuits and pain-killers. He heard about Kit Yamoyo on the radio last year and travelled the whole distance into town, just to inquire from our field office what Kit Yamoyo was all about and how he could be involved.
The team responded with plans to include his community in our scale-up phase. In September 2013, the district stakeholder meeting recommended seven new communities to work in – including his. He quickly got the good news through the radio, and again came to the office for confirmation: this one is keen, we thought!
Donations through Global Giving can help us support retailer training - and, together with 16 other retailers, Mr Banda came in October to learn about the Kit Yamoyo AidPod and how to avoid the dangers of dehydration. Immediately, he bought a whole boxful to take back to his shop. Within 3 weeks, he had sold over 20, and by early February he had sold 80. His nearby friend, had sold over 60. As the project has yet to launch the second phase of vouchers, these have all been cash sales, at 5 Kwacha (~$1). But Mr Banda says people appreciate having access to modern medicine so far from town, and many will buy when they need it, rather than make a long trip with a sick child.
He tells us: 'When I just came from training, I started informing people at church, community and village meetings. I took advantage of those gatherings to advertise – even at funerals where many people gather. Secondary, I have been getting involved in clinic meetings for children in our village and I have also been informing the clinic staff to help refer all the diarrhoea patients to my shop, especially when the clinic is out of stock. I tell my customers to inform as many people as possible about this new product and how much they like it. And I make sure I have not less than 10 Kit Yamoyos in stock all the time.
Mr Banda assures us that Chipopela villagers are delighted someone has taken the trouble to understand their needs and the challenges in their lives, and has designed a medicine for the everyday problem of diarrhoea that is easy to understand and use, affordable, and now available within their own community. Mr Banda clearly knows a good business opportunity when he sees one!