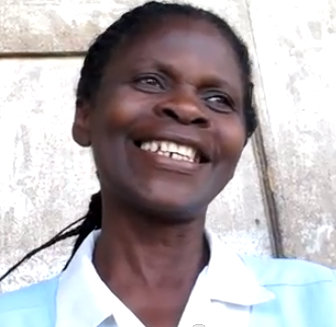 Gladys is a rural health worker in a remote part of rural Kalomo, where ColaLife is trialling the sale of Kit Yamoyo – our new anti-diarrhea Kit, specially designed for African mothers to use at home for their children under five. We know from our recent research, that diarrhea is a persistent issue for young children here; leading to malnutrition, stunting, poor intellectual development and even death.
Five months into our first trial – and with over 15,000 Kit Yamoyos already purchased by small rural retailers - we visited Gladys at Kalonda Health Centre to see what she thought about Kit Yamoyo being sold in shops in her area.
Anxious to hear the views of people on the ground, we spoke to retailers, local health workers and mothers. No product will succeed if it misses the mark in some way. What do Health Centre staff feel about Kit Yamoyo? Do they see selling in shops as competition for their services? What do mothers say about Kit Yamoyo? Are they seeing any change – and is it for the better?
We will know the answers to these questions fully in just a few weeks' time: our local research team go into the field at the end of March, to conduct a Midline Study, under the watchful eyes of our Canadian doctoral candidate Rohit Ramchandani from Johns Hopkins University, UNICEF and the Zambian Ministry of Health. But we want to know what people like Gladys think right now.
Her story is hugely encouraging:
"Before the Kit came in we used to have a lot of diarrhea cases. Sometimes, even if we gave them ORS [Oral Rehydration Salts] they would come back again, to be re-attended to, on the same case. Since Kit Yamoyo came, there is a very big change. Once we refer the patient to the shop there, she will go and buy and then she will be gone for good. She won't come back with the same case again."
So, why does Gladys think that is? "It's a very good project. It has improved the health of the people… The Kit itself, combined with the Zinc, is doing a good thing for the community…We don't have Zinc, so they used to come back again. There is a great change".
Simple childhood diarrhea is a killer; yet a cheap supplement like Zinc, taken with ORS, can clear it up for months, giving a child's immune system a breathing space. Constant visits to the Health Centre sap the resources of poor mothers and of over-stretched and poorly stocked health centres in rural areas; so Gladys, for one, is very happy to see mothers and children in her community benefitting.
And we are supporting livelihoods too: Gladys's son Lubinda, is, coincidentally, one of the retailers selling Kit Yamoyo. He only joined the project in December, but has already bought 140 Kits, in three trips to the Coca-Cola wholesaler in Kalomo town; he has sold 112 of them already. He bought one box of 35 Kits just before Christmas, and another in January. But on his February trip, he doubled his purchase to 2 boxes: 70 Kits.
Like nearly all of our registered and trained retailers, he has chosen not to buy small numbers of Kits (5 or 10), to slot into Coca-Cola crates, as we had originally intended. The demand for Kit Yamoyos outstrips that of Coca-Cola for his customers, so he is buying Kit Yamoyo by the boxful! We have learnt many things from Coca-Cola and this is the most important: if a product is desirable and affordable, and local people can make money from it, it will get anywhere.
Our top retailer in Kalomo district is Alfred Siachoobe. He has bought and sold nearly 1,000 Kit Yamoyos since the project started; that's nearly 200 a month. When asked why he'd decided to stock Kit Yamoyo, his answer was simple: "I'm a businessman." Like Coca-Cola, all we have to do now, is get production localised, costs down, price points right at every step so local people make a living, and build the desirability of Kit Yamoyo. That's sustainability.