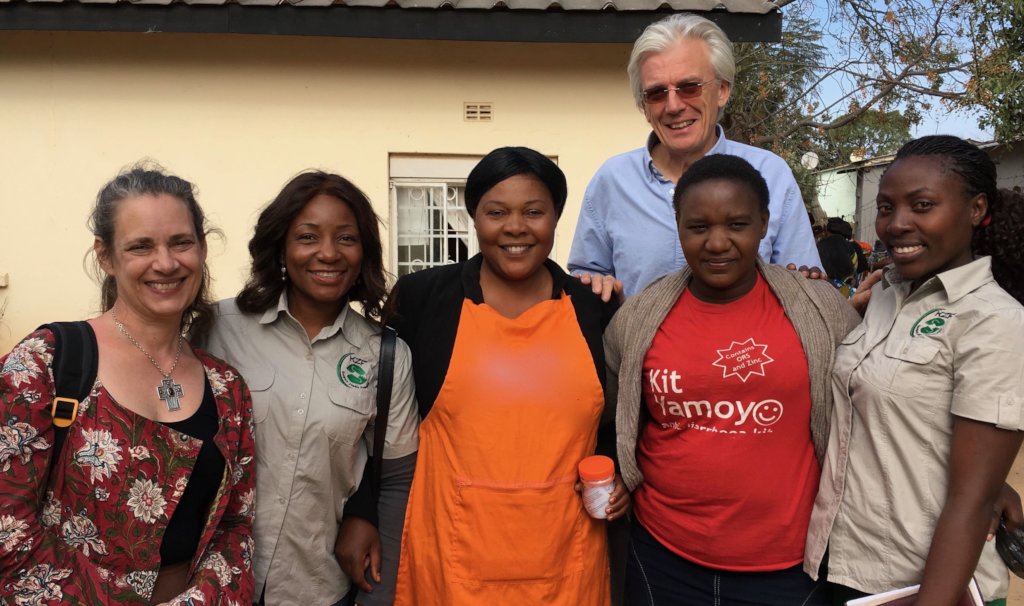 Over the last few months we have been gathering views from government health workers, who we have been supporting in Lusaka Province in Zambia for the past 30 months, with training on ORS and Zinc for diarrhoea, creating links between government clinics and local small shops.
Our market development project is coming to a close, and we wanted to know what difference it has made to government Health Centres - where medicines are given out for free - now that Kit Yamoyo can be bought in nearby shops.
Do health staff welcome, or resist this parallel supply of Oral Rehydration Salts and Zinc for childhood diarrhoea? Is it helping or hindering their work? What have health staff learnt from collaborating with our project fieldworkers? And, perhaps most important: - what would health staff like to see happen now, after the end of the project?
Our project manager, Chibale Phiri (pictured second from left) went to find out.
First up, is Sister Grace, the Sister-in-Charge at Kafue Mission Hospital:
"We became interested in the Kit Yamoyo project, because it helped our community. When they tried Kit Yamoyo and they saw that it really worked, they trusted that information, and the reputation for Kafue Mission improved.
Say the child becomes sick in the night, instead of coming to the facility, they just go nearby. They buy the Kit Yamoyo. They use it and then they maybe come to the facility in the morning. So, it reduced the burden, it reduced the flow of clients to the facility. And when you look at the way that the children are coming to the facility, they are not coming dehydrated. So, it has reduced that burden of us putting up IV fluids, running up and down and referring children. The children are coming with diarrhoea, but not so dehydrated. Because it was flavoured, the child was eager to take, because it was tasting like a drink. So they were so happy about this, compared to the other [unflavoured] one we have..
"A friend of mine, I referred her to a shop where these kits are found. The child had severe diarrhoea....we didn't have ORS at the [health] facility. When she bought this, the child was able to drink eagerly.. the child took the ORS and the Zinc tablets, the diarrhoea stopped.
"I hope that the Ministry of Health has taken it up. They should continue the packaging of the Kit Yamoyo, for us to distribute, that will be very helpful to the community."
Sister Priscilla, Sister-in-charge at Chilanga Health Centre, told Chibale a similar story:
"Kit Yamoyo - this product - it is full bouquet: it is hygienically packed, and also it has a flavour that can be tolerated by babies - orange flavour. You have also included zinc, this will reduce and stop diarrhoea. And also, how it's packed, you can make the ORS, because you have the instructions, which a mother will be able to follow. It is user-friendly actually.
"I don't think there is any member of staff here [now] who can say 'I don't know about this. I don't know how, I don't know why we combine ORS and Zinc together.' They are more knowledgeable now, that the best is, to combine ORS and Zinc.
"As a facility we have had less diarrhoea cases. Those that we receive – the babies - previously, they could be dehydrated, lethargic, unconscious, but we have not experienced that [lately], because the mothers, they now know how to make the ORS at home, and the combination of the ORS and the Zinc, it made it easier for us to manage, when they do come.
"After the project, what will continue is the mothers' knowledge. Because it is implanted in them. And the supply in the shops... For those who can buy, they will buy, but for those who cannot, it is a problem, although the suggestion of giving vouchers to them - that is the best. Because people are used to it, so now when it is done, if they cannot have it, it will be difficult.
"So, I would suggest, to include the Kit Yamoyo in the [replenishment] drug kits that are being distributed from the Medical Stores, under Ministry of Health. Those who have used this Kit Yamoyo, they have seen it is very effective. So I think it is supposed to be - it must be – available."
Encouragingly, the District Co-ordinator, Dr James Zulu has been supporting their request:
"In my supervisory role, I work with the facilities and during my monitoring visits and through their reports from health staff I have heard of the benefits of the promotions, because the mothers start to give fluids at home. So yes, it is important to have this kit in the Health Centres - as well as shops. The combination that it is, is very easy for a prescriber to give. We always have a tendency to rush to ORS and forget the zinc, which is a very important component. In the pack that they are, it is easy for someone to administer and for someone to prescribe as well."
It's exciting that the Ministry of Health has taken note, and this month published their first ever procurement for 250,000 ORS/Zinc co-packs, based on Kit Yamoyo, to be distributed free in government health centres.
To fill the gap until the tender has gone through, we have added YOUR funds, collected via GlobalGiving, to a donation from the Isenberg Family Charitable Foundation, who visited our projects in Zambia in March. This has helped us to fund 20,000 kits per month in Health Centres from April to September, to sit alongside the continuing supply in shops and supermarkets.
Thanks to you, and all our donors, Sister Grace and Sister Priscilla will see their hopes fulfilled this month!