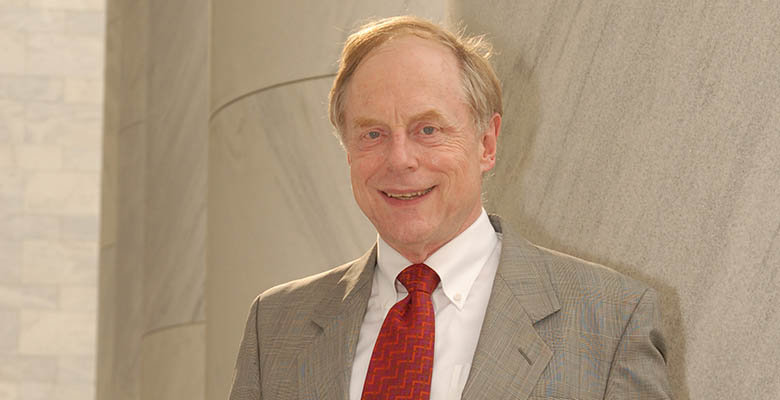 Former congressional staffer Jim Turner understands the importance of objective, solutions-based information in regard to legislation and policy. He offers a valuable perspective on the impact EESI has had—for more than 30 years!—in giving Congressional staff the tools and information they need for policymaking.
Turner began working on Capitol Hill as a legislative assistant in 1975, the same year that EESI's predecessor, the Environmental and Energy Study Conference, was founded. He tracked environmental and energy issues and experienced firsthand the overwhelming task of advising members of Congress on highly complex legislation and policies.
Through his time as a legislative assistant and later on as a committee staffer, Turner relied on EESI's work to learn about pressing issues in a limited amount of time. He expressed his gratitude for EESI's efforts, saying "EESI is uniquely positioned to inform each successive Congress on the merits of energy and environmental legislation. There is a lot of information available to staff, but not a lot of objective information that is tailored to helping busy Members and staff understand the importance and consequences of their actions."
The role of Congress, as keeper of the nation's purse strings and as a balance to executive branch actions, is critically important—and EESI's assistance—and yours--is urgently needed. EESI is focused on informing Congress, those who influence them, and the media.
Guiding Congressional staff and their Members of Congress is critical, as is evidenced in this Washington Post's article about insufficient expertise or staff to guide Members of Congress. The Post stated:
"But at a time when lawmakers are badly in need of advice from their staff, the typical lawmaker will have fewer of them to turn to. The average number of aides supporting a rank-and-file House member has been in decline for several years because of budget cuts."
Turner also emphasized that he was appreciative of EESI's bipartisan approach to environmental policy, offering that "EESI is providing information from a policy perspective rather than a perspective of personal gain. The briefings, the website and written materials, and EESI being there to answer questions are crucial to balanced legislation." Because of this, Turner cites EESI as an essential tool in fostering sensible environmental policy and has continued to be an avid supporter of EESI's mission.
Turner's story shows one of the many ways that people express their desire for informed environmental policy—namely by giving in the way that works for them and brings them satisfaction and joy. We are incredibly grateful to Jim and give him our deepest thanks for his long-term commitment to sustainable energy policy. Turner and donors like YOU are making better environmental policy for the United States possible at a time when so much is at stake! The tangible progress our country has made – through your committed actions and ours – is at risk.
Engaging with Congress and the general public on common-sense energy and climate issues is more important than ever. Please renew your gift today – this work is urgent! Thank you!
Links: