Project Report

| Dec 11, 2022
Protecting families in Nagorno Karabakh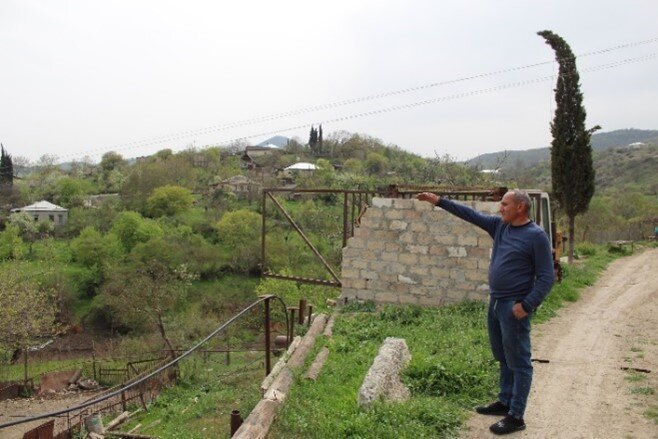 Thanks to our supporters, The HALO Trust is making a real difference for families in Nagorno Karabakh. Since the 44-day war, HALO teams in Karabakh have made safe 1,660 acres of land and have destroyed 330,188 explosive hazards. We have also reached an important milestone in helping Nagorno Karabakh recover and completed the clearance of all known contamination in Stepanakert.
We are increasing our presence in the Martakert region and working to make communities like the village of Magavuz safe.
During the 44-day war, the village of Maghavuz was subjected to massive shelling and bombing. As a result, the entire village and nearby forests, gardens and farmlands were contaminated with deadly bombs and explosives. This left the residents afraid to farm their land, go to the forest for firewood, and just let their children play outside.
At the request of the residents and the mayor of the village, HALO began clearance operations here in April 2021. So far, HALO teams have found 22 cluster munitions and 37 other dangerous explosive items.
HALO teams found an anti-tank grenade in the garden of a 47-year-old Saro. And only after a complete survey and clearance, he ventured to start working on his lands.
Saro and his wife, 47-year-old Lusine, and their two sons live in the center of the village. After retirement, Saro got a job as a duty officer in the power grid and in parallel, with great love and dedication, he is engaged in agricultural activities.
Lusine, on the other hand, takes care of the house and feeds the family with delicious dishes from her garden and homemade cakes. One of their sons works as a schoolteacher, and the other is studying at the university in Stepanakert. Saro cannot imagine the life of his family anywhere else, except for his native village, he loves rural everyday life so much, especially growing plants and fruitful trees.
Expressing his sincere gratitude to the deminers for the opportunity to safely cultivate the garden, he says, "I get great pleasure from working on my land, but I would not want to lose a leg, arm or vision doing what I love, and it definitely should be noted that if it were not for the punctual and hard work of the deminers, victims among the farmers would be inevitable."
HALO deminers, checking house after house, vegetable gardens, agricultural land, inside chicken coops and livestock farms, continue to find more dangerous explosives in Maghavuz. Each one that is destroyed can never harm adult or child in Karabakh.
This holiday season, consider donating and help protect even more lives.