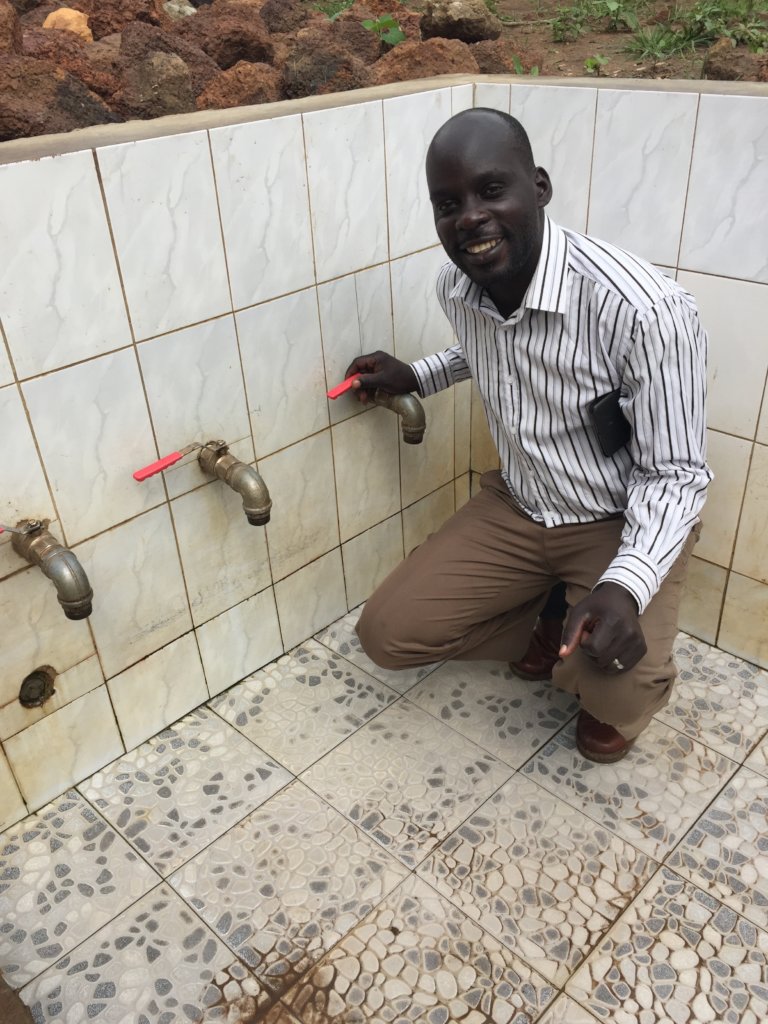 Dear Lifeline supporters,
From community meetings in rural Uganda to the halls of the World Bank in Washington, D.C., millions around the world are asking: what does it take to create a truly sustainable water system? Is it a structured investment or government management? New technologies to measure water flow and system costs? Throughout 12 years of deep community engagement in Northern Uganda, we at Lifeline have learned that relationships are at the true heart of community development.
Lifeline's work is driven by dedicated individuals and entrepreneurs from our partner communities and our own WASH team. Our approach leverages the process of developing clean energy and safe water systems to establish locally-owned enterprises and distribution channels. This leads to a shift in the ability to share and replicate innovations, long-term stakeholder inclusion, and community participation and ownership. A critical thread linking all of Lifeline's projects are authentic, self-reported stories of personal growth.
Meet Pastor Christopher O. from the village of Barapwo Te Dam just outside of Lira, Uganda. When Joseph Kony and the Lord's Resistance Army swept through Northern Uganda during the 1990s and early 2000s, violent raids were launched to terrorize communities and forcibly recruit child soldiers. One night, LRA militants attacked Christopher's home, forcing him to flee on foot into the wilderness with his mother and siblings. On the run for years, Christopher struggled with homelessness and eventually found himself sleeping on a bench outside of a church. Recognizing an opportunity for change, Christopher became more involved in the church, where he found the focus and resolve to earn his high school diploma and later pursued a bachelor's degree and graduate studies.
Now, as a professional pastor, Christopher is committed to uplifting his community by improving access to education and clean water. Through our longtime partner Water To Thrive, Lifeline became connected with Pastor Christopher as he was seeking a partner to develop the spring in his home village of Barapwo Te Dam. Thanks to Christopher's leadership, Lifeline successfully completed structural upgrades at the spring, which now serves over 4,000 residents and students at the nearby University of Lira with clean water. This energy for positive change – the catalyzing force behind development – is what Lifeline seeks to leverage in each of its partner communities for lasting impact.
Lifeline is equally grateful for the dedicated individuals on our WASH team who work directly with communities to develop and maintain sustainable water resources. Michelle White-Yates, who served as a Peace Corps volunteer with Lifeline's Clear Water Initiative in Northern Uganda, is a prime example of this driving spirit. As a management advisor, Michelle worked to streamline program planning and operations to ensure clean water reached communities efficiently.
Sadly, Michelle passed away suddenly in August of 2016. To honor her legacy of service to others and passion for improving water access throughout rural Uganda, Michelle's friends and family worked together to raise funds to rehabilitate a community water point. Lifeline recently completed this borehole rehabilitation project in the village of Bung B, where over 250 residents are now benefitting from improved access to clean water. We are proud to complete this water point as a living memorial to Michelle that will continue to serve clean water both for healthy living and as a resource for community growth.
Now more than ever these local agents for change need our support and we ask for your generous contributions to allow them to continue building on this inspiring work. As always, thank you for your commitment to our mission of supporting community-led transformations towards greater well-being.
Sincerely,
The Lifeline Team