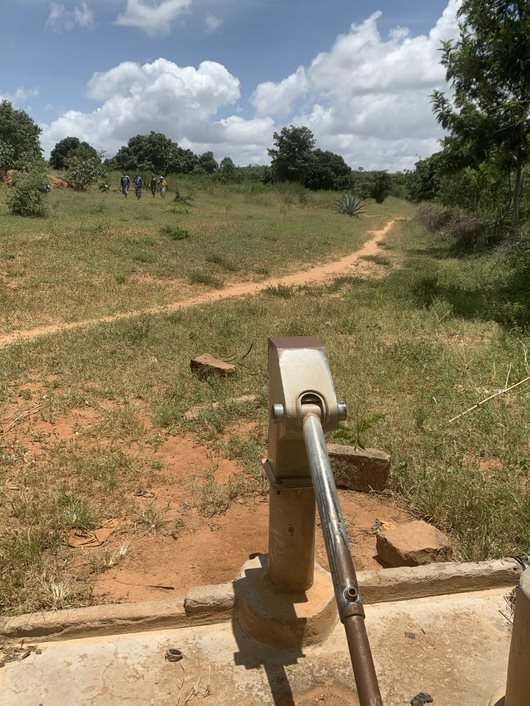 We want to give you an update regarding the Fathers & Kids Camping impact project to bring sustainable access to clean water and sanitation to three neighboring schools in the water-stressed region of Machakos County, rural Kenya.
The ongoing COVID-19 outbreak has halted our joint plans to work hand in hand with the communities to install solar powered water kiosks in three communities: Mutwamaki, Kavwea and Ulutya. Yet, behind the scenes we have tried to get water to these communities as quickly as possible, knowing they are thirsty, literally. Naturally our operations were affected by supply chain limitations, travel and movement restrictions in Kenya and the safety of the Project Maji staff.
Despite these challenges, we are confident we can move forward quickly, now that restrictions in Kenya have been eased. The foundations of all kiosks are ready, and the structures and solar panels have been lined up to be installed. As part of our standard procedure, our next step will be performing baseline surveys in the communities. We will interview village leaders, households, teachers and health professionals to establish a baseline and measure progress around health and community satisfaction parameters of the end-users. Depending on the COVID19 developments, we aim to open the taps in approximately one month.
As you might be aware, in Kenya only 50% of the rural population has access to a basic water service while 29 per cent of the rural population have no access to any kind of water system. What is special about this project, is that we try to create WinS for everybody, situating the solar powered kiosks on school premises. Improving access to WASH in schools (WinS) means providing a safe and healthy learning environment for children. Therefore we can eliminate time wasted collecting water, minimizing the risk of water-borne illnesses, thereby contributing to their participation and performance at school, particularly for girls. During our multiple site visits, we know the children in Mutwamaki, Kavwea and Ulutya Primary schools cannot wait to get access to safe drinking water, to wash their hands to protect them against the pandemic and to meet YOU; their friends from Dubai.
We will keep you posted. Thank you for your unending support in enabling us to empower these communities with the gift of clean water!