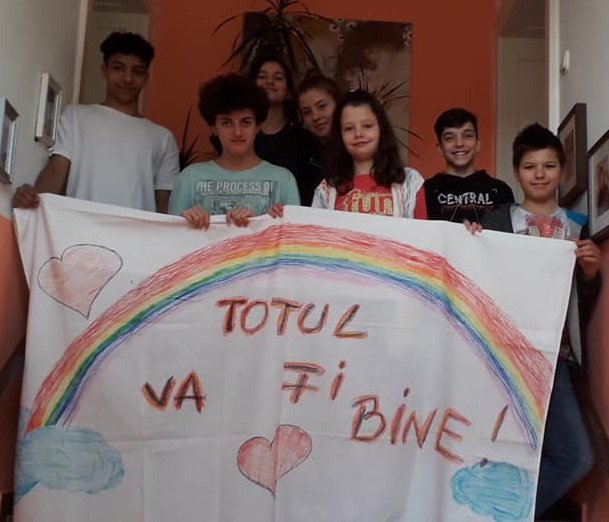 Thank you so much for supporting Children's Helpers Worldwide (CHW) through our "Impact Fund" page on GlobalGiving. Your donations are used for urgent or unexpected needs at our partner projects, or if we are struggling to complete a campaign. CHW is a small charity and it is people like you who make it possible to support children and young people around the world!

Many of you have supported Casa Mea in Romania, through this page. Casa Mea provides a loving, family-style home for a group of children and teenagers who, for various reasons, are unable to live with their families. Most recently, your donations have helped to sponsor a social worker to assist these children.
During the lockdown, the children have been staying safe and well in the home, and have been attending school classes online. Felicia, the manager at Casa Mea, explained that, to keep themselves busy, the children have also worked in the garden, as well as around the house, done some cooking and have done artwork too, especially with the rainbow theme, to send out a message of hope. Two of the teenagers, Ana and Cristina, have had birthdays during the lockdown, and they all celebrated together in the house.

During this time, when lockdowns around the world have made it difficult to continue with regular fundraising events and activities, any extra help towards the running costs of Casa Mea's home would be so greatly appreciated.

Before the lockdown, donations that you made were also used to help a home in Ghana. New Life runs a school, residential centre and assists the wider community. New Life's centre needed to have electrical rewiring work done, as most of the home was without electricity. This was a very big project and we are so grateful to all who contributed to support it. At first, we were unable to raise all the funds for this appeal, but with the help of those who donated to the Impact Fund, we reached the total needed in mid-January. The work at New Life was completed in March.
Derrick, the director of New Life said, "The compound [outside] light was the only light available. The ceiling woodwork had to be done before the electrical rewiring. After the whole work, light is all over the place. Thanks to you, CHW and supporters."

Also before the lockdown, some of your donations were used to assist Rooikappie Pre-School Centre, South Africa, with paying for their phone line rental. Thanks to you, we were able to sponsor this for a couple of months, to make sure that the centre had continued use of its phone line. The Principal, Faranaaz, explained this was important so the centre does not miss out on anything and can contact parents in case of an emergency. Faranaaz was very grateful and said the donation was "a tremendous help and assistance to us."

The photo below shows the children at Rooikappie attending a workshop a few months ago, at one of our other South African partner organisations, ORT SA CAPE. We are grateful to CHW's supporters who sponsored this workshop. Another of our South African partners, The Future Factory, introduced us to Rooikappie in the first place. Over the past couple of weeks, we have heard from both The Future Factory and ORT SA CAPE. The Future Factory is involved with a food distribution programme, and ORT SA CAPE has also started giving food packages to families in need. Any help with either of these food programmes would also be greatly appreciated.

Right now, our partner organisations have had to find ways to keep going, at a time when it is harder to get support. Casa Mea in Romania is an example of this. Other partner organisations have launched new projects in response to the situation, as you can see with the two food distribution programmes in Cape Town. We know this is a time of uncertainty for everyone and we are truly grateful to those of you who are continuing to support the children, young people and families at our projects. You are making such a difference.



----
With thanks to Bev and Karen (ORT SA CAPE), Derrick (New Life) and Felicia (Casa Mea) for the photos included with this report.