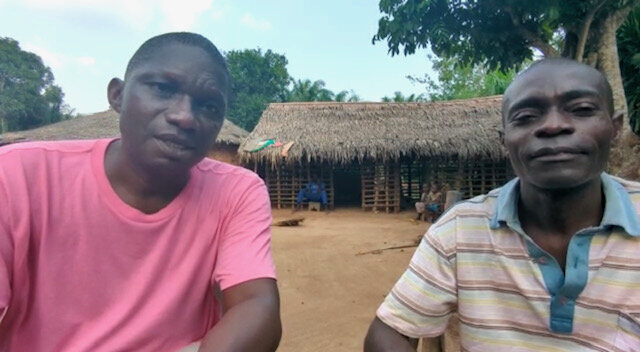 Mr. Mopoe sits quietly with a smile perched on his lips as we enter his yard. When he sees us, he jumps to his feet and comes quickly to greet us and welcome us to his home. I immediately notice that there is a structure that was not there eighteen months ago...the beginning of a small house, the skeleton already standing, waiting for bricks to complete it.
As soon as we sit, he hands me $45, payment for a loan I gave him those months ago when he said that he had an idea and he needed a loan to get it moving forward. Now, he pays me back and he explains that the loan has changed his life, along with the gift of goats, seeds, garden tools, a solar lamp, and a water filter. You see, he gathered all he was given and with the $45, he hired people to help him plant the biggest garden he could. He harvested peanuts, corn, beans, and veggies. He then filled buckets with peanuts and gave loans to others in his community. If he loaned one bucket, he received two as payment. Soon, he had earned so many peanuts back, that when he sold them, he purchased a small piece of land with palm trees. Now, he presses palm nut oil for sale.
As he tells us his story, he takes a small break to call his goats, all which come running, knowing grains of corn await them. They are beautiful! So well cared for! Some are pregnant, some are babies and all are in wonderful shape. I laugh as I see a heavily pregnant goat waddle over like a puppy, full of life and goat happiness.
I point to the new structure and if Mr. Mopoe was happy before, he is doubly so now, telling us that, thanks to the start-up he was given, he is building a house for his eldest son, right next to his own small house. It doesn't get better than this! Healthy children and animals, every child in school and eating well, growing food for his family and for an income, living debt free...Mr. Mopoe is what we hope every AFCA family can be. Smiling and waving, he bids us goodbye as we get on motorcycles to go visit another family.
I can't help but grin as I wave and wave and wave, shouting "merci mingi"! (Thank you very much!).
Everyone here at the American Foundation for Children with AIDS, and our partners in Africa, thank you for your continued support of this important project. If you would like to learn even more about this project and others, please contact Tanya Weaver at tweaver@AFCAids.org.