Project Report

| Aug 30, 2023
Grandfather Raising Six Orphans Becomes A Great Farmer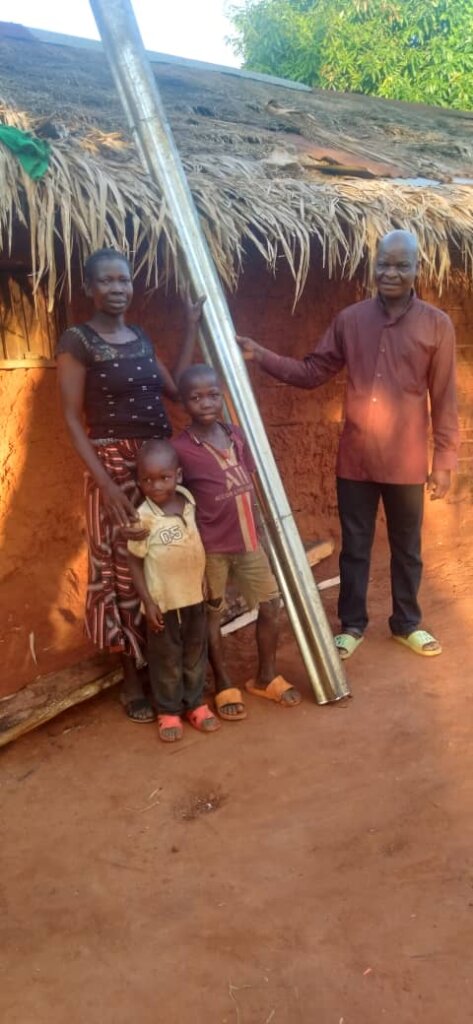 This story is an interesting one from my family about the help I received from AFCA for the six orphans I am raising at home as their grandfather, since they lost both parents because of AIDS.
My name is Dougan and I live in a village called Bokuda which is five kilometers from the city of Gemena. I was selected for the project in April 2022, I was trained for two days on agriculture, where I was taught the agronomic techniques of planting things well. I did not know how to plant or cultivate things in line before and sometimes I did not have good results.
Through this training I was given tools such as: a machete, a spade, a hoe and a watering can as well as corn, soybean, peanut and cowpea seeds to allow me to have a good garden which will help feed the children well so they can be healthy and study well.
After planting seeds that AFCA gave me, it made the way my family was living better because before being selected in the project, I did not plant much even though I have a large piece of land. I did not have good quality seeds and also raising lots of orphans would not allow me to purchase good seeds because of the cost of raising the children. So after receiving seeds from AFCA, I had the chance to plant a large peanut and corn field. The results helped the children to study well. Maybe some children in my family could have become malnourished because feeding all of them was difficult for me but through the support of AFCA, no child was ever malnourished.
What is remarkable about the things I had received from AFCA was that I saved enough money so that I could buy 50 sheets of metal roofing for the house. At this moment, I have already harvested more than 15 big bags of peanuts for this season, and I will keep 4 bags which will allow me to plant for next the season of this year. I know they will help me and the family a lot to live well.
Thank you very much for what you have done for me and my family because the training has given me a lot of knowledge. Today I am among the best farmers in the area and my family is so happy. The photos you see are images of the sheets of metal and seeds which are the result of the field work. God bless you!
The team here at the American Foundation for Children with AIDS thanks you for supporting this project and the work we do for the children in Africa. As you make decisions regarding your giving for the rest of the year, please keep us in mind so we can continue our good work through 2023 and beyond. If you would like to learn even more about what we do or how you can meet some of the children you have helped, please contact Tanya Weaver at tweaver@AFCAids.org.