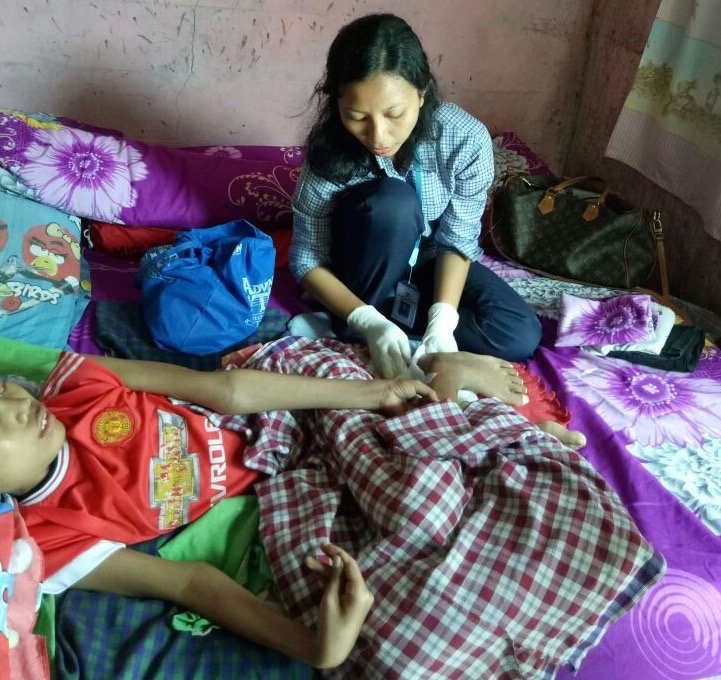 On our 10th anniversary, Rachel House added bold strokes to the Palliative Care Ecosystem "tapestry" we have helped established in Indonesia, with the dream of making palliative care accessible and available for everyone living with life-limiting conditions. In 2016, our work and the influence of our work reached key stakeholders at all levels of the health system, including the prison hospitals and the School of Public Health, winning their support to bring us closer to the vision that no child should ever have to live or die in pain.
Delivering Compassionate Care (Home-Based Pediatric Palliative Care Service)
We look back on the 10-year journey and are humbled to have been given the honour of caring for over 2400 children living with cancer or HIV and their families, providing them with compassionate palliative care and support during the most challenging time of their lives, helping alleviate their pain and suffering.
Building a Compassionate Community
We strongly believe that skilled and informed compassionate community members are an essential component to ensuring quality care for people living with chronic and life-limiting disease at home. Harnessing the spirit of gotong royong (collaboration) that is deeply ingrained in the Indonesian culture, Rachel House's Community Network in Palliative Care ("CNPC") Program has to-date successfully trained over 2100 community volunteers in basic palliative care skills and knowledge.
Monthly meetings are convened by Rachel House to forge strong collaborations between CNPC-trained community volunteers and health professionals in the Primary Health Clinics. As a result, multiple teams of community volunteers are now active and vigilant in making sure that no one in their community is left alone to suffer at home without care and assistance.
Nurturing Compassionate Palliative Care Professionals
The Clinic-in-a-Box fully accredited training program for nurses has completed its 2nd year, providing palliative care and homecare skills to now close to 100 nurses and nurse lecturers from some of the largest private and public hospitals and universities in Indonesia. The Clinic-in-a-Box training program is a critical component in Rachel House's goal of establishing a palliative care ecosystem in Indonesia, to ensure that patients can be provided with compassionate care throughout the health system.
The surveys conducted to evaluate the effectiveness of the training program showed increased knowledge in palliative care skills in all the participants, particularly in the areas of pain assessment and management, and increasingly favourable attitudes towards a range of key concepts in palliative care including the delivery of bad news, caring for dying patients, administering morphine and patient referrals. The results of the surveys indicate the overall effectiveness of the training in improving the confidence of the nurse participants in negotiating complex issues in palliative care.
In May, for the first time we had the honour of running a Pediatric Palliative Care training that was fully accredited by IDAI (Indonesian's National Pediatrics Society). The training was held in collaboration with The Cincinnati Children's Hospital & ICPCN, supported by a team of our young volunteer doctors.
In collaboration with Singapore International Foundation, Cancer Foundation and the Jakarta Provincial government, Rachel House continued to run the 3-year palliative care training for 80 medical professionals from 12 District and National hospitals in Jakarta. In November, we led a roundtable discussion facilitated by Dr Mark Meyer from The Cincinnati Children's Hospital and attended by the medical directors and paediatricians from the 12 public hospitals, to discuss the challenges faced by each hospital in the implementation of palliative care. Following the success of the exchange, the roundtable will continue on a quarterly basis in 2017.
Rallying Support from Key Stakeholders
From outside the conventional health system, the Directorate General of Corrections, Ministry of Law and Human Rights extended an invitation to Rachel Houseto provide guidance on the national guidelines for palliative care in prisons and prison hospitals.
2016 also saw active training and roundtable discussions organised to engage medical and nursing schools and public health faculties of major public and private universities such as Universitas Indonesia, Universitas Padjadjaran, and Universitas Muhammadiyah Yogyakarta to build a body of research that will strengthen the case for palliative care inclusion in the health system.
Planting Seeds of Compassion Early: Medical and Nursing Students
To ensure a long-lasting impact in the health system, we are working to nurture a new generation of medical professionals who will be able to serve their patients with compassion and equipped with impeccable clinical skills. In 2016, Rachel House expanded its training efforts to include medical and nursing students, planting the seeds of palliative care values early in their career as health professionals.
We ran one-day introductory workshops for nursing students at Bani Saleh Nursing College in Bekasi, West Java, and Universitas MuhammadiyahYogyakarta in Central Java, andprovided palliative care training to aspiring doctors at YARSI Medical College. The growing interest in palliative care amongst medical and nursing schools have seen requests for Rachel House's participation well into 2017.
Rachel House has also welcomed fresh graduates from medical schools as medical interns in our service. The greatest impact for many of these young doctors has been when they witness the patients in the intimacy of their homes, bringing the doctors face-to-face with humanity.
Public Advocacy
The Living Wall is a Rachel House initiative designed to engage youth and students in a global campaign to increase the awareness of the plight of children living with lifelimiting illnesses such as cancer or HIV and to improve their access to paediatric palliative care. Nearly 20 schools nationwide have participated and launched the wall in their schools. We continue to drive the campaign through The Living (virtual) Wall (http://thelivingwall-id.org/) and social media (Facebook, Instagram, and Twitter). On June 5th, The Living Wall presented at the Car Free Day on the main thoroughfare in Jakarta, reaching hundreds of people on their Sunday morning stroll or run.
In October, on the World Hospice and Palliative Care Day and to celebrate the 10th anniversary of Rachel House, we shared our work on a live radio interview at Kantor Berita Radio. The show was distributed and broadcasted to hundreds of radio stations throughout Indonesia. For more information on all the publications, please click here.
It has been a fulfilling decade for all of us at Rachel House. We know that none of this would have been possible without our faithful supporters. For all this and so much more, we are eternally grateful. Thank you for helping us add life to the children's remaining days.