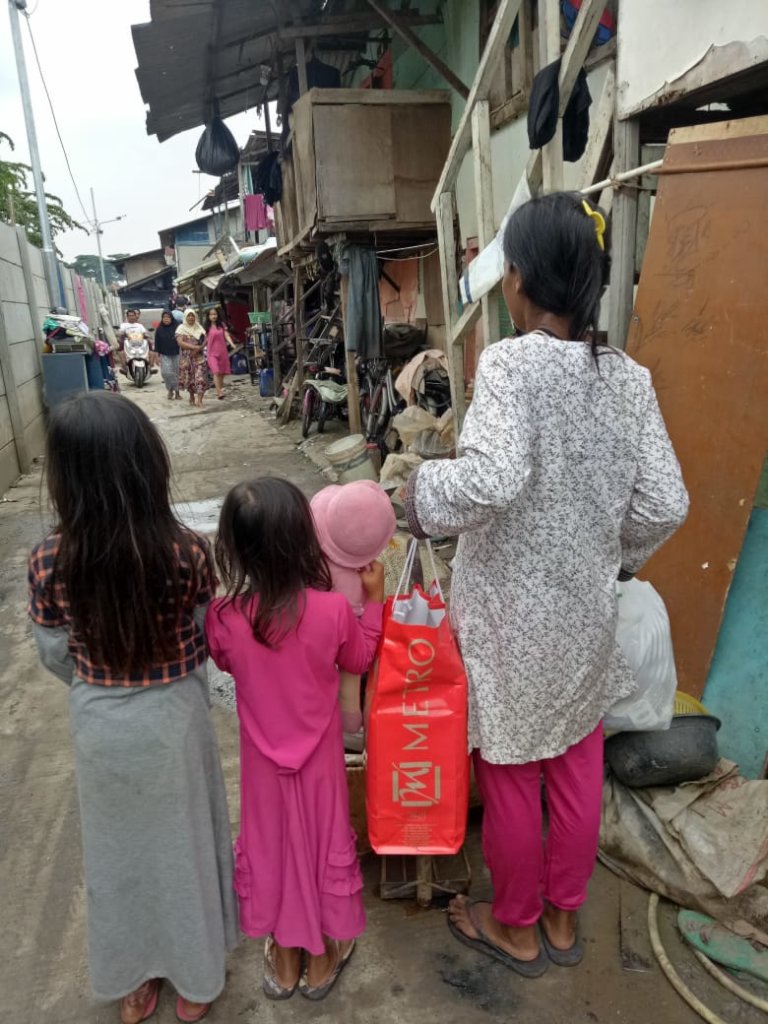 I have been holding the same image in my head for the past few months: two little girls, running towards me and nurse Ribka, like old friends meeting each other again after a long time apart. The little things stick with you – the unassuming embrace, trusting smile, and those glistening, spirited eyes. In those very few seconds, my heart was full.
These girls were born exactly like any other children: helpless, hopeful, and looking to be cared for. Their mother is exactly like mothers all over the world: caring, hard-working, and often shamed – even after doing all she possibly could. They have HIV. A medical condition, a global problem, a disease that is not any less important than others that are roaming in the world.
Their living condition is among the first things that separates us. Their house structure is not sturdy; you can hear its foundation protesting as you climb the narrow stairs on the side. The one room inside, the only habitable place to lay themselves to rest, is not safe. You can hear the wind pushing through the walls. All sorts of things were stacked around the room, most of them I could not identify – but I did catch a mouse peeking from the corner of my eye. 'Oh, hello there.' I muttered under my breath. As I realised it might be the least of her problems, I tried sitting absolutely still and listened carefully to the conversations.
Nurse Ribka was talking about how it has been lately for the mother – each day is a battle. Starting with the obvious; the disease and their symptoms. The medication has its own side-effects, and even without these physical challenges, it was already so hard for her to earn a living. Another added challenge, is being a single mother: 'The girls need me; they don't want to be left alone' – as she said this, I can hear the girls squabbling from outside.
The mother tried to settle them down as the girls eventually joined us in the room. The conversation continued, now her eyes filled with tears as the rest of her story followed. 'If I don't work, my children can't go to school. I don't mind being stupid, but let it just be me. I just can't have them ending up like me. I want them to have a better life.'
She spoke in such humility about things she has little control over. There was so much guilt, but also power, determination, and love. I was filled with an overwhelming sense of being – one that would haunt and bless me for days and days ahead.
Nurse Ribka beautifully listened and cared for the mother in a solemn silence and presence. She then proceeded to ask if the mother needed any other help. I was shocked by the answer that follows – they have been shuffled around from one public office to another, struggling just to get themselves registered properly. Without this, they cannot be eligible to get affordable care. 'We will do what we can to help.' nurse Ribka said, with her calming smile.
We said goodbye after Oma Liese, the grief counselling expert, gave the comfort and appreciation the mother deserves. I could not remember the exact words, but the most impactful thing happened between the lines. They looked at each other with recognition of one another – a mother to a mother – then they hugged for as long as the time allows them to celebrate each other.
A family of three, surviving on almost nothing with the willpower of a whole village. Two little angels, playing in the corner; and their mother, a woman of strength and formidable heart, holding her family together, even with HIV and its complications claiming her from the inside.
They deserve better. Their life is a gift. I was at a loss for words after the visit, but I am not shying away from their pain any longer. It is the least I can do, when they have to face theirs each and every day for the rest of their lives. This might be their story, but this is also a story of you and me. This is where our work is needed. This is where we should stand.