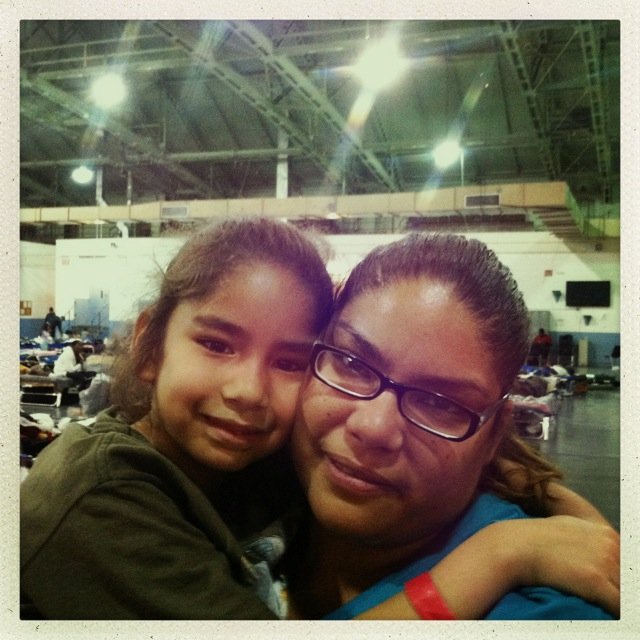 by Penny Crump, New York, NY
Hurricane Sandy took almost everything from Marisol. Fleeing her home with little more than clothes on her back, she waited out the storm at the safety of her Aunt's house. Her mom, Rachel, stayed behind to protect their meager belongings from looters in a very rough neighborhood in New York.
Rachel had been told that they would be safe in their fourth floor apartment. But the winds and rain proved too much for their rundownbuilding.
The roof collapsed around her, destroying most of their belongings and killing Marisol's little kitten.
"I haven't told Marisol about her kitten yet, she's been through too much already," said Rachel. "I'm relieved she was at her Aunt's when it happened."
I spoke with many other families like Mariol's who lived in apartments that have been condemned due to storm damage. They have no place to go home to – crowded shelters are their only refuge until temporary housing programs get fully up and running.
It's in these shelters that Save the Children offers our Child-Friendly Spaces program. It gives girls and boys a safe area where they can play, have fun and express themselves under the supervision of caring, trained adults. It helps kids build self-esteem, work through difficult emotions and increase their ability to "bounce back".
Rachel was relieved to see Marisol having fun with the other children in our program. "I am just overwhelmed to see my daughter playing and happy again," she said while choking back tears.
I told her, "It's ok, we'll get through this together".
Hopefully, Marisol will feel safe and secure again soon. Kids like Marisol need caring people to support Save the Children's response efforts. Please give generously to our Hurricane Sandy Relief fund.
Links: