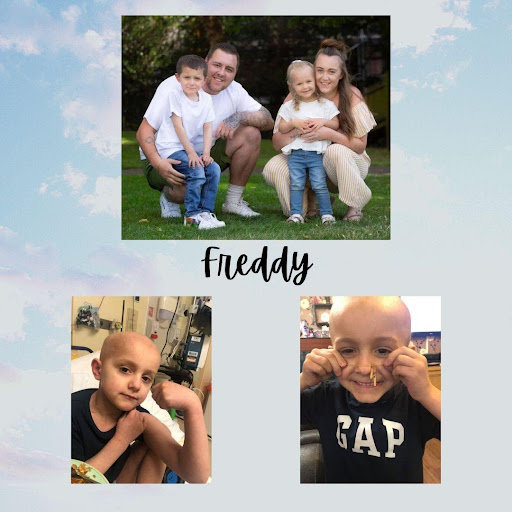 Dear Supporters,
We want to share with you a story that is Celebrating Freddy

Freddys Mum says "When Freddy was diagnosed it was what I thought, the worst day of my life, but the strength and resilience he had is what kept me going. It was far from easy but he was here with us.

23rd May 2020, that changed, Losing Freddy was unexpected for us and very quick, There was nothing they could do. From getting those scan results to Freddy passing was long and traumatic, yet so short, why couldn't we just be together a little longer? Why us? Why now?

His little sister barely understood anything, how do we tell her she will never see him again?, I just hope those little memories will comfort her as she gets older.

Freya talks about him every single day, I am so glad that in those short few years that she has so many happy memories with her big brother. But it's also so hard, are we saying the right things to her? How will this affect her in life?, can she really tell us how she feels? and myself, I don't have the time to grieve, I still have to 'cope' and get through the days for her. I have no choice. When in reality, for me, each day gets harder without Freddy here with me, I think after a year now it's finally hit me, I will never get to see him hit all of these milestones he should have.

People say time stops, it doesn't, people move on, life goes on, eventually, things go back to somewhat normal but not for you, it's a new normal, grieving is a forever process, and so many people have expectations of how you 'should be' after a loved one dies. But the truth is there is no wrong or right way, me and Freddys dad both grieved very differently. And still do.

Grieving a child is an unimaginable pain and heartache.

My whole life has changed. My body feels different. My heart aches and Things will never be the same. I have now started counselling and it helps in some ways, but nothing will ever change. It's a constant battle, I overthink, I question myself and I have so many unanswered questions, but I do believe he is free of pain and resting beautifully now.

I'd like to thank this project for allowing us to use their holiday home last year after Freddy passed, this allowed us to take some time away as a family and we appreciate it so much. Making sure We make lots of memories with Freya is a big thing for us, especially as our time was limited with Freddy.
It is from the love and generousity of our supports allows this project to help families that are battling with cancer a chance to create life changing memories together in such tough times. We thank you for your support!
Thanks,
Vincent, Gary and the team at Lennox and Action Change!