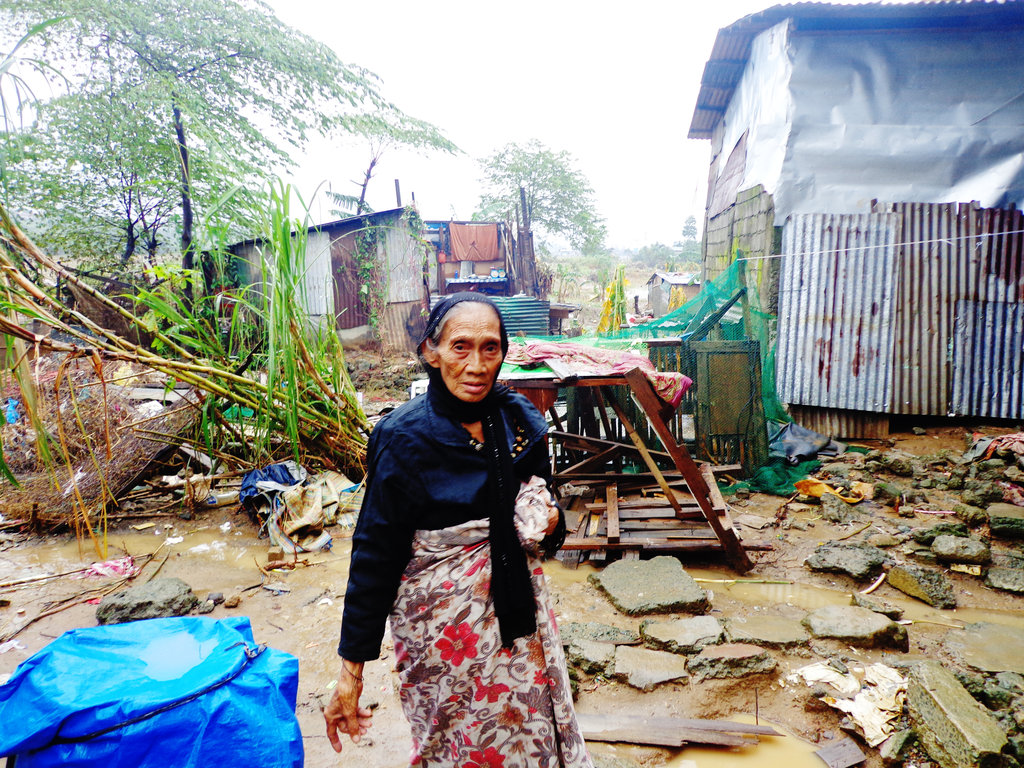 Al Santoli
In early August 2012, the Philippines was devastated by the unanticipated ferocity of monsoon rains. Flood damage displaced more than 1.5 million people in the capitol region and other areas of the northern islands. Massive destruction created by overflowing rivers and dams swept away many homes and entire communities of makeshift shanties. Numerous municipalities and towns in the capitol region were affected, particularly areas such as Markina, Quezon City, Bulacan, Cavite and rural areas such as Baggio and Pagasinan. The extent of the calamity overwhelmed the Red Cross and government agencies.
With donor support from Global Giving in Washington, Asia America Initiative [AAI] staff members partnered with mobile relief teams from the Philippine Armed Forces 7th Civil Relations unit and volunteers from local non-governmental agencies to bring food and other humanitarian necessities into some of the hardest to reach and underserved communities in the city and countryside. These areas have both Christian and Muslim populations. They are being especially threatened now with epidemics of lethal viral diseases such as leptospirosis, cholera and dengue fever.. To address these needs, AAI is proving clean water tablets, antibiotics, blankets and rubber boots for children to prevent their contact with disease-infected water and mud.
The number of people served by the AAI coordinated program in Manila and Mindanao is close to 10,000. Flood victims of all ages received help by the collaborative private-public sector effort covering at least five crowded communities. Bags of staple foods for families of five to six people were enough for at least 5 days of sustenance. In addition, AAI shared resources to purchase food with NGO partners working in the war-torn area of Mindanao where 60,000 people – including at least 30,000 babies and children -- are currently being sheltered and lack the basic necessities.
The displaced population includes many widows and female heads of household. Among them:
Mrs. Erlinda Paguinto, 37 years old, mother of three small children, lives in Tumana village, Marikina City. Their community is one of the most damaged by flood water and the inside of her house is covered with mud. She is currently working as a factory laborer. Her small pay of less than $5US per day is their only source of sustenance which makes it hard for her to provide for their everyday needs. Their house is small but they treasure it as the place where they build their dreams and memories together as a family. Sadly, their house was destroyed in a flash by flood waters higher than the second floor of their home. Their clothes, furniture and appliances were all buried in mud after the flood subsided.
"We went to the high school for shelter when the flood hit our community", she says. "After the flooding was over I tried to clean the mud from our home. But a heavy rain came again, causing another flood. May of us are getting sick… we must get our water from a pump. We are in dire need of assistance. It is really hard. We appreciate the food you brought, but we will need more… and also blankets and used clothes."
Life was hard for them before the flood, but now life will be harder as they face the aftermath. They are in dire need of assistance in rebuilding their lives. Their health is also at stake as viruses, cold, coughs and skin infections are rampant. Outbreaks of deadly cholera, malaria, dengue fever and leptospirosis are a constant threat. Despite these hardships, Mrs. Erlinda is moving forward for her children's sake. Although losing their home is depressing, she still has reasons to be thankful because her family survived the flood. As we talked with her, we saw the hope in her eyes and after our discussion; she managed to give us a warm smile but could not hide the pain and fear of the hardship to come.
Andang Sarif, a 72-year old woman, is living alone in Marikina. She was born in Marawi City, Lanao del Sur but chose move to Marikina to avoid the armed conflict between Christians and Muslims in her home province. Unfortunately, her search for a safe and peaceful place to live in has been destroyed again. Her house was also one of those houses swept away by the flood, forcing her to stay in the Mosque during the heavy rains. "My house is not there anymore," she said with the look of shock and despair. "I am now sleeping outside in the mud because I have nothing left." This was not the first time that this happened to her. Three years ago, her house was also destroyed by the Typhoon Ondoy. While still recovering from the damages caused by Ondoy, she would need to start all over again after the recent tragedy. Starting a life after an unexpected disaster is hard, but what makes it harder for Andang Sarif is that she would have to face these challenges alone. She and her neighbors can maintain a glimmer of hope because of the presence of AAI staf and volunteers and the support we have received from our GlobalGiving partners from around the world. We deeply thank you for your kindness and generosity.