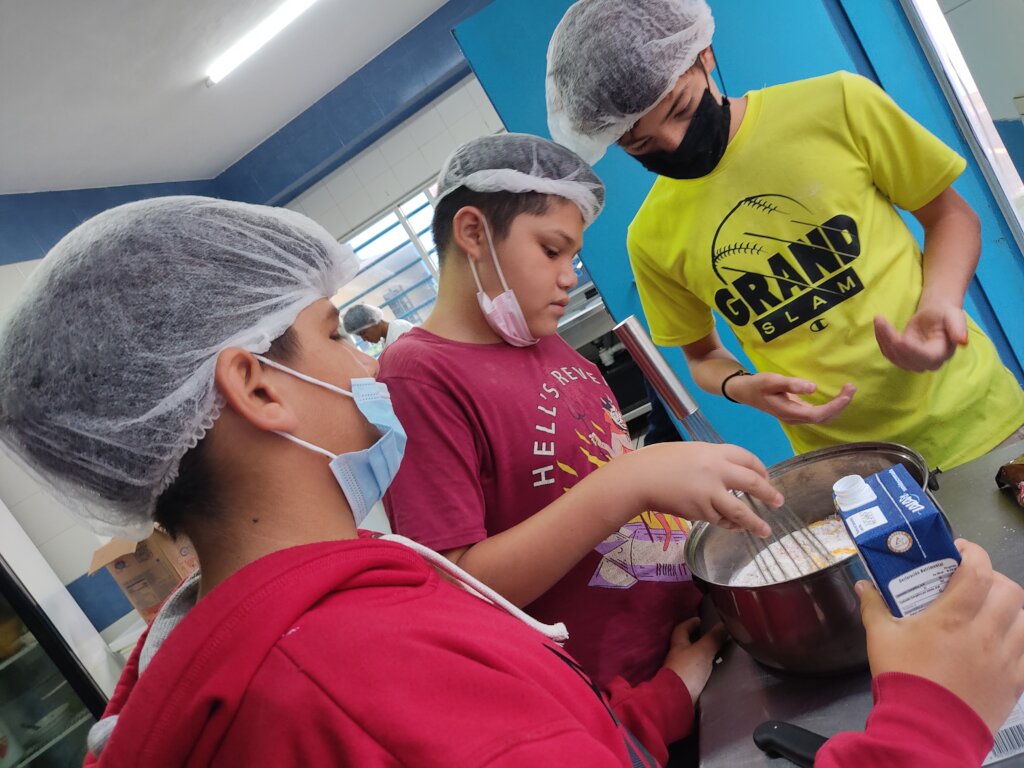 Dear benefactor!
In these three months our educators have worked hard with school reinforcement sessions and special education therapies for the children to improve their school performance. We have also focused our efforts on increasing the children's motivation to continue their education through playful activities that facilitate the learning process. It is very important for us that children know that they can enjoy the process of learning and that education is a very valuable right that they have.
Our children and youth continue to work every day to be better. At the Albergue, we seek not only to increase their academic performance, but also to help them acquire skills and abilities that will enable them to be independent and have a better quality of life in the future.
With the independent living program, our young people are taught basic knowledge that will help them to be independent and be able to get a job. To this end, they are given cooking and driving classes, as well as financial education workshops so that they can learn to manage their resources.
One of our young beneficiaries comments on this program:
"At the Albergue they taught me how to make a resume and guided me on what to do in a job interview. At this moment, I already have a part-time job while I am studying high school, that is helping me to save money and soon I will be able to get a much better job."
Your generous help is invaluable to us as because of it, the quality of life for this young boy and others has improved tremendously and will continue to do so!
We thank you endlessly for being there and supporting them at a crucial time in their lives.
-------------------------------
Español:
¡Querido benefactor!
En estos tres meses nuestros educadores han trabajado arduamente con sesiones de reforzamiento escolar y terapias de educación especial para que los niños mejoren su desempeño escolar. Asimismo, se han enfocado los esfuerzos en incrementar la motivación de los niños por continuar educándose mediante realizar actividades lúdicas que le faciliten el proceso de aprendizaje. Es importante para nosotros que los niños sepan que pueden disfrutar el proceso de aprender y que la educación es un derecho muy valioso que tienen.
Nuestros niños y jóvenes siguen trabajando día a día para ser mejores. En el Albergue, se busca que no sólo incrementen su rendimiento académico, sino que también adquieran habilidades y destrezas que les posibiliten ser independientes y puedan tener una mejor calidad de vida en un futuro.
Con el programa de vida independiente, se enseña a nuestros jóvenes, conocimiento básico que le sirvan para ser independiente y pueda conseguir un empleo. Para ello, se dan clases de cocina, de conducción, talleres de educación financiera para que puedan aprender a administrar sus recursos.
Uno de nuestros jóvenes beneficiarios comenta sobre este programa:
"En el Albergue me enseñaron a realizar un cv y me orientaron qué hacer en una entrevista de trabajo. En este momento, ya tengo un trabajo de medio tiempo mientras estoy en la prepa, eso me está ayudando a ahorrar y pronto podré conseguir un empleo mucho mejor"
¡Tu generosa ayuda es muy valiosa para nosotros ya que, debido a ella, la calidad de vida de este joven y la de otros ha mejorado muchísimo y lo seguirá haciendo!
Te agradecemos infinitamente por estar ahí y brindarles tu apoyo en un tiempo crucial para sus vidas