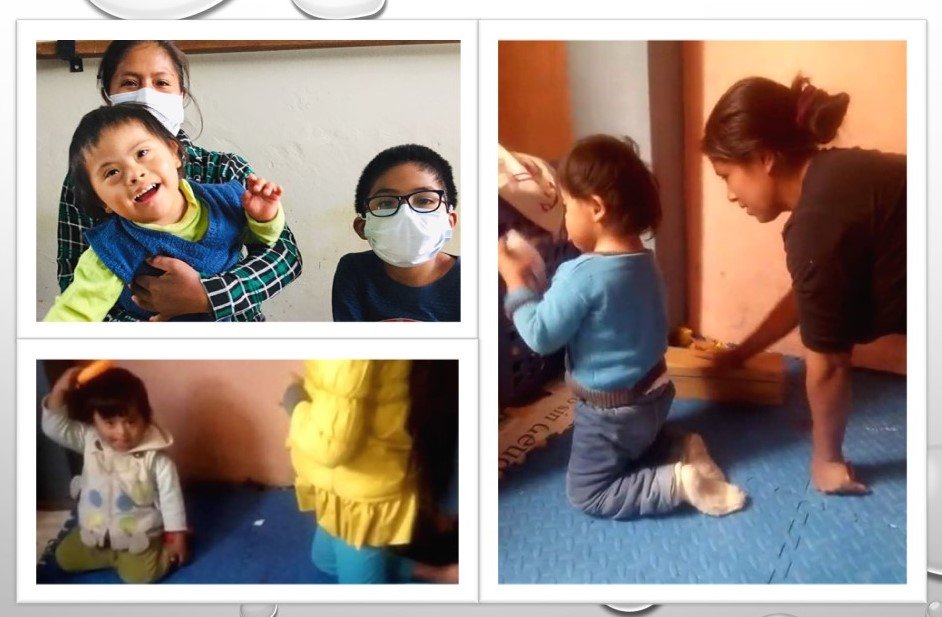 2020 has been difficult for all the families of Wasi Esperanza. Many have lost their jobs or have seen a big decrease in their monthly income and the prices of basic necessities and services increased. To continue with the therapies, the use of technology has been necessary.
For many families it was something new to use in classes, therapies or follow-up. This generated a lot of frustration and impotence, added to the uncertainty about what would happen later and the constant fear that a member of the family could be infected. This made the year 2020 one of the worst for many.
Despite the difficulties we want to highlight the efforts of the families who did not allow themselves to be defeated. Such as Kinder, who is a 3-year-old boy and has Down Syndrome. He is very happy and active and he likes musical toys, looking in the mirror and playing with his brothers.
With the psychologist Kinder has already learned to identify himself by pointing when a picture of him is shown or when he is asked, Where is Kinder? With a smile he points to himself, recognizes animals by sound and says goodbye by waving his hand. We hope he learns to speak.
Mrs. Rosa, his mother, is always there for him. She is very committed to the therapies, she arrives on time and performs the activities at home to see improvement in Kinder. With the help of her two older children they do the therapies, they motivate him to do the exercises by playing with him.
The father cannot accompany him in the therapies because due to the pandemic the salaries have been reduced and to cover the expenses, he had to look for more temporary jobs to cover the expenses of the family and so that Kinder can travel to continue attending therapy.
Currently, Mrs. Rosa brings Kinder to the Center to receive therapy. She is accompanied by her brother Saul. Together they enter the psychological office and work on strengthening family ties and improving their social skills
The family has drawn strength and patience to motivate themselves and not let the pandemic overwhelm them and together they will achieve their goals.