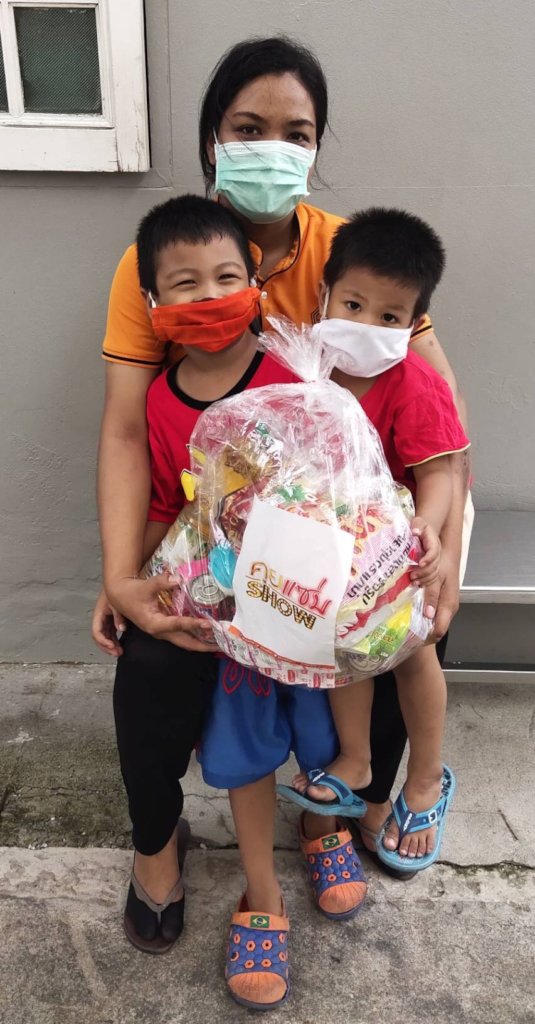 The CDCC's purpose is to serve children, single mothers, widows, and families living in slum communities in Bangkok. The CDCC has served these at-risk groups for more than 30 years. This program assists the most vulnerable of all ages in the community to provide the education and training they need to break the cycle of poverty and achieve their full potential. Programming includes day care services, Saturday classes & tutoring, field trips, special events, care for the elderly, and much more.
With COVID-19 sweeping across the globe and threatening lives and livelihoods, many people found themselves struggling financially with unemployment, decreased income, and lack of food and shelter. Many children found themselves more isolated and less linked to their previous support networks.
In Thailand, the government implemented a nationwide State of Emergency early on. A direct result was that the CDCC was no longer able to provide daily child care and in-person support for children, as all schools and child care facilities were ordered to close. With Thailand in lockdown because of the virus, parents living in poverty simply had no way to feed their children. Many were left with no job, no income, and no savings. Their lives were completely changed and upended.
While the lockdown forced everyone to change how they did things, it did not, however, mean that the CDCC as a program came to a close. On the contrary- our mission remained the same. We did need to adjust HOW we served the community, but we did continue to serve the community throughout the crisis. The large room normally used for programming and activities for the day care was quickly converted into a large store room for the in-kind donations of food and daily household supplies that we received from donors near and far. The CDCC kitchen became a canteen, with staff cooking and preparing thousands of boxed meals.
Instead of providing daily care for children and families in need, we shifted to assembling thousands meals and care packages which were distributed on a daily basis. Meals were distributed on a daily basis and care packages were distributed weekly to families and children. Care packages included household essentials as well as basic educational supplies to help children keep up with schooling despite being home during the lockdown.
In addition, each of the children and their family members were given cloth face masks along with training in the proper health and hygiene practices to keep them healthy and safe.
Accomplishments
During the COVID-19 crisis, the CDCC and CWEFT leadership team went above and beyond for days and weeks at a time. They kept the children and families a priority ensuring that the children remained safe and well fed. To accomplish this, staff conducted regular home visits to the children and their families in the slum community.
In total CWEFT was able to distribute 8,022 boxed lunches in just three months to at-risk children and families in 11 different slum communities where current and former children from the day care live. Just because children no longer attend the CDCC programming does not mean we stop caring and keeping touch. Thanks to this continued care and support for families we currently and have formerly served, we were able to quickly identify communities in need.
We also distributed 1,037 care packages to children, families, and their neighbors in the slums. These packages included items like rice, medicine, masks, soap, and basic education supplies. CDCC staff often delivered these packages directly to children's homes as they were unable to safely come to pick them up. These home visits allowed staff to keep in regular contact and help as needed with any issues as they came up.
As lockdown measures have eased in the last couple months, we are pleased to share that the day care center is now open under "new normal" protocols. We have installed additional sinks for children and staff to easily wash their hands regularly, as well as redesigning the physical space to allow for required distancing.
As of today, it has been more than 100 days since Thailand has reported a locally transmitted case of COVID-19. Throughout the entire crisis, there was not a single case among any of the slum communities were serve. This is due in large part to the health & hygiene training and support we were able to provide, as well as regular meals and care packages. This ensured that children and families were able to safely stay at home and not suffer or need to leave the community to seek support.
None of this would have been possible without the amazing outpouring of support we received from donors like you. We simply could not have done any of this without you- thank you! Your prayers and generosity were the driving force behind all that we were able to accomplish in 3 long months of lockdown.
Below are a few testimonies from just a few of the individuals served by this outreach:
"I usually take care of my grandson Putter because his mother and father are often out of work or looking for work. They took Putter and went to stay in another province. Because of the lockdown they are unable to come back, so I am on my own. I picked up a bag of rice and a boxed meal to eat and help me keep going. I had run out of food, and the little work I used to do I can't do anymore because of Covid. Now I have food to last me a while longer- I thank the Lord in all circumstances." -- elderly resident
"My son attends the CDCC. Today I received aid from the day care. I want to thank everyone who donated things to help sustain my life during this Covid crisis. I am struggling because I can no longer work. I was laid off because all of the malls closed. So I am at home taking care of my children. My husband is the only one work, and it just isn't enough. So the CDCC stepped in to help us. Thank you so much." -- parent of current CDCC student
"Thank you so much for the non-perishable food and essentials that you donated to help us in the slum community. We have been negatively affected by the Covid crisis because there is less work. Thank you so much to every person and every organization that has donated to help. It is so helpful for us." -- grandmother of current family with two children in the CDCC program
"Thank you so much for the care package for my family. Right now because of Covid, I don't know if I will have work or not from one day to another. I am making much less money, and it! just seems like everything has gone downhill. Thank you for your help!" -- community resident
"I am so happy and thankful! Because of your donation, I have food to eat. Thank you so much!" -- community resident
"I am the leader of the neighborhood association for the slum community. It is a very crowded community that is not officially recognized by the city district. We have been negatively affected in many ways, from PM 2.5 pollution to Covid-19. The community struggles financially as it is, and now with Covid and not being able to work or go out or leave the city because of lockdowns, it has gotten even worse. We don't qualify for government assistance since we are not officially recognized, so it has only been the CDCC that has provided food, masks, and hand sanitizer gel to our children, elderly, and everyone else in the community. If we had to survive on our own I don't know if we could make it. We are so thankful for the help and support from the CDCC." -- leader, neighborhood association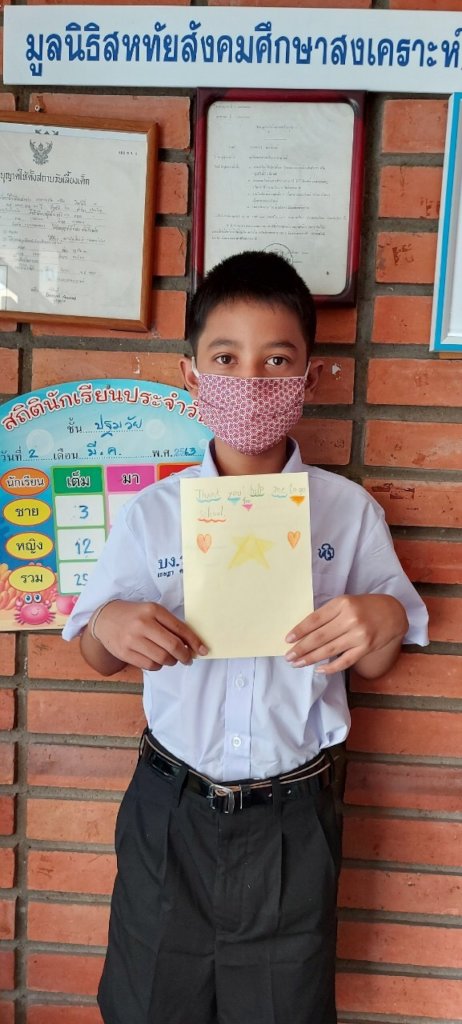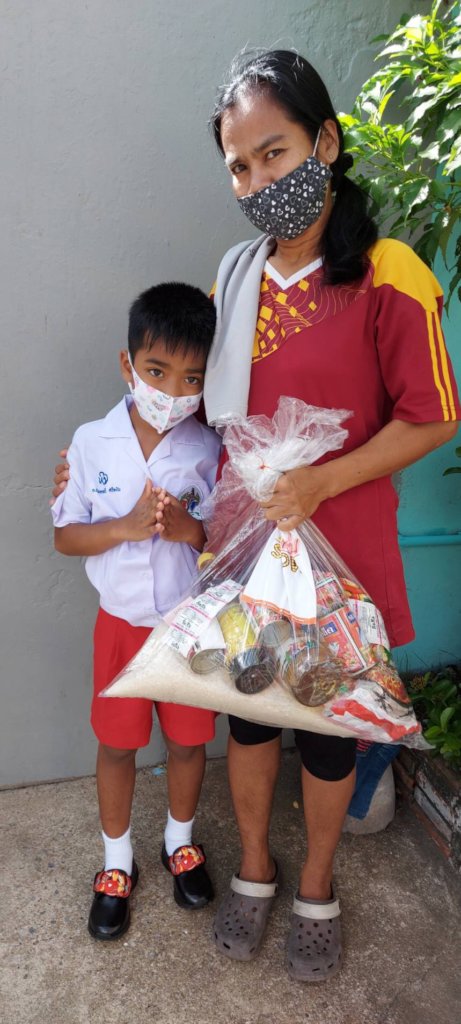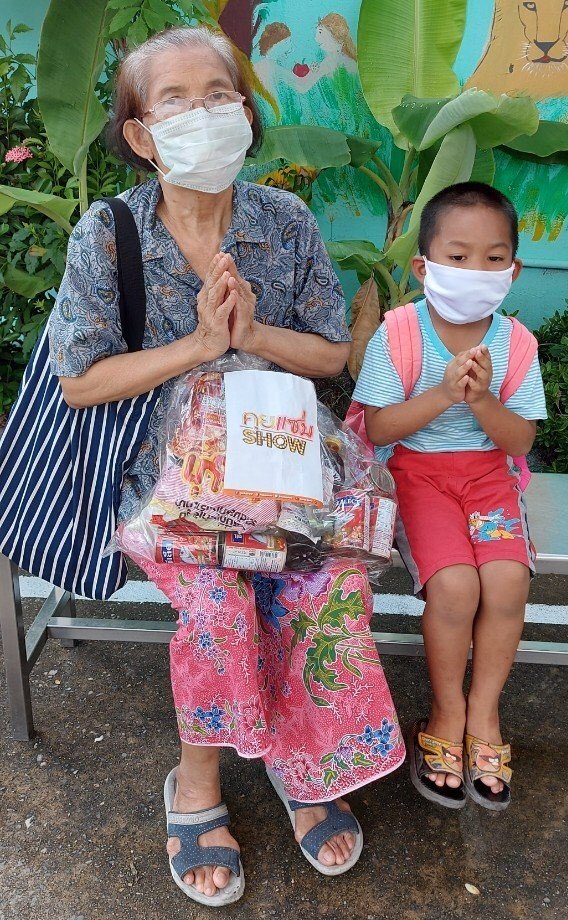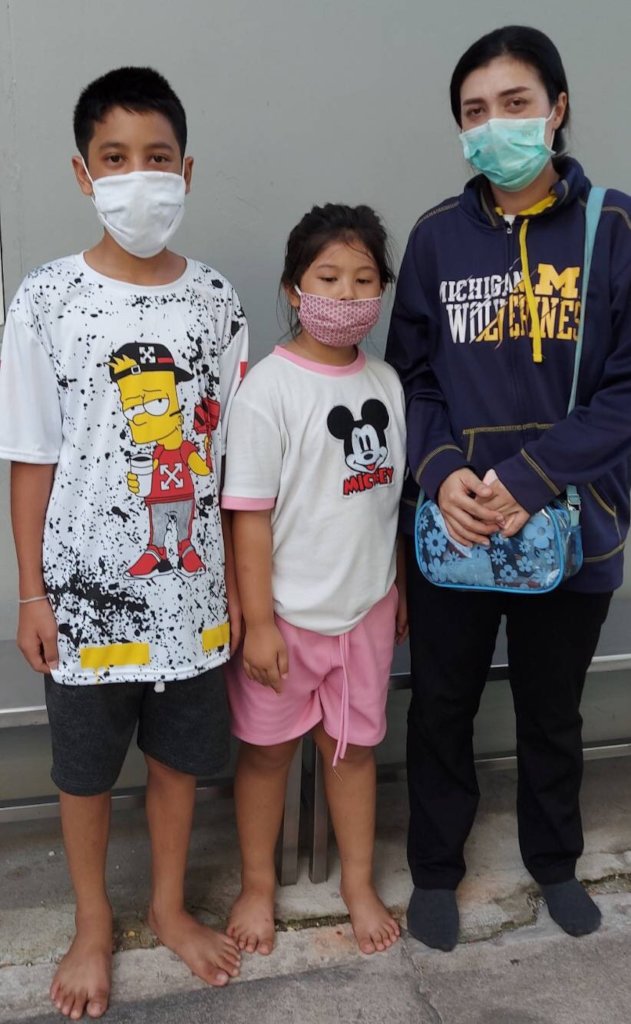 Links: