By Ms. Heidi Tanarat and Ms. Oratai Thaweesin | Project Leader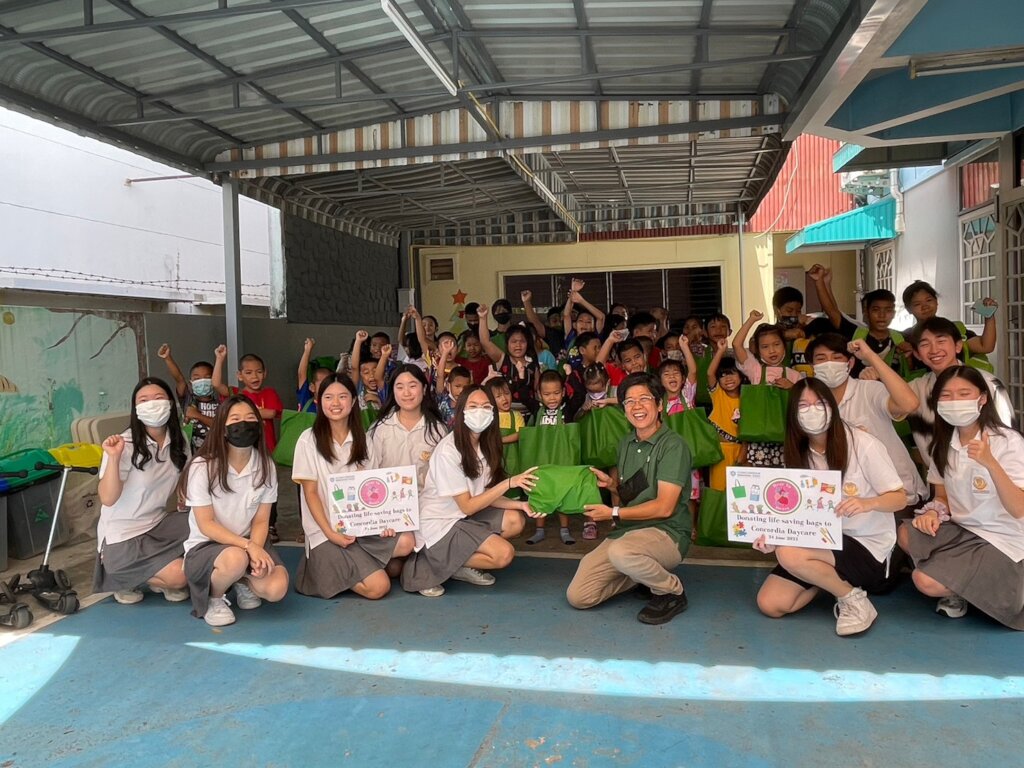 Concordia Day Care and Community Center – Bangkok
CWEFT established Concordia Day Care to serve children between the ages of 2-15, as well as their families. These children are among the most vulnerable, living in crowded disadvantaged communities along the Bang Na major expressway. We promote education and bettering the lives of the children, so they may finish school and go on to achieve good careers. In partnership with supporters CWEFT provided help for at-risk children as listed:
1.1 Pre-School Child Development Project Our goal at the daycare is to care for children between 2-5 who are too young to attend public school, and whose parents must leave for work. We protect children who would otherwise be left alone at home, at risk to multiple dangers. We offer activities that address 5 health concerns: physical, mental, emotional, societal, and developmental health. This includes meeting common gaps in nutritional health, by providing meals according to the children's needs. Altogether in the past year, we took care of 60 children in this way, as well as preparing and sending off 15 children to elementary school at the proper time.
1.2 Saturday School Project: To assist children with learning needs between 5-15 years old, we offer math, English, and computer classes on Saturdays, as well as once a month activities in art therapy. We look for opportunities to promote emotional and mental well-being, as well as teaching important life skills that help to reduce the risk of addiction and violence. We want to see each student develop personal discipline, have courage to share their opinions, use their free time wisely, and see the value of education. We are also mindful in choosing teachers who can counsel students and their families. In the past year, we had a total of 77 children and guardians attend Saturday activities.
1.3 School Breaks Project: During school breaks, many students are left at home alone because their parents have to leave for work. This leaves children at risk for getting into trouble, spending all their time on devices, gambling, and other dangers without anyone to look after them. In order to help parents, Concordia Day Care opens especially during school breaks to be a place of safety for children, while including activities that continue their learning with reviewing school lessons, English classes, sports, and other extra-curriculars. In all, we had 26 children join us for school break activities in the past year.
1.4 Elderly and Community Care Project – Bangna area, BangkokElderly face many struggles, including no one able to help care for them, poverty, and family problems. In response, CWEFT partnered with local businessman and Thai foundation to conduct elderly visitations, and provide resources such as food, medicine and medical supplies, and hospital transportation services. We also helped with planting vegetable gardens and fixing leaks and other issues in homes. In all 6 communities that we served, 5,126 people in total received services:
Bang Na Community

787

people
Buakerd Community 1,224 people
Rung Rueang Community 2,000 people
Poonsin Community 90 people
Yamsuan Community 1,000 people
Rom Pho Community 25 people
1.5 School Sponsorship Program: CWEFT works closely with children and their families who struggle to make ends meet, in an unstable economic situation that hasn't improved. Some families are forced to move back to their villages to try to find work, increasing the risk that children are pulled out of school early to help work and make money. With the support of all sponsors, CWEFT is able to provide ongoing sponsorship support to assist children with school needs, such as uniforms, shoes, sports supplies, and more, to ease the burden of parents and help keep them in school. In all, we provided 1,000 baht in the sponsorship program to 82 students.
1.6 Restoration Project Following House Fire:On the 18th of December, 2022, a fire broke out in the Bang Na Expressway community, destroying 3 homes, including a home belonging to the family of two children who attend Concordia Daycare. With support, CWEFT was able to rebuild all three homes for the children and their two neighbors.
1.7 Local and International School Volunteers: 3 International schools in Bangkok expressed interest in fostering responsibility for society in their students through partnering with CWEFT to helped provide school supplies, put on special events, and care for the pre-school children. Also our partner organization helped provide various activities and supplies throughout the year, such as art supplies, and dental resident taught the children how to care for their teeth.
1.8 Local Thai School reached out to us to open up the opportunity for students to provide community service during school breaks, to build their knowledge through real work experience. Specifically, we welcomed grade 11 student, who has an interest in social work and crowded communities to teach activities and have fun with the children during school breaks.
Testimonials from Partners and Students:
"Thank you to CWEFT and every supporter who has aided us, providing children with opportunities for education, learning how to be a better person, and developing a relationship with God. They become their parents' hope and the future of our nation. Please continue to pray for us and the children's guardians, that we will receive wisdom from God as we serve Him through this children's ministry."
Ant, age 11, is currently studying in Grade 2 and is an orphan after losing both of her parents. There are 3 siblings altogether, and none have legal papers or citizenship. They were given to relatives to raise, but their relatives were unable to care for them, which resulted in the children becoming homeless and having to beg on the streets. CWEFT received information from a local church along with social services, and all three of the children were brought to the center to be cared for. "I want to thank you for helping me and my two younger siblings, so that we no longer have to beg or fend for ourselves, but have a safe place to live, food to eat, and are able to go to school. I am taken care of and I don't have to be afraid."
"New, currently in 9th grade, during the Covid crisis her parents lost their jobs and turned to selling noodles. During school breaks, I need to help my mother sell chicken noodles every day because she has to work so hard while dealing with a chronic disease. My older sister had to leave school to find work to do. I save my snack money to use on school supplies instead. Once I finish school, I would like to apply to join the police, that way I can help take care of my mother and protect her and others too. I want to thank you for sponsoring my education so I can go to school, have the supplies I need, and finish higher school at a higher level. May God bless you all!"
Pon's parents separated and each have their own families now, which resulted in Pon being raised by his grandparents. His father moves jobs often due to chronic liver disease, and his grandparents also have to work, which means that Pon is often left alone. In addition, there is no school in his village and his family has very little earnings. His father wanted him to leave school to