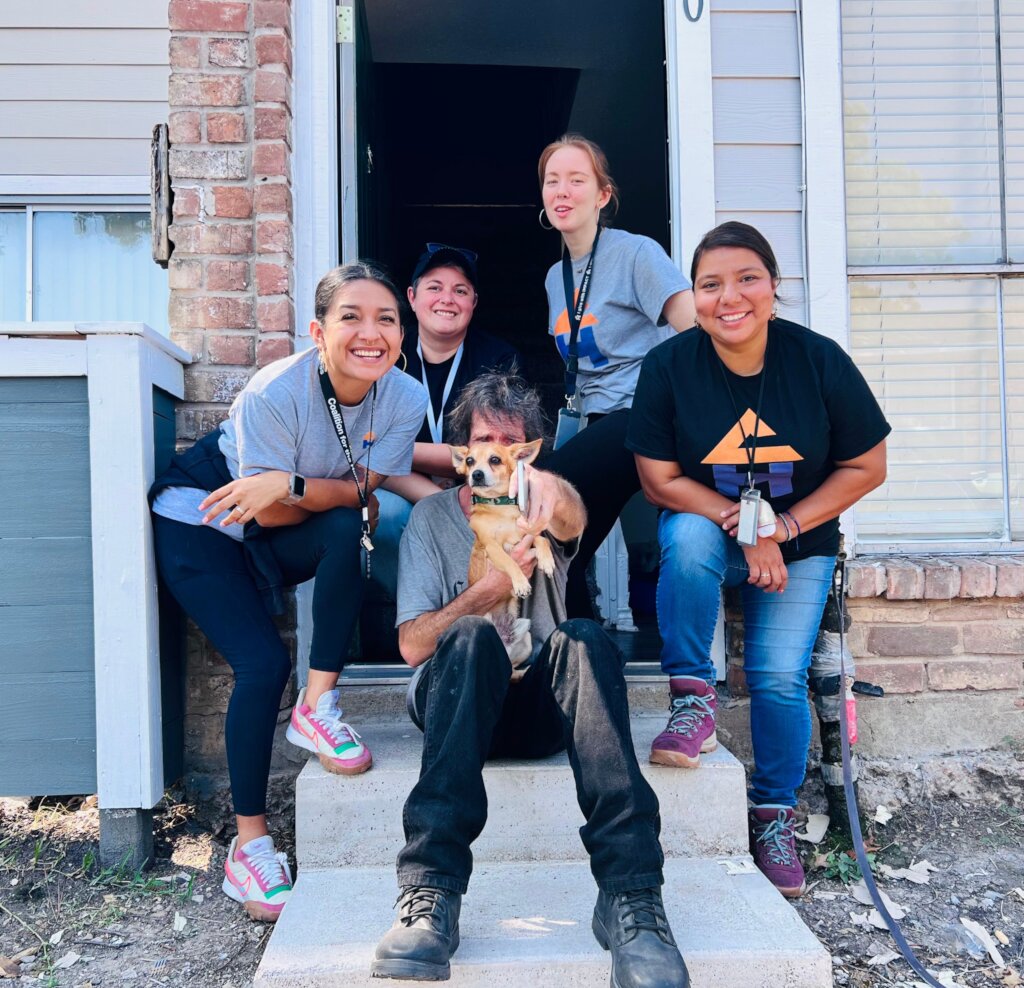 Program Progress
During Phase 1 of the Community COVID Housing Program (CCHP), we achieved our goal of providing services to 5,000 people less than a year ahead of schedule. Due to our success, the CCHP goal was extended to serve an additional 7,000 people experiencing homelessness. William was one of the 11,113 people we've served as of October 17, 2022.
William's Story
I met William in 2015 when I was doing street outreach. Or, more accurately, I first met Charlie Brown, William's dog and best friend who is always by his side. William was hesitant to talk to me at first because Charlie Brown didn't seem to like me. But I kept checking on them, and over time I earned Charlie Brown's — and William's — trust.
William had fallen into homelessness after being diagnosed with leukemia. He hadn't wanted to burden his wife, so he moved out of their home and had been living on the streets for about five years before I met him. Over the years, William made several attempts to get into housing, but he kept running into the same barrier: he wanted to get housed, but not if he couldn't take Charlie Brown with him.
That changed with the Coalition leading the opening of the temporary housing navigation center last year. The Navigation Center is a short-term, low-barrier place where people experiencing street homelessness can stay while waiting for their permanent housing placement. The good news is that low-barrier meant that Charlie Brown was welcomed, and after a few months, William and Charlie Brown moved into their own apartment!
I can't tell you how hard it has been over the years, having people refuse housing because they couldn't bring their pets with them. The Navigation Center has changed that. We had a temporary housing navigation center off 290, and the City of Houston is about to open a more permanent navigation center in the Fifth Ward.
I can say with confidence that William — and so many others like him — would not have been housed and would still be on the streets today if not for the leadership of the Coalition and their development of programs to address barriers for families and individuals experiencing homelessness.
Your support has made serving over 11,000 people, like William, during the short span of two years possible. Thank you for playing a vital role in helping the Coalition coordinate with the many partners it takes to make this dream a reality!
-Jessalyn Dimanno, Manager of Outreach, Coalition for the Homeless