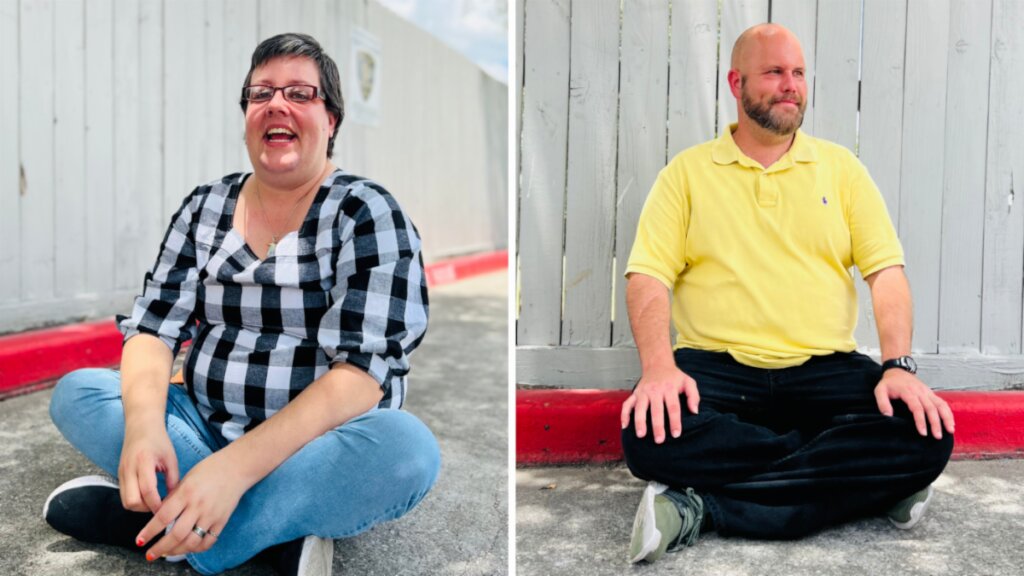 Emily grew up in a stable, upper-middle class family. Her dad worked for IBM for 36 years and her mom stayed home. Emily recalls that she "never had to take the bus to school." After high school Emily met a man and quickly found herself in a severely abusive relationship where she suffered significant trauma that changed the course of her life and was the catalyst to finding escape through addiction.
Emily attempted to leave her partner many times, but always returned to avoid experiencing homelessness, until she became pregnant. Emily had wanted to be a mom more than anything, so she made the decision to leave, get clean, and joined a substance abuse rehabilitation program. However, Emily wasn't able to get the help that she needed. Feeling hopeless, Emily made the gut-wrenching decision to place her 9-month-old up for adoption, so that her son could thrive. This sacrifice and loss drove her deeper into addiction, and she ended up on the streets… which is where Emily met Adam.
Emily and Adam both felt like they had reached rock bottom, tired of using, and tired of staying up for days on end because living on the streets was so scary. They were on the brink of giving up when the Coalition's outreach team, led by Eric, arrived. Eric let Emily and Adam know that the Coalition would be decommissioning their encampment in a couple weeks, and should they want it, there would a safe place for them at a temporary navigation center until they could move into permanent housing with supportive services. Neither Emily nor Adam believed what Eric had promised, until he pulled up in the outreach van two weeks later and asked if they were ready to go!
Emily and Adam moved into the temporary Navigation Center in January and have been sober since. They have been approved for housing and are just waiting on the inspection. Emily has enrolled in EMT classes, and Adam aspires to work on a homeless outreach team, decommissioning encampments like the one where he and Emily lived. Adam wants to offer hope and encouragement to others, that they too can get clean, and that there are organizations that they can place their trust in, providing safe homes to those who have found themselves lost. Next month Emily's baby is turning 3 years old, and thanks to the support of the Coalition and her son's adopted family, she will be at the birthday party to celebrate his beautiful life.
The Coalition for the Homeless leads the work to create positive outcomes like Emily's, and our ability to do so is made possible by individuals like you who support the Community COVID Housing Program (CCHP)! Your donations have allowed the Coalition and our more than 100 partners to provide hope, second chances, and moments that have altered the trajectory of more than 25,000 lives since 2012!