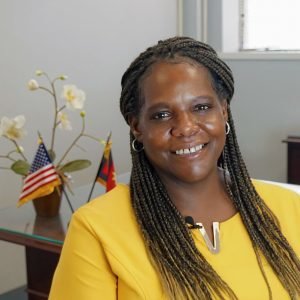 For the past thirty-five years, Susanne has dedicated her life to two things: taking care of her home and her family. Born and raised in New York, Susanne and her family moved to Texas about 13 years ago. It was here that Susanne had to leave everything she has ever known behind and start over for the sake of her safety and her life.
Susanne was once a happily married woman; however, over the years her husband grew increasingly violent. Susanne sought help from therapists and doctors, but it wasn't until one of them provided her with the crisis phone line to the Houston Area Women's Center (HAWC) that she truly understood the severity of her situation and learned that there was help available for her.
Following years of emotional and physical violence from her spouse, Susanne fled her home and sought help from HAWC.
Leaving her home and trusting strangers to help her wasn't easy. Initially it was terrifying, but Susanne felt relieved after walking into HAWC's doors and being able to sleep through the night for the first time in over three years. Because of the staff at the HAWC shelter, Susanne finally felt safe and free of the violence that had enveloped her life.
Susanne's advice to domestic violence survivors – click the link to listen!
After allowing Susanne some time to settle, HAWC contacted the Coalition for the Homeless, lead agency to The Way Home Continuum of Care, to conduct a coordinated access housing assessment for Susanne. Brandon Oliver, senior outreach associate with the Coalition for the Homeless, was able to enroll Susanne into the newly established Community COVID Housing Program (CCHP).
CCHP is a $65M housing-focused pandemic response that will serve approximately 5,000 people experiencing homelessness by fall 2022. People who are currently experiencing literal homelessness (e.g., living in shelters, encampments or on the streets) as well as those who may fall into homelessness as a result of the economic effects of the coronavirus are eligible to receive permanent housing through CCHP.
Once referred to housing through CCHP, Susanne was partnered with The Salvation Army of Greater Houston and case manager Kiley Martens. Susanne constantly refers to Kiley as her "angel" from The Salvation Army, as both she and Kiley worked diligently to get her out of the shelter and into a home to call her own. Thanks to the additional resources provided by the CCHP, Kiley found a home for Susanne within only a couple of weeks.
Susanne's introduction to The Salvation Army of Greater Houston – click the link to listen!
Although Susanne has not yet moved into her new home, she explained all the feelings she has about having a place to call her own: Relief that she is no longer in an abusive home and relationship — and that she can now give up her bed at HAWC for the next woman who is strong enough to seek help. Gratitude for HAWC, The Salvation Army of Greater Houston, and the Coalition for implementing programs like CCHP to help people experiencing homelessness and help others to safely navigate out of violent situations. And excitement to start a new life, in a home to call her own, free from violence, and free to help others who, like her, were in an unfortunate situation.
Susanne's gratitude for the system – click the link to listen!
Susanne's story started with her seeking help; because she was strong enough to flee a violent situation and reach out to the resources available to her, she was able to change her life through CCHP and with the help of our partners
Links: