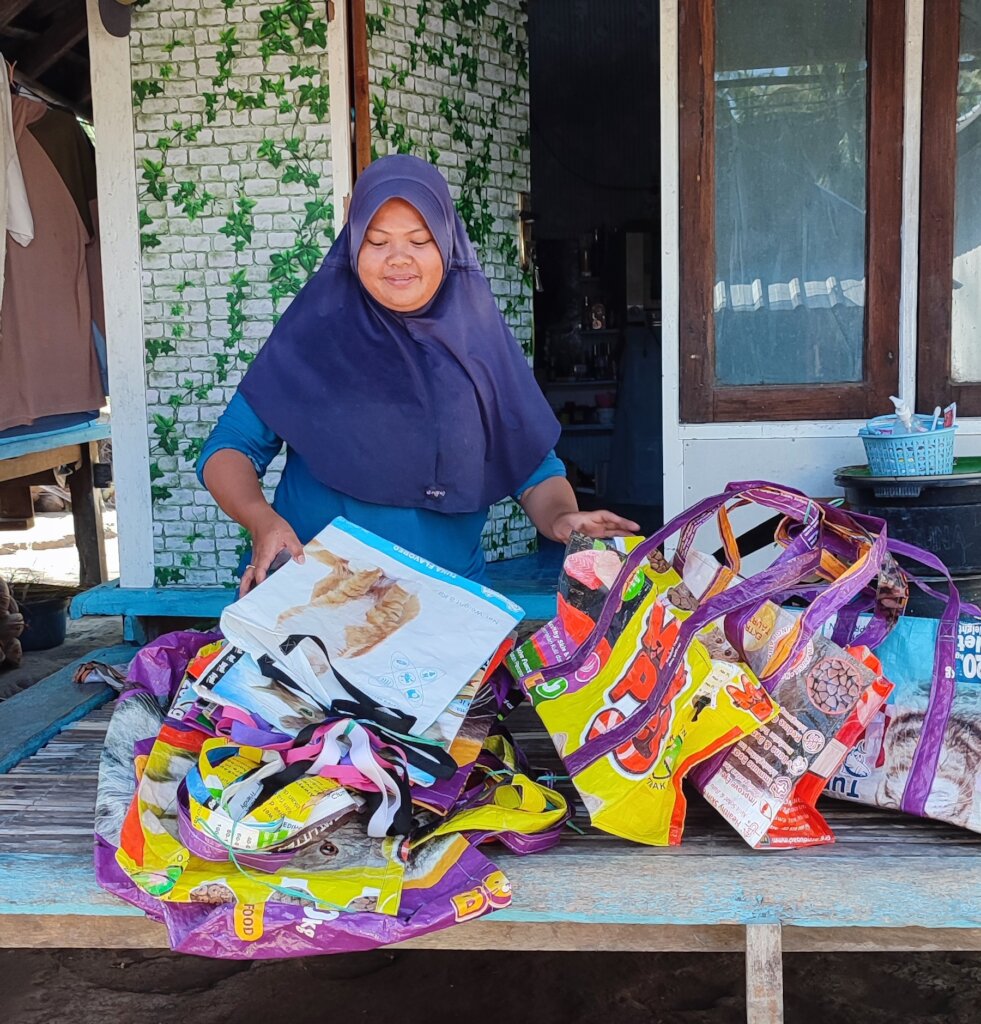 Greetings from busy Gili Trawangan! It is high season at it's highest at the moment, there are people everywhere, hotels are full, boats coming from Bali are full… and we too have been busy with all things cats!

FINALLY! BagLady Project - our empty cat food bags turned into cool bags and pouches!
As you can imagine, we go through mountains of cat food. Most of the cat food we use comes in big 20kg bags. For years now we have given all these big empty bags to our mama foundation Gili Eco Trust, to use the bags for island clean-up events. However, as the material is pretty strong, and often has cute cat pictures, we have tried to find a way to make something nice and usable from the bag materials. For years we have been looking for someone we can team up with and get this Bag Lady Project going!
Finally a few months ago we met Ibu W, who lives in a small village in Lombok. She needed more work and income, she has a sewing machine, and she was very happy to start making some bags and pouches for us. We started with a few samples of big beach bags she made, and those turned out amazing. We now have several different types of bags available, as well as big selection of zipper pouches. We provide the material (cat food bags, as well as toilet litter bags), Ibu W does the magic with her sewing machine and we pay her for each item she makes.
This is a fantastic win-win situation: all the plastic cat food bags get a new life as usable, long-lasting bags and pouches, Ibu W gets work and income, we get these items to sell at our charity shop, people who buy the items get cool and usable one-of-a-kind bags, and in the end: we get more money to fund our work with Gili island kitties. So, our Bag Lady Project brings income both for Ibu W in Lombok and for our cats here in Gili islands.
Also, now anyone who buys big bags of cat food from us, can return the empty bags to us, and we will recycle the bags to this fantastic bag project.
Our cat café KAFE KUCING got a little facelift
When we built our new cat café Kafe Kucing earlier this year, everything was done with a minimal budget. We simply had no money spend, so we started with a very simple set-up, and just hoped for the best. We opened the café in mid-April and have since saved every rupiah the café has made to be able to do a little facelift. And at the end of July we finally had enough money saved to be able to buy some nice wood planks and get our trusted building crew back on site. Again, we did go with minimal budget, and only used paid workers for stuff we cannot do ourselves: to put up the new walls. Paintwork, decorations and other details we've done ourselves, with a little help from local friends.
We now have new walls around the cafe, but our café still has an open plan and will stay that way. The café cats are free to come and go as they please, and if they feel they've had enough of humans, they can go and hide from the admiring cat tourists.
While doing this little reno/upgrade, the café has been open as usual and it has been fairly busy. We love meeting cat loving people from all over the world! And our cats love the attention and the cuddles they get from our customers.
The cats also love donuts they steal from our customers, but that's another story…
Visiting Lombok Creative Market
In July we were invited to join the 2nd Lombok Creative Market, held at Naughty Little Cat Park in Mataram, Lombok's biggest city. Gili Eco Trust joined us so we had two market stalls together, where we sold our merch, eco friendly products and shared information about all the environmental work Gili Eco Trust is doing, including cat project, of course.
The Creative Market Day was a lovely day in a lovely place, and it was so nice to finally meet the people who run the Naughty Little Cat Park.
Naughty Little Cat Park has a little restaurant, shop and a big garden for cats and other rescued animals (we loved the ducks and geese!). They take in cats in need, when they can, and organize vet care and spay/neuter for the rescued cats in their care.
We often get messages from people living or visiting Lombok when they are looking for help for cats in need. It's good to know now we can ask them to contact Naughty Little Cat Park first to try find help locally in Lombok.
We take in cats and kittens from Lombok only if there is no other option and there is no help available in Lombok.
Rescued cats and kittens keep on coming and we are preparing for big cat rescue/rehoming from Lombok
It is high season for tourism here now, and more people around means more eyes around spotting cats and kittens in need. We happily take in generally healthy kittens, who are not in need of intensive veterinary care, but are more in need of some TLC and a safe place to be. Anyone reporting seriously sick or injured cats, we tell them to contact the island vet clinic for help, since there now is such a thing and a vet working here permanently.
As of writing this report (mid-August 2023) we are preparing and getting organized for a big cat rescue/re-homing from Lombok. 11 cats and kittens need re-homing. The lady who has them is overwhelmed with the care of them, struggles to even feed them all, cannot afford vet bills to get them spayed or neutered... and one of the female cats is pregnant again.
We tried to find other solutions first, but for example our friends at Naughty Little Cat Park in Lombok are full and cannot take in more cats at the moment.
So, although we have more than enough cats ourselves too, we are bringing the cats here and we will get them spayed/neutered, vaccined, dewormed etc, and hopefully we can also find homes to at least some of them.
Please follow our social media to stay updated about this case.
For the rest of this year:
We continue looking after cats and kittens that are brought to us. Cat rescue work is the core of what we have been doing for the past 10 years, and it still is what we are and what we do. Everything else (charity shop and café) is just to support our work with cats.
Our Purr It Forward –cause is still ongoing, supporting local cat loving families and individuals in need with free cat food.
We continue making our new café and little charity shop better and whenever there is time we work on new merchandise designs and artwork. We want to be unique, a place you cannot find elsewhere.
Our new Bag Lady Project will continue and we recycle all our big cat food and cat litter bags to this cause
And last but not least: we hope we will soon be able to hire a cat loving person to work for us. We are currently surviving with volunteers stepping in to help when things get too busy, but we are desperate to find permanent staff member or two to help run everything smoothly.
THANK YOU FOR DONATING! WE COULD NOT DO ALL THIS WITHOUT YOUR SUPPORT!
We are sending loud, warm purrs to everyone who has donated to our island kitties. Thank you!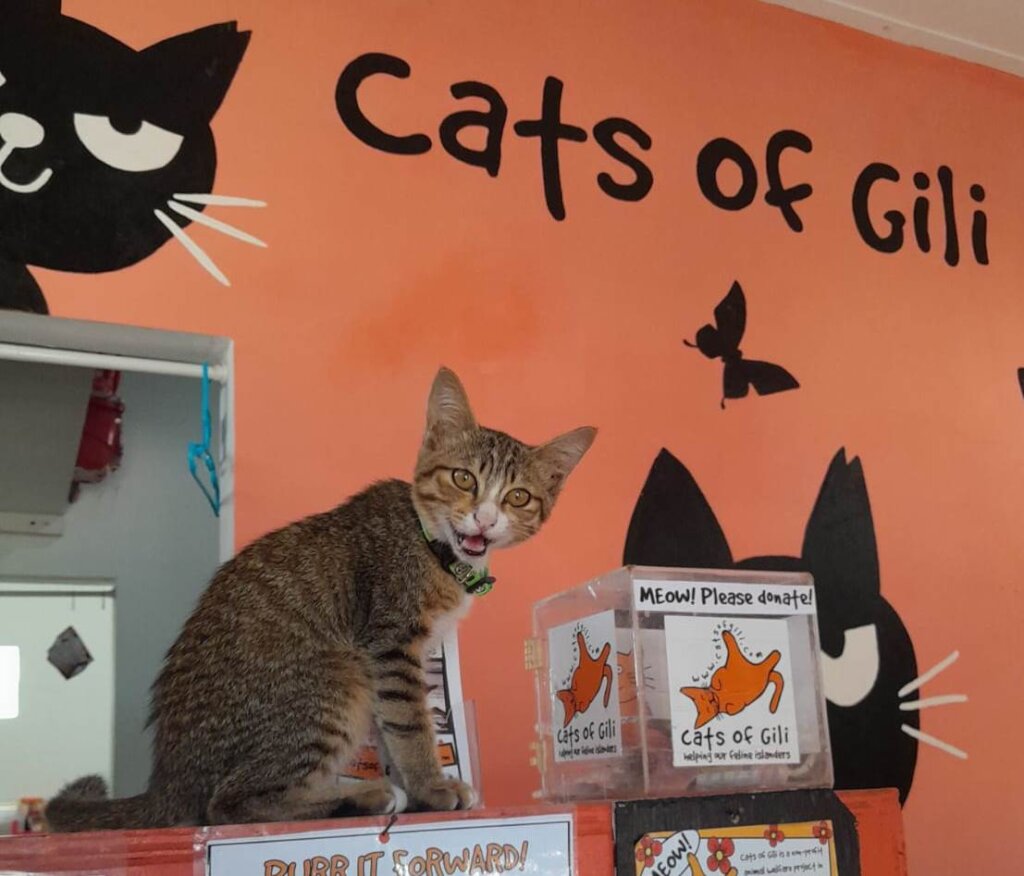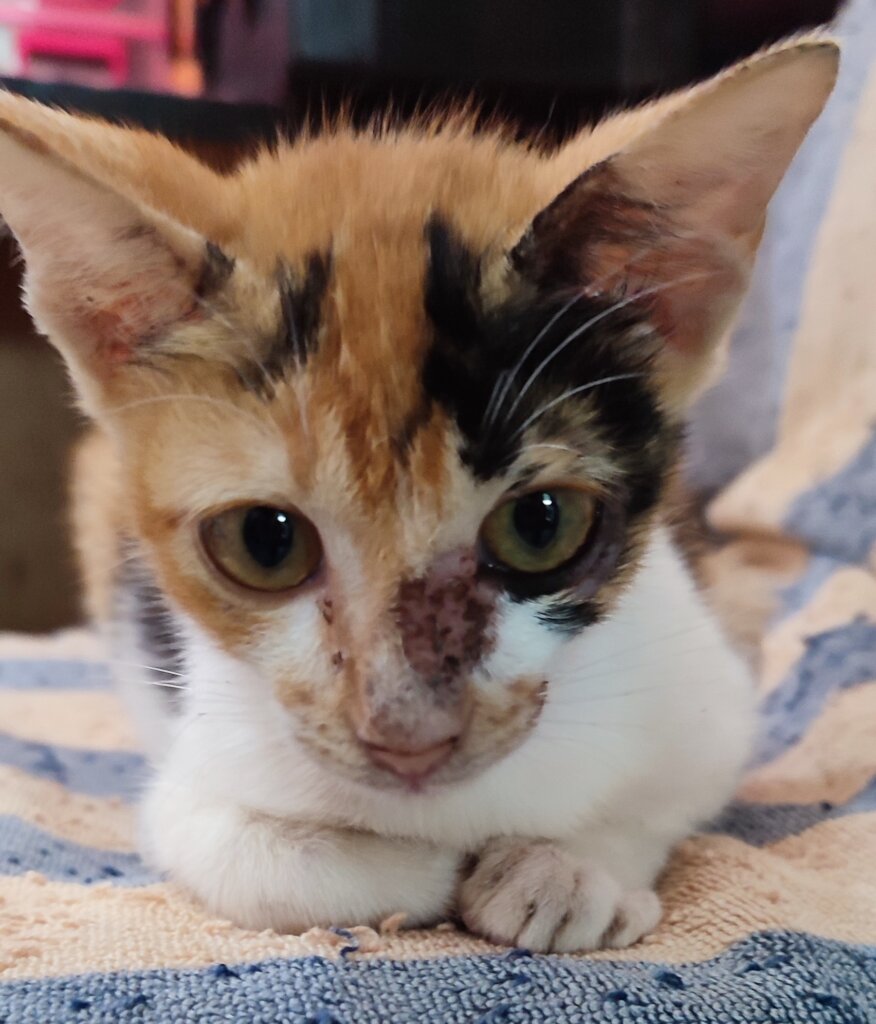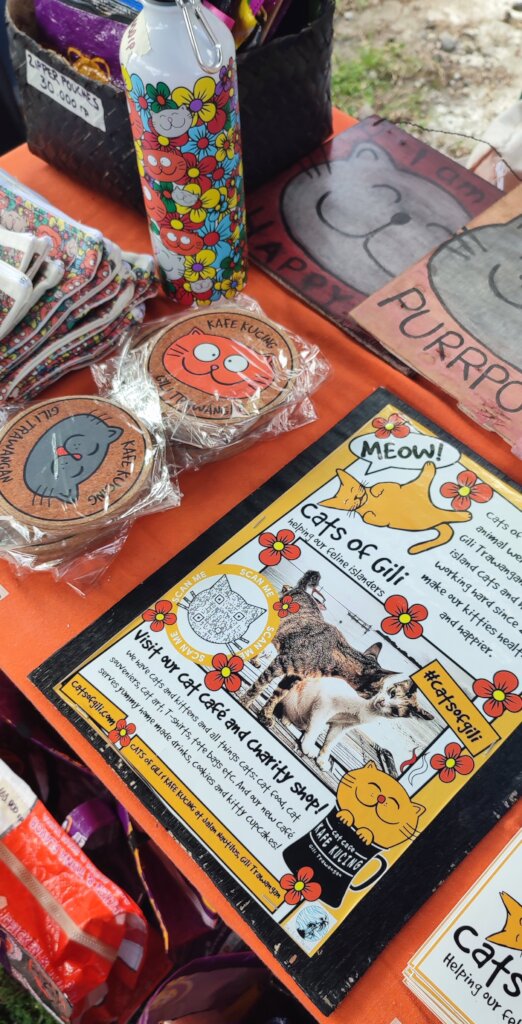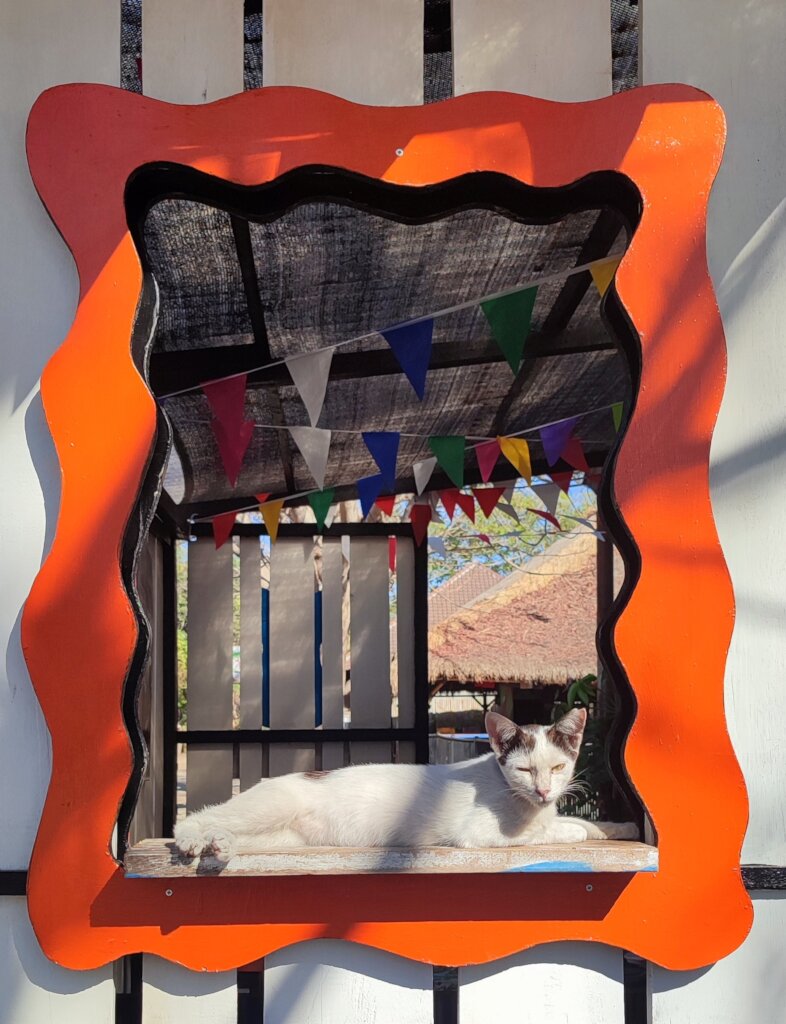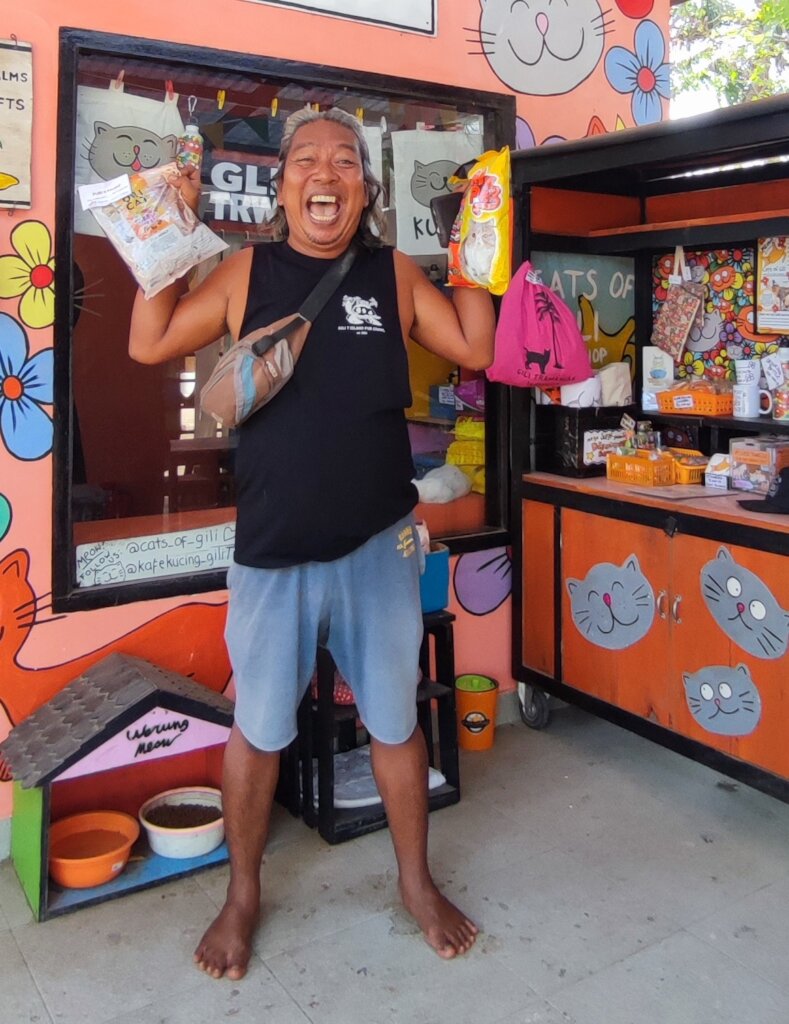 Links: