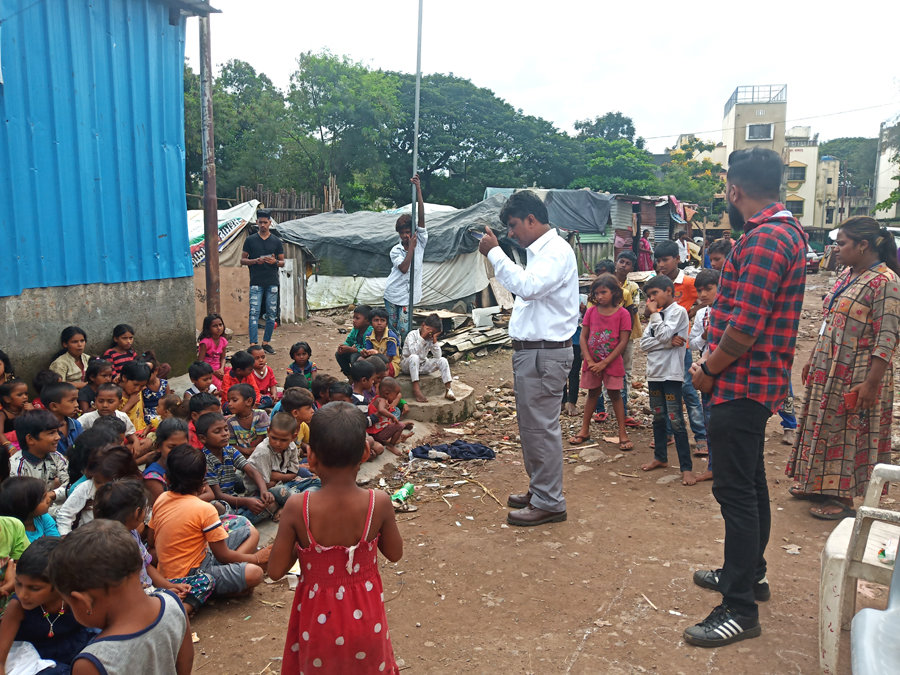 Thanks to all our donors who supported and encouraged us to continue Care and School Education of Street Children Project in Pune city. Foundation has conducted following activities from November 2019 to January 2020 for these children :
November 2019
1st November - To celebrate Diwali festival competition of making forts using clay was arranged for the children from Phulenagar and Kathe vasti locations. Total 9 forts were considered for the prize and the 3 winners were given medals at the hands of school headmaster specially invited to this completion.
8th November – UBS company invited 30 street children to it's office. There was team building activity and motivational speech.
14th November – This day is celebrated as Children's Day in India. On this day 300 children were taken to Peshve Park wherein they played games, participated in dance and enjoyed with Micky Mouse. Solar lamps were distributed to these children and they were given lunch.
18th November – 12 street children were given admission in foundation's hostel as these children are from nomadic tribe and the parents continuously move from one place to another due to which children could not attend any school.
20th November – 15 children from Phulenagar area were taken to Khadki for enrollment for Aadhar card as this card is mandatory for almost all the services e.g. opening bank account, obtaining SIM card for mobile, school admissions etc.
December 2019
1st December – Used clothes were distributed to 500 children from Ramwadi, Phulenagar and Khadkit area. These children did not have clothes to wear.
12th December – Hasbro company arranged program for 50 street children and 100 children from Destitute Rehabilitation Centre. They are given lunch and various activities were organized for them. Some children participated in drama, dance etc.
20th December – 500 children were given blankets, sweaters, solar lamps, towels etc. in a function arranged in Niwara Oldage Homes at Navi Peth, Pune.
26th December – 300 street children were taken to foundation's Destitute Rehabilitation Centre at Katraj, Pune, and were given blankets, sweaters, solar lamps, towels etc.
January 2020
7th January – 12street children from Tingre nagar were admitted in municipal school. These children are attending the school regularly.
8th January – Health Check Up camp was arranged 300 children and their parents in Pudhar vasti area of Katraj, Pune.
10th January – 12 children from Tingre nagar area who were admitted in school were given sweaters.
11th January – 250 children were given solar lamps, blankets, sweaters, towels and eatables in a program arranged in foundation's Destitute Rehabilitation Centre at Bhilarewadi, Katraj, Pune.
25th January – Health Check Up of 200 children from Phulenagar area was done with the help of team of doctors from Dr. D.Y. Patil Hospital who were invited for this camp. Their HB check up, Weight & Height measurement, General Check Up, ENT Screening etc was done