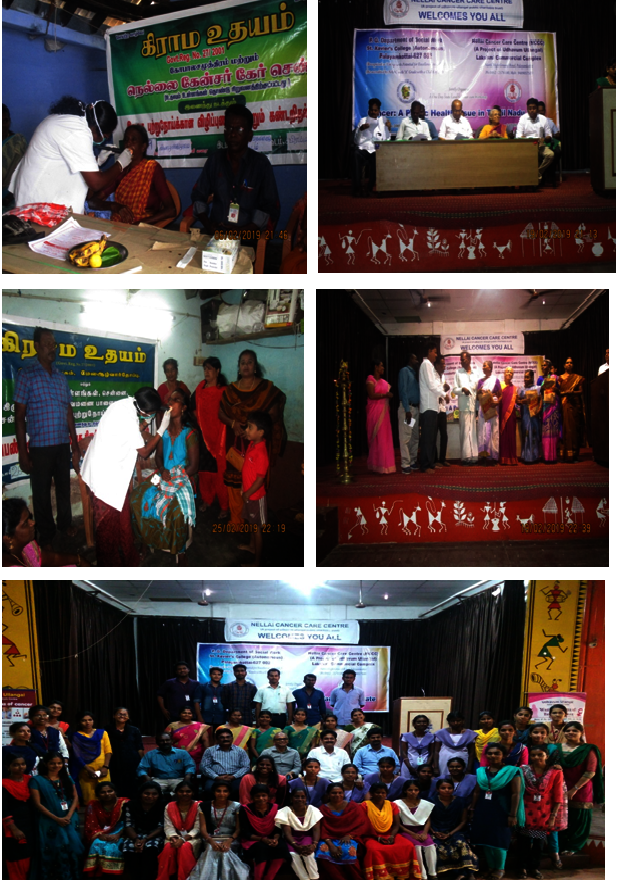 State level Seminar cum Workshop on Cancer- A Public health issue was conducted with School of Social work St.Xaviers college, Tirunelveli.
The program was inaugurated by Dr. Senthil Deputy Director Public health, Tirunelveli, hehighlighted the need for creating more awareness, prevention, screening, early identification and treatment process. He also shared that the Government offers health insurance for the poor and needy people.
Dr. Aruna Chandrasekar,Surgiacal Oncologist & Medical Director in her presidential address highlighted the need for early identification, continuum of care and need for follow-up to address cancer care services in Tirunelveli. She also shared her experience in Adyar cancer institute, Nellur in Andhra and also shared about the cancer care services in Tiruneveli through Nellai cancer care center. .
Fr. Anthonysamy Secretary of St. Xaviers college highlighted their commitment towards the cause. The inaugural session was followed by technical session, shared by Dr. Nagalakshmi Asst Professor Tirunelveli Medical college, Dr. Abirami, Dr. Cynthia and Dr. Jayabarathi about cancer primary care, secondary care, tertiary care and narrated their experience in Nellai cancer care center.
Second Technical session was an inspirational session by the cancer survivors from Nellai cancer center, they all shared that quality care by Nellai cancer care center and its team, their motivation to
survive, pain management were shared by them.
Dr. Arthi an Anaesthetist and Assistant professor from Tiruneveli medical college shared her experience on pain management for palliative care for cancer patients.
Group session was facilitated by Dr. Vidhubala with an interactive session reviewing the day long learnings and asked for an action plan for self and social action to prevent cancer care focusing onm behaviour change from high risk to low risk and no risk.
Thanks to Dr. Senthil, Deputy Director, Public health, Tirunelveli District for their support. The first ever cancer screening with the Govt PHC for follow up of their cases for cancer screening at Pathamadai PHC on 14th Feb 2019. 42 people were screened for oral, Breast and cervix.
Cancer Awareness in Bell pins Factory.
Nellai Cancer Care Center – Inauguration of Palliative Care Services
Palliative care services was Inaugurated by Dr.Sunderesan, chairman of Gramaudhayam. He shared his own experience of his wife dying of cancer and need for palliative care. Dr.Aruna, Surical Oncologist and our Medical Director shared her experience and highlighted need of palliative care with Medico, psycho-social support with pain management.
Mr.Sankar Mahadevan shared about NCCC experience with home based care services and palliative care. He also assured that Udhavum Ullangal will launch Nutritional support for cancer patients. Nellai Cancer Care Centre has given awareness to 1,13,381 people, screened 29,980 in 1240 camps and treatment support given to 87 people. Palliative care nursing team from Govt shared their experiences.
7 NGO partners had participated.
Follow up for preventive care
Cancer care continuum
Home based care
Psycho-social support
Pain management
Nutritional support
Livelihood support
Social security support were highlighted for cancer patients.
Special camps for high risk groups were also highlighted.
NCCC team had made all arrangements in organizing this unique program.
Dr.Aruna Chandrasekar, Surgical Oncologist , Medical Director, Nellai Cancer Care Centre
Dr.Krithiga, Anaesthetist from Tirunelveli Medical College Hospital