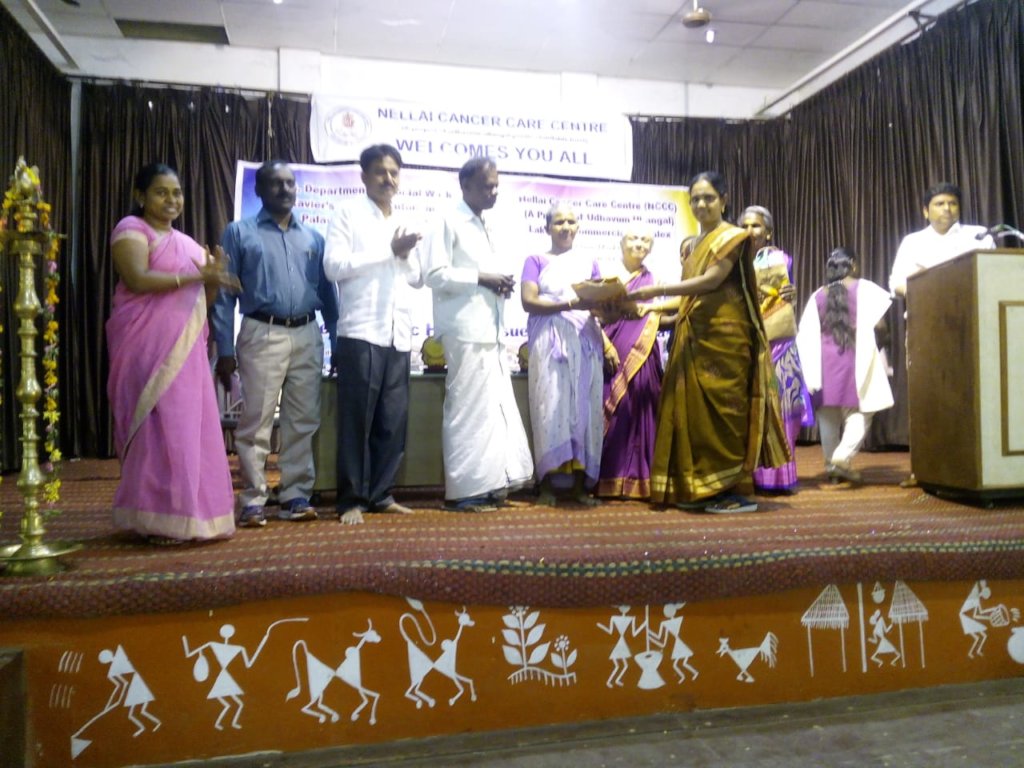 Report
State level Seminar cum Workshop on Cancer- A Public health issue in Tamilnadu
State level Seminar cum Workshop on Cancer- A Public health issue was conducted with School of Social work St.Xaviers college, Tirunelveli.
In Tirunelveli there are over 7.5lakh Bedi workers who are rolling over crores of bedi every day, majority are women who are at risk. There is a need for intensive coordination to collaborate and engage multi-stakeholders to participate.
The program was inaugurated by Dr. Senthil Deputy Director Public health, Tirunelveli, he highlighted the need for creating more awareness, prevention, screening, early identification and treatment process. He also shared that the Government offers health insurance for the poor and needy people. Dr. Aruna Chandrasekar in her presidential address highlighted the need for early identification, continuum of care and need for follow-up to address cancer care services in Tirunelveli. She also shared her experience in Adyar cancer institute, Nellur in Andhra and also shared about the cancer care services in Tiruneveli through Nellai cancer care center. Dr. Sunderesan founder trustee of Gramaudhayam highlighted about their participation in cancer care, he also shared how his wife who died of cancer. He shared that he wish to engage and support for the cause. Gramaudhayam offers micro insurance products for cancer affected families upto Rs.10000 and facilitate free treatment. Fr. Anthonysamy Secretary of St. Xaviers college highlighted their commitment towards the cause.
The inaugural session was followed by technical session, shared by Dr. Nagalakshmi Asst Professor Tirunelveli Medical college, Dr. Abirami, Dr. Cynthia and Dr. Jayabarathi about cancer primary care, secondary care, tertiary care and narrated their experience in Nellai cancer care center.
Second Technical session was an inspirational session by the cancer survivors from Nellai cancer center, they all shared that quality care by Nellai cancer care center and its team, their motivation to survive, pain management were shared by them. Their sharing was highly appreciated by the participants who asked several questions about pain, treatment, coping skills, family support which are vital for care continuum and treatment compliance.
Dr. Arthi an Anaesthetist and Assistant professor from Tiruneveli medical college shared her experience on pain management for palliative care for cancer patients.
Group session was facilitated by Dr. Vidhubala with an interactive session reviewing the day long learnings and asked for an action plan for self and social action to prevent cancer care focusing on behaviour change from high risk to low risk and no risk. A group session was facilitated by Ramkumar for key action points for prevention, care continuum and other services. Participants in 4 groups shared their action points-
1. To conduct awareness cum screening programs for high risk groups with 20 NGOs in Tirunelveli and Tuticorin.
2. To conduct sessions for factory workers, unorganized and organized workers.
3. To collaborate with Nellai cancer care center for need based program, referral network and enable quality care services.
4. Participants also shared their personal action plans and commit for cancer care inline to World Cancer day oath, I am and I will.
150 participants from 7 NGOs, MSW students from 2 colleges had participated in this program. They were all awarded certificates by Mr. Santhanam, Trustee of Udhavum Ullangal who highlighted the organizations key activities in education, skill development and health. He also committed to collaborate with all the key stakeholders for cancer care.
Dr, Shayaraj, Professor & Hod of Social work and Mr. Paulraj had organized with the students along with Nellai cancer care center team lead by Mr. Satish Prabhu.
An action oriented seminar cum workshop had empowered the social workers to engage in cancer care, NGOs to include cancer prevention, collaborate with Government for eradication of cancer care services. A unique State level program was conducted with the active participation of over 150 participants from Govt health department, NGOs, Social work, Public health specialists, practitioners, cancer survivors had participated and shared their experiences. The program was sponsored by Hotel Janakiraman, India cements and Udhavum Ullangal.