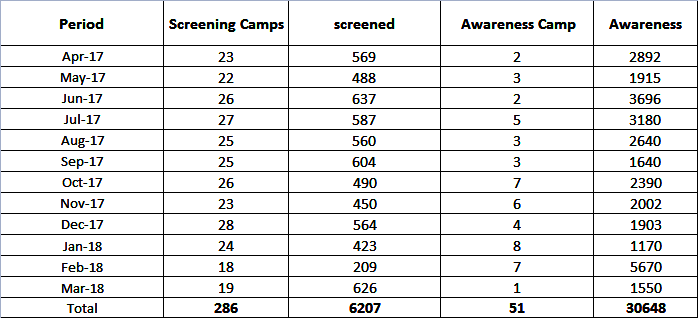 Details of no of camps conducted, awareness given and screen done for the period 1st April 2017 to 31st Mar 2018. (pic. 1 to 4 )
5)True Story
Ms. Chinna Koyil ( name changed) , aged 14yrs, belongs to Kandapatti Village Alangulam Taluk, Tirunelveli Dist. She was a normal child going to school, playing with friends and dancing happily. Suddenly she had severe pain in her right leg. Day by day it was increasing and unbearable.
She was undergoing treatment in the local hospital and after spending all their resources the local Drs suggested to consult Regional Cancer Centre at Trivandrum. They diagnosed Cancer and put her in chemotherapy. Also suggested surgery for ambutation of her leg which would cost Rs. 2 Lakhs. As her parents couldn't afford to pay the cost they returned to their native place. Through cancer awareness program they approached our Nellai Cancer Care Centre. Our surgical oncologist throughly examined her and admitted her in Cancer Institute Chennai and amputated her right leg free of cost. Now she is normal and learning to walk with artificial limb. She is attending school happily.
6) On the eve of World Cancer Day we inaugurated Implementing Cancer Control Program at Rural Villages of Tirunelveli .The District Collector Inaugurated the program. Nearly 120 Students from Various Colleges attended the programme.
7) NSS team of St. Xavier's College were trained in cancer awareness program to support us during camps as Train the Trainers concept.
8) Cancer screening camp for police force inaugurated by the Police commissioner of Nellai. Screening done for 75 people.
9) Medical students Ms.Sarah Smith, Ms.Hanna Simmons, Ms.Nikhila Khandwala, Ms.Lavren Gasten, Ms.Charmayre Cooley from Michigan University visited Nellai cancer Care Centre and interacted with the Lab Technicians and Drs. They also attended cancer screening camp in Alangulam as part of their study on "Knowledge about Pap smear test among rural people"
10 - 12 ) Udhavum Ullangal Public charitable Trust made New year a joyous day for the Children of Institute of child Health, Egmore on 31st Dec 2017.
Origami (paper folding game) by Mrs.Kanu Priya
Puppet show by Cheers Dance by eNoah Team. Gift hamper were presented to 65 children in the Hospital.
13) World Cancer Day