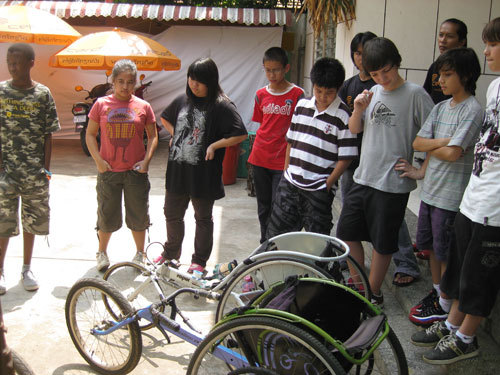 Now in its sixth successful year, the ISPP Landmine and Disability Study Group kicked off last week at the start of the new academic year when 10 students visited the CNVLD office for an introductory presentation.
Established by inspirational ISPP teacher Mr Brian Webster in 2003, the Landmine and Disability Study Group is the most important component of the CNVLD Education Programme and has seen remarkable progress in integrating disability issues into the school curriculum.
As proud co-sponsors of the Takeo ISPP Templestowe Falcons volleyball team, ISPP students organise a whole host of activities through the year to promote awareness of disability issues. The Annual ISPP Fun Run raises $5000 every year towards the Falcons team sponsorship which allows the Falcons to be one of the most competitive teams in the 2009 Cellcard National Volleyball League. The Annual ISPP CNVLD Volleyball Tournament has brought new levels of integration between youth athletes and the athletes with a disability of Cambodia and the Falcons also help the ISPP team prepare for their regional international schools annual MRISSA tournaments. In September, fellow Falcons co-sponsors Templestowe College Melbourne 'Cambodia Community Challenge' students will return for the 4th consecutive year to play in mixed team matches with the Falcons and ISPP students.
In recognition of ISPP's efforts, the school was awarded the CNVLD Best Educational Institute for Disability Issues Annual Disability Award in 2008.
Since 2005, ISPP Landmine and Disability Group students have also worked on the renovations and upkeep of the grounds at the Kien Khleang National Rehabilitation Centre, created an award-winning Dutch language landmine website, designed an international fund-raising campaign, produced a short video documentary and, most importantly of all, contributed enormously to raising awareness, support and respect for the athletes with a disability of Cambodia.
During the visit to the CNVLD office last week, after an introduction by CNVLD Secretary General Chris Minko, the Landmine and Disabilty Study Group with teachers Mr Brian Webster and Ms Marion Harris, found out from CNVLD Volleyball Manager Mr Pich Piseth, CNVLD Admin Manager Ms. Keth Theary and CNVLD Special Projects Officer Neil Wilford about the huge progress the CNVLD has enjoyed since the end of the 2009 school year, including the all new 2009 Cellcard National Volleyball League, the nomination of National Wheelchair Racing Champion Van Vun to qualify for the London 2012 Games and the progress of the Armed Art programme under Melbourne Royal Institute of Technology lecturer and producer of the World Cup medals Mr George Friml.
The CNVLD is exceptionally proud of its cooperation with ISPP and looks forward to another successful year working in cooperation with the dedicated students and staff, together with the Athletes with a Disability of Cambodia.
CNVLD and ISPP: Standing Up to Encourage Awareness of Disability Issues and Volunteerism Among Students in Cambodia