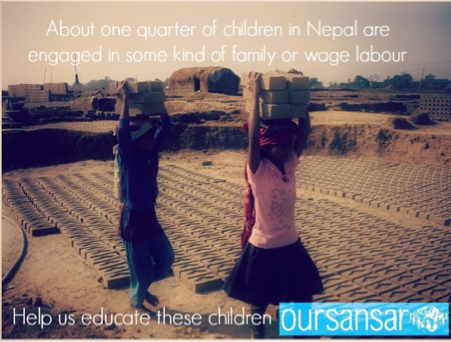 Dear friends, colleagues and supporters
2013 was a really exciting year for Our Sansar and we owe it all to those who have made all this possible. THANK YOU!
With all UK staff working on a voluntary basis, Rajesh and I are very proud of everyone here and our hard working local staff in Nepal. It's amazing how much you can achieve working with passion and dedication!
Last year we started a large teacher training programme with our fantastic local partner, GAN Nepal, through which over 360 local teachers from Birgunj, Chitwan and Hetauda are receiving a high standard of training. We've received amazing feedback from all the teachers so we are hoping to expand it even further this year.
We have had a really exciting year with the opening of our first ever children's home for street children in Birgunj. We are the only organisation in the region working with street children so it is a really important project that we are hoping will improve the lives of many children who find themselves in difficult situations. We are continuing our work with local communities and aim for the home to become a model children's home for further developments.
So far in 2014 we have welcomed 6 children into the home, keep an eye on our Facebook page for updates on their progress! During these first few months we are focusing on settling the children in, providing good quality education and ensuring they are well fed and healthy. I know our local staff are doing a great job and providing the children with a loving, homely atmosphere.
As of today we have raised an amazing £2333 and can now buy two buffaloes that will provide the milk essential for the children's nutrition - this is all thanks to you!
But, we still need a bit more of your support so we can make sure these children continue to get the help they need in 2014. Our fundraising goal is £3000, this will buy everything we need to feed and look after the buffaloes for a whole year!
Every donation helps make a difference to these children's lives - no matter how small - remember a little goes a long way in Nepal!
A massive thank you for all of your support.
Julia and the Our Sansar team
Links: