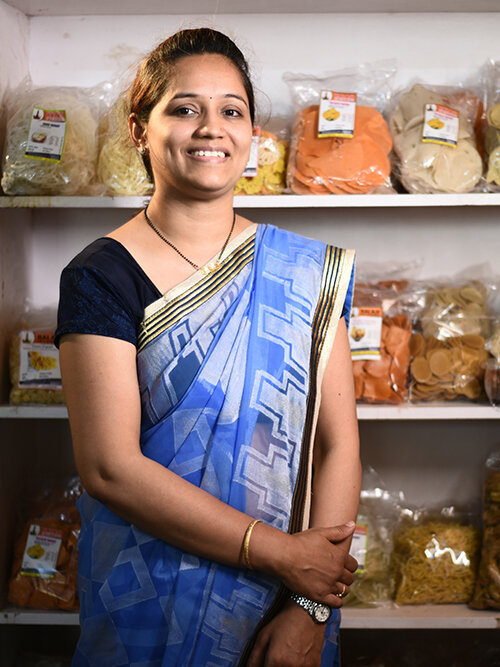 Dear GlobalGiving Supporters,
Sneha (now 33) is running a papad business for the last five years.
When she first set up her business, she took a loan of Rs 40,000 from the Mann Deshi Bank Mahila Bank and began by selling 5 kg of papad in a month. Today, from the comfort of her home, she supplies 22 varieties of papad and sells 200 kg of papad to 30 resalers across in Pune, Mumbai, Ratnagiri and Dapoli. She has also added nachni and wheat biscuits among her products and earns Rs 15,000 a month.
Last year, after attending a workshop in digital marketing organized by Mann Deshi Foundation, she created a Facebook page for her brand Balaji Enterprises and that helped her get many new customers. "In fact, through Mann Deshi, I have met many women who were looking to diversify their products and businesses and now they stock my products for a commission. It's a wonderful feeling when women can empower each other and I've reduced my profit margin so that I can help them earn better," says Sneha, who is excellent at standardizing her products and also trains other women associated with Mann Deshi.
Sneha finds Whatsapp an excellent tool to reach out to her customers and suppliers. She does most of her business transactions digitally through GooglePay, PhonePay or PayTM.
During the lockdown, Sneha's business came to a standstill for two months, mainly because of logistical difficulties. But she soon started local home delivery and hopes that as things ease up, she will go back to business as usual. She hopes to set up her own manufacturing unit and set up her own shop soon.
Thank you so much for all our supporters !!!