Project Report

| Dec 11, 2019
Cartoful Riscovean: A Local Potato Collective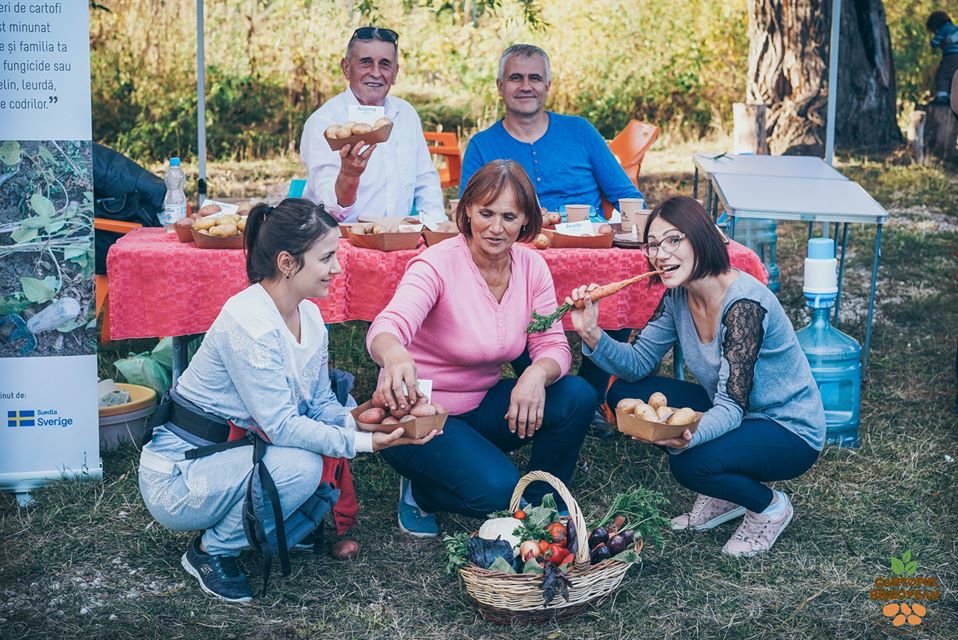 Dear Friends,
As many of you may already know, Eco-Village Moldova is situated in a small village in the heart of Moldova called Rîscova. Rîscova, despite its small size, is well-known in Chisinau public markets for its potatoes. After the success of our first annual Rîscova Potato Festival in 2018, we founded Cartoful Rîscovean, a cooperative that grows potatoes without the use of insecticides, fungicides, or any chemical fertilizers. The cooperative is made up of Rîscova locals, and for today's report, we interviewed one of the producers, Aurica.
Although originally from the village of Cocieri on the other side of the Dneister River, Aurica has been living in Rîscova for over three decades now. Aurica married a local from Rîscova and has two children who have since moved away after starting their own families. Prior to the project, Aurica could often be found tending to the fields and taking care of things at home.
"I joined Cartoful Rîscovean for a number of reasons, but from the top of my head, I'd started to become more interested in learning about ecological agriculture recently, especially after more and more interactions with Eco-Village [Moldova]. My primary motivation is for produce that goes to our children's table to be healthier, so I wanted to learn how to grow more natural potatoes and other crops [to create that] healthier society."
Aurica was one of our first producers and to this day, is one of our most enthusiastic producers. Prior to joining the collective, Aurica and her husband had been selling potatoes at a farmer's market in the city; now, through Cartoful Rîscovean, they sell at an ecological farmer's market. Growing potatoes more naturally has not always been easy for the local producers, and there have been some growing pains in the switch. In order to help guide them through the change, we brought in an expert in organic agriculture to help the producers.
"Producing natural potatoes is quite difficult, without the use of insecticides, it becomes a lot of work to deal with the [Colorado potato] beetles. Especially when everyone else uses insecticides, the beetles come to our land more often. Despite that, the expert and the coordinator [for Cartoful Rîscovean] have both given us a lot of encouragement and help. In fact, through the project, it has been significantly easier for us to find buyers and we have been able to sell our potatoes much more easily."
Outside of the project, Aurica has expressed greater interest in learning about more ecological agriculture and permaculture, so she has recently joined us at the Eco-Village to help in our garden.
"I've learned a lot from working in the garden at Eco-Village Moldova as well. Mostly, I've learned about many different types of produce that I'd never seen before: sweet potatoes and different types of leafy greens, like kale. It has been great learning about different methods of growing vegetables and plants and how they interact with one another."
Aurica and her husband have agreed to continue with the Cartoful Rîscovean project and at the Eco-Village. Although new, she has already made a great impression with her friendliness and diligence and we look forward to her company for years to come.