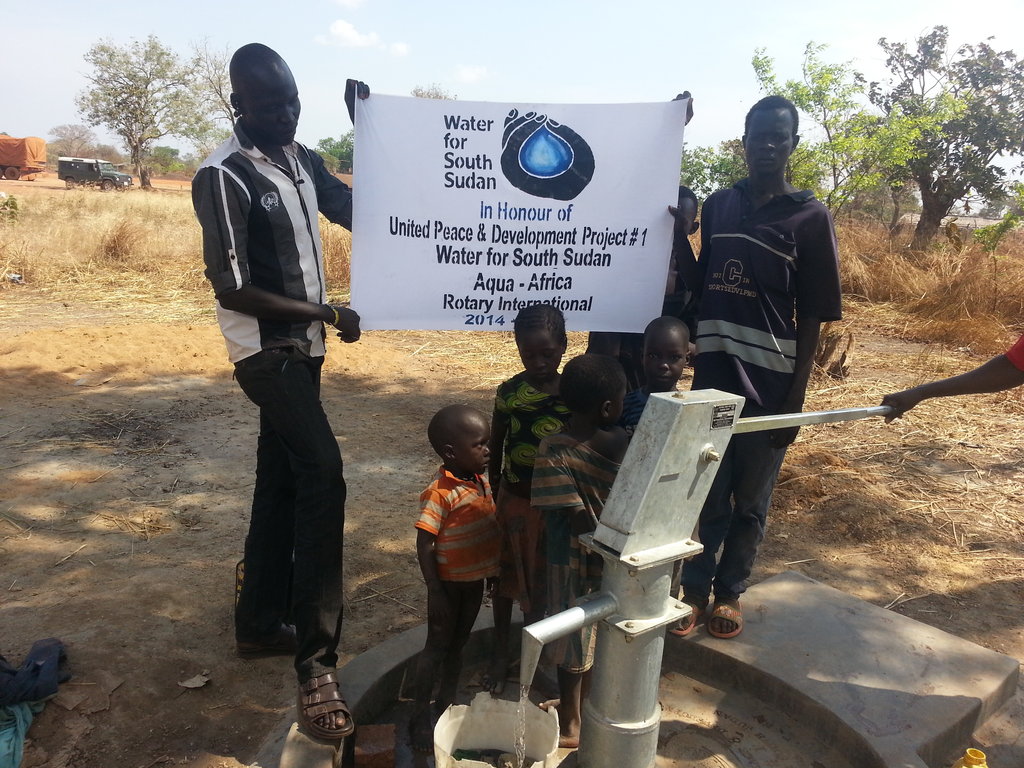 Dear Friends of Water for South Sudan:
Thank you for your support!
Thanks to the generosity of donors like you our work in South Sudan continues. Donations for our GlobalGiving well continue to come in, and we are moving closer to our goal of $15,000 to sponsor our GlobalGiving well. Each well we drill serves an average of 1,500 to 3,000 people. When a village gets a well, life improves on every level. Clean water means better health for all, especially pregnant women and young children. A well frees women and girls from having to walk miles for water each day; and clean water helps everything grow- from markets and schools to medical clinics.
News from our Operations Center in Wau, South Sudan
Our team spent the fall intensively preparing for the 2014-15 season, repairing vehicles and equipment, procuring parts and supplies, and working on improving efficiencies at all levels of our operations.
The hard work of the fall paid off and our drilling team was able to begin drilling in December, and has now completed the first seven wells, on our way to a goal of 40 for the season. Three of these wells are for our ongoing United Peace and Development Project (UPDP) with Aqua-Africa. Working with Aqua-Africa, we have now drilled seven wells for this project, and plan to drill three more this year. The UPDP aims to bring Dinka and Nuer people together, through the leadership of Salva Dut of WFSS (of Dinka heritage) and Buey Ray Tut of Aqua-Africa (of Nuer heritage). Both men see themselves as South Sudanese first, and are committed to helping their young country grow and develop. Wells are being drilled for the UPDP in both Dinka and Nuer areas.
WFSS Hygiene Education Team
Our hygiene education team is ready to start its second season of teaching people the importance of cleanliness and how germs and disease can spread. The team now has its own vehicle and can travel at a pace that allows for full training in each village. Up to 8 people (4 men and 4 women) are trained in each village and can then train others. This vital hygiene education helps us to extend the impact of clean water in the remote villages in which we drill.
WFSS Evaluation of Wells
WFSS board member Angelique Stevens has just left Rochester, New York to travel to South Sudan to begin our first formal evaluation of wells drilled. Angelique will be visiting many of the first wells drilled by WFSS to determine how the wells are functioning, and to see the impact of clean water on a village and its people.
Where We've Been. Where We're Going
WFSS has now drilled 224 wells since 2005. The first year we drilled seven wells, using a contractor. This past year we drilled 40 wells with our own crew and equipment. It is estimated that our wells are providing clean water to over half a million people. We are committed to helping the people of South Sudan transform their lives, and helping the young nation of South Sudan develop. Thank you for being a part of our community.
Links: