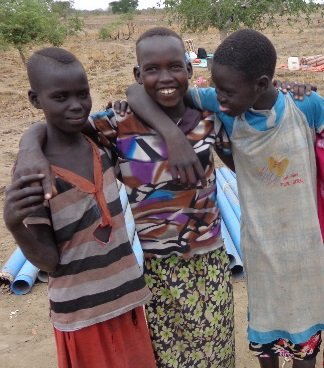 Dear Friends of WFSS,
Thank you for your continued support. Thanks to donors like you, WFSS can continue to change lives in South Sudan-- helping young girls and women have more to life than walking for water, helping young children survive the critical first 5 years of life thanks to clean drinking water, helping villages to grow and thrive, and helping a young nation begin to develop, one well at a time.
As one drilling season ends, planning for the next one begins. The WFSS team, in the US and South Sudan, began planning for the 2014-15 season in June, with operations meetings at our headquarters in Rochester, NY. Our South Sudan team of Salva Dut, Ater "Lion" Thiep and John Mourwel had extensive meetings with our tireless COO, Don Fairman, and with our board of directors.
Team members debriefed on the 2013-14 season, and made recommendations on improvements for the following season operations. Keeping our drilling equipment and vehicles in good running order is always a top priority as they identified the most urgent repairs and replacement needs.
Looking ahead to 2014-15, the team will once again consult with county officials in Western Bahr el Ghazal and Warrap States in South Sudan, to identify which areas we will drill in. Once the drilling areas are identified, the assessment process will continue, as our team meets with village chiefs in the designated areas. WFSS does not determine final placement of a well. Rather, we leave that decision-making to the village chiefs because the well will ultimately belong to the villages.
Part of WFSS's success, over 10 years, is our on-the-ground leadership in South Sudan. The WFSS management team in South Sudan is four former "Lost Boys" who are now all dual US-South Sudan citizens. Their familiarity with local people, languages and customs helps at every step of the process, from discussions with village chiefs, to working with villagers to drill the well, to training chosen villagers who will maintain the wells once WFSS leaves.
Since 2005, this comprehensive process has allowed WFSS to drill 217 wells, bringing access to clean water to over 500,000 in South Sudan.
In addition to our drilling team, WFSS will continue with the newly formed Hygiene Education Team, started in 2014. This year the team will travel independent of the drilling team, so that each team can move at its own pace, and maximize our impact.
Finally, WFSS will continue the second year of the United Peace and Development Project, a collaboration with Omaha-based Aqua-Africa, led by Buey Ray Tut. Buey, of Nuer heritage, and WFSS's Salva Dut, of Dinka heritage, came together last year to drill 4 wells on behalf of both organizations. Historically the Nuer and Dinka have been in conflict, but Salva and Buey come together as South Sudanese, to show their countrymen that working together is the best way to help their young nation develop. Last year the wells drilled were in Dinka areas. This year we plan to drill in Nuer areas.
We look forward to another productive year of drilling wells, spreading the message of hygiene education, and helping to transform lives in South Sudan. Thank you for your support and contributions. We couldn't do it without you!
Sincerely,
Lynn Malooly
Links: