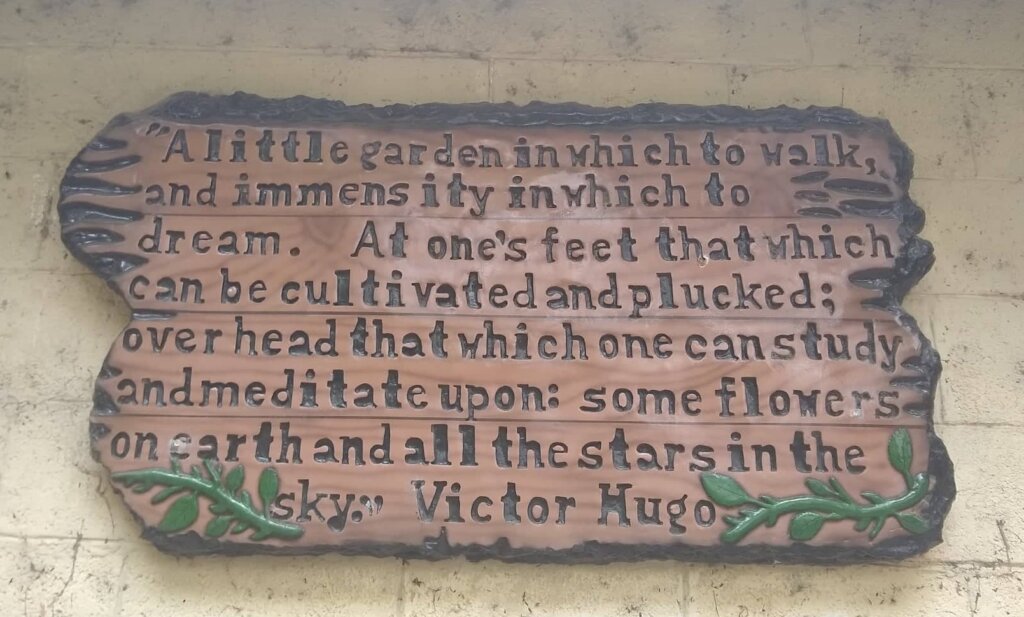 Good morning from Guatemala,

That is a cool subject, right?!

Well, there is a lovely story behind this piece of art.

It was handmade by a father of two students who are currently attending our school here in Antigua Guatemala. Saul is his name. He has worked at many things over his life but found out that he had a skill in working with fiberglass and plastic carvings and now is engaged in this work fulltime. His market of course is slightly higher-end than the regular construction work he had been doing and it is also not a taxing on him physically.

This quote by Victor Hugo has been a favorite of Debora's and we commissioned it from Saul for the garden on our property here where it has hung, unfadingly, for some years now, as the overriding theme of this little space full of song birds, orchids and palm trees.

Saul's two children, Michel who is 9 years, and Amy who is 7 years have been attending our programs for almost 5 years. They are, as with each of our families, thrilled to be a part of our work, are very appreciative for the education they are receiving and for the food basket we are able to afford for their family because of our sponsorship programs.
Other recent highlights: Our April 50% Match week and we started with a goal of finding 150 unique donors. We found 250! Yes, 100 more than we had set as our team goal. This outpouring of support for our work here in Guatemala landed us in 9th place overall (of 5,500 organizations participating) and also earned us Match Funds of $4,800 for a total gross receipt on the week of $16,000!! We also brought in 11 new monthly donors during this match week (WOW!).
And the President of Guatemala spoke recently and is dropped most mask mandates but sadly did not mention the schools which are currently allowed to operate but with strict controls on occupancy. We measured our spaces and are following the current rules which is allowing us to have 14 students at one time in the school. We are also working with the hybrid model that is being used in public school whereby the student get some tuition in-class and the rest is homework. We are awaiting further updates in May.

We would like to wish you a happy start of summer and we will be in touch soon with more news.

With love and respect,

Mick, Debora and all the students and staff
of Integral Heart School Guatemala.


About us:
Integral Heart was founded in 2011 by Mick Quinn and Debora Prieto.
They had vacationed in Guatemala in 2009 and were drawn to its beauty but also felt compelled to respond directly to the potential they saw in the younger generations. They have lived year-round in Guatemala ever since.

The Integral Heart Family School is 100% crowdfunded. We currently have 225 individuals whose monthly and annual donations support our work. The core team of Sustaining Sponsors raises about one half of the total funds needed to operate our school and programs. The rest of the funding is raised in special events and in participation with our funding partner, GlobalGiving based in Washington D.C.

Education is the heart of our work. Our school is home to 65 children receiving classes in Spanish, English, Psychology, Human Rights, Homework Help, Art and serves 1,500 meals monthly. Since 2011, our programs have delivered classes and support to over 1,200 students and their families in Guatemala. We also provide over a food basket to each of our 45 sponsored families.

Photo updates of our work:
We update our photo albums twice per month here:
https://www.facebook.com/integralheartfamily

5-year Dream Plan: We are saving to buy/build a school which incorporates our existing educational programs and an animal rescue center. Imagine, One Child - One Animal :-)
If you would like to see our plans for this, click here :-)
https://www.integralheartfoundation.org/DreamPlan.pdf