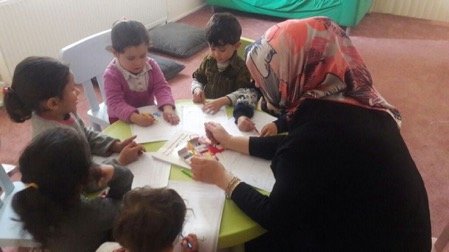 Bridge to Turkiye Fund (BTF) is one of the few US based non-profit global organizations providing funds for the education of refugee children who have fled from Syria's civil war. In 2017, BTF invested about $35,000 for the production and distribution of a preschool education kit called "Getting Ready for School". The original kit was developed in Turkish by Assoc Prof. Dr. Selcuk Sirin from New York University and BTF translated the kit into Arabic specifically targeting the refugee children educational programs. Since its launch in mid 2017, BTF collaborated with 4 different NGOs serving refugee families and children to distribute these kits and make an impact for their gap years in education.
In this edition, we will share our partnership for the program with YUVA association. We developed our philantrophic bridge with YUVA in the first year of our Syrian Refugee Children program in 2015. That year, we supported/provided 100 youth refugee children in their community centers for 6 months in vocational training & Turkish language education.
Briefly, Yuva is a non-governmental organization which is based in Istanbul and operates community centers providing services for both Syrian Refugees and Turkish people. YUVA has two main programs, Earth Citizenship Program and Syrian Refugees Program. The main objective of Syrian Refugees Support Program conducted since April 2013 is to empower Syrian community and the local people through non-formal adult education. They developed and implemented a psycho-social support program especially for Syrians' emotional and cognitive well-being, to improve and strengthen their professional skills through vocational training and income generating activities. By including 2 ethnic populations, Turkish and Syrian people and participants in their programs, they increase the dialogue, empathy and solidarity between Syrian refugees and the local people.
YUVA has Community Centers where they provide community protection and social services such as case management, social counseling, legal aid, and language courses; computer training; skills development courses; vocational training. BTF provided 1000 education kits for them to use in their Nizip (400 kits), Kirikhan (300 kits), Konya (100) and Umraniye (200 kits) Community Centers. We received a lot of great feedback for our kits from Tolga Gulec, Manager of Communication, Ebru Acikgoz, Coordinator of Educational Programs and Teachers. We are happy to report the following feedback with our supporters.
The educators used the kits with the kids ages between 5 -12 who were out of school in Turkey for many social and economic reasons. Even though the education kits are designed for pre-school /kindergarten students, they used these tools with much older children whose cognitive and motor skills fell behind their age group peers.
They structured and conducted 45 minutes long lessons by using the education kits and enhanced children's learning adventures by adding daily themes to the activities. Teachers said it was easier for the children to learn colors, numbers and shapes with the drawings in the books and the designed activities.
Kids had fun as a group when they worked on the activities such as sorting, matching, memory and coloring skills. It was motivating for the kids who have poor fine motor skills to do crafts such as mask and hat making. Teachers further used those masks and hats in their other activities such as in drama activities.
Activity books and the story book were easy to read/understand and it attracted the children's attention from the very beginning.
We know one of the biggest challenges for an NGO in operating in this capacity is the lack of educational resources and tools to use in their activities. Teachers reported that the BTF's education kit helped the children in learning the key concepts easily and helped themselves as teachers to keep & increase their focus & engagement in learning.
As we entered into 2018, our support for Syrian Refugee Children continues. In the following updates, we will provide news on new partnerships and/or share ongoing projects with the existing partners from the field. With your support and care for refugee children, we have been able to sustain our support despite the decline of international humanitarian aid and interest. We want to thank YOU again for your kind support, and would like to acknowledge the power of GlobalGiving platform in enabling us to meet and our individual connection to serve them.
Hope you all have a great start of the year, and the new year brings new hopes, happiness and peace for the region and all the children in the world.
Bridge to Turkiye Fund!