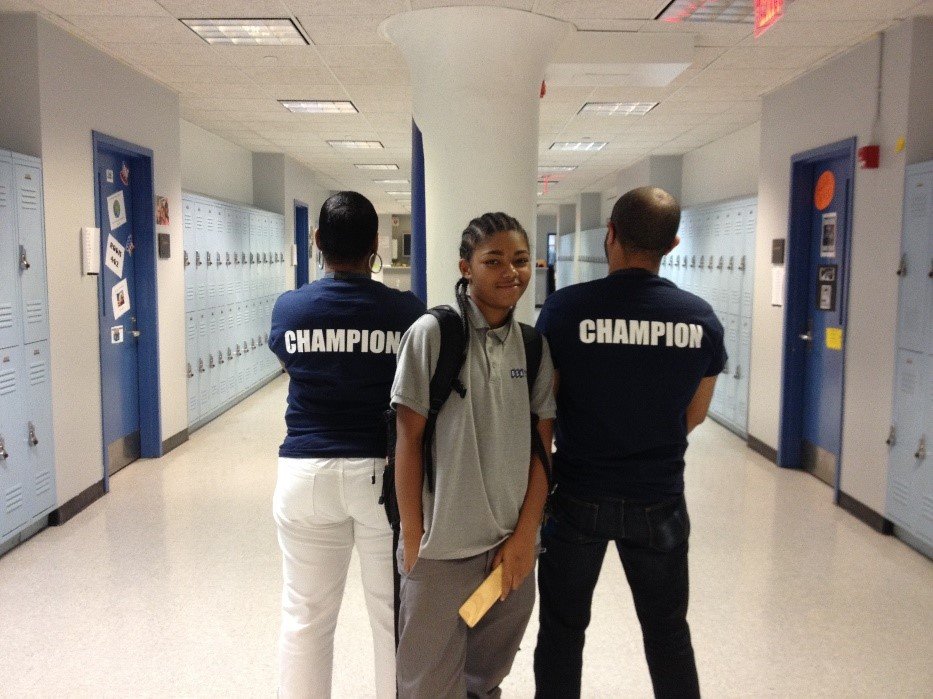 Hello Supporters! Can you believe it? Broome Street is gearing up for our 4th year! The 4th anniversary marks the first year of having all 4 grades AND a full senior class. With the highest attendance rate in the history of the school, the largest staff yet, and tons of new programming, our Champion Year is gearing up to be our strongest yet.
#Champs
Along with our Champion Year comes the Champion Program. This program matches up each BSA student with a personal staff mentor. Staff members consistently meet with their champions to nurture the specific needs of the students and keep them on track. Because each student has at least one strong personal connection with a staff member, every student has the time, attention, and support they need to work through specific struggles and find their greatest strengths. Having a positive connection between students and adults decreases bullying, lowers drop-out rates, and improves social emotional capacities. With this additional layer of support our Champion Year is looking bright!
BSA Scores Big
Soccer has arrived at BSA! A few months ago, with the help of supporters like you, and the Dick's Sporting Goods Foundation, we raised enough money for a girls and a boys soccer team. The Broome Street Academy Warriors laced up their cleats for their very first season, and what a season it was! BSA took on other NYC Charter Schools, and kept up with even the toughest teams in the league. Our girls even tied one of their final games! For some of our girls, this was the first sports team they have ever been on. Our coaches were impressed with the commitment, dedication, teamwork, and strength the girls showed, and were especially proud of how those skills followed the girls from the field into the classroom.
Girl Rising
Our friends at Bobbi Brown Cosmetics reached out to us about an inspiring film they have seen and wanted to share with our students. The film is "Girl Rising" and follows the stories of nine girls from developing countries as they overcome great social and cultural barriers in order to get an education and improve their lives. The Bobbi Brown team not only recommended the film, but set up a screening for us! The dance studio was transformed into a movie theater, complete with popcorn and snacks, and both male and female students packed the room to watch. We were lucky to have a Girl Rising staff member join us after the film to an exclusive Q&A session with us. Students asked questions about making the film, and where the girls are today. BSA history teacher Mr. Lewis then encouraged the students to share their feelings after viewing the film. Overwhelmingly, the students said the film made them realize they take for granted what they have at home and at school – that despite their tough situations, at the very least they have BSA and our staff to support them.
As always, we sincerely appreciate your interest and support of BSA. Visit our website and join our mailing list to learn more about our school and stay up-to-date on all that we're doing.