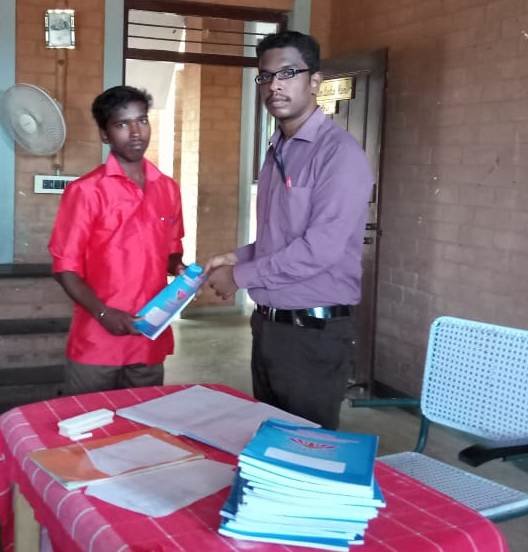 Your contribution to our project through Global Giving has a huge impact on the educational support for the rural children of our locality at large. We see this as a new beginning and believe more progress is possible which upshots a future full of promise and hope.
We take this wonderful opportunity to sincerely thank you for your continued support in this project (Educating for 100 poor rural children in India). Your kindness and generosity has enabled to reach out to the students who are in need of our help.
Through our programme we have been able to reach this targeted population, poor, less educated, early school drop outs to progress and change their standard of living in this society.
For the academic year 110 youth are been enrolled to hospitality courses. The funds raised so far through the Global Giving platform have helped us provide students with free lunch, travelling allowance and their required educational material.
True story
Manivasagam's father passed away when he was three years old. Her mother is working as a labour for a daily wages. His sister is in grade 9. His mother is the breadwinner of the family. Due to financial short comes; Manivasagam was demanded for early employment to support the family. In spite of their hardships his mother was interested in educating her kids.
"I was very interested in pursuing Hospitality Course but the only drawback was the distance from my residence to the institution which I felt will be an added burden to my parent. The orientation given by SPPD team, "Earn while you study" had drawn my interest to this institution, and now I'm pursuing Hospitality Course.
I'm thankful to the donors for their support. The free lunch, travelling allowance and educational material support offered has considerably lessened a part of the educational expenses to be met out by me," says Manivasagam.