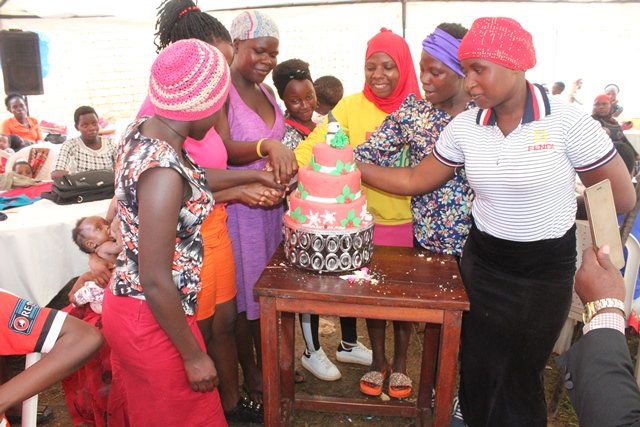 Some of the teenage mothers cutting the Christmas cake.
Being a parent no matter the age or situation in life, the birth of a child or children brings brand new responsibilities and a greater demand for time, energy, money and relationships. For teenage parents, often the cost can be greater than those who choose to have their children later in life. Most times teenage girls suffer the consequences of becoming parents in the teenage stage because the men deny to take responsibility as fathers. Teenage pregnancy and being a teenage mother often has a negative impact on the future of the teenager because the teenage mother is less likely to complete school, are at risk of domestic violence since they get into unwanted marriages, face isolation by their peers; some are looked at as a disgrace among their families, experience fear, anger, shock and depression. Looking at these negative consequences, the esteem and future of a teenage mother is largely affected and are more likely to live in poverty which affects their children as well.
On the left are some of the gifts being packed and on the right is one of the teenage mothers receiving her package.
Another Hope Children's Ministries (AHCM) decided to bring a smile on teenage mothers in Lukwanga and Bukasa parishes by organizing a Christmas party for them on 14th/12/2019 at AHCM premises and the main reason was to build the esteem of the teenage mothers and finding out other ways of supporting them in the community. A total of ninety teenage mothers and pregnant girls were served and among the activities carried out were motivational talks, celebrating their birthdays, celebrating their children's birthdays for those who had birth dates in December and a baby shower for the ones who were pregnant. We had a Christmas cake for them and special packages which included a variety of items for each of them. This was a special day because it was successful and the targeted group of the ninety teenage mothers was so happy because it made them feel loved, important and their esteem was built again. We also got to know other ways of supporting them like through vocational education because many of them wanted to go back to study but had no opportunity. Special thanks to GlobalGiving and other partners for working with us to see that the project is successful.
Success story.
One of the beneficiaries is an 18years old girl, a resident of Kkona-West village with one child. She finished her senior four and her parents ran short of funds to take her back to school to continue with her studies. She dropped out of school and stayed home. This is when she was deceived by a man who impregnated her and fled. This made her parents angry who neglected her and this left her hopeless. She thought of aborting her child but changed her mind and decided to carry the pregnancy till birth. Her peers shunned her and she felt unwanted in the home and the entire community. She apologized to her parents who took her back but her self-esteem was low from that time and never felt she was important anymore before she came for the Christmas party. 14th/12/2019 made a difference in her life after hearing from the motivational speakers and some of the stories her fellow teenage mothers shared were so touching which made her feel her life is better than some of them.
She also got a cake and it was a special gift because she wanted to celebrate her child's birthday but had no money to afford a treat for her child. She also got to know about the opportunity to go back to school for vocational training which she believes will help facilitate the acquisition of critical skills which will help empower her economically if she could grab it. She is so happy that day happened and thanks all who made sure it happens.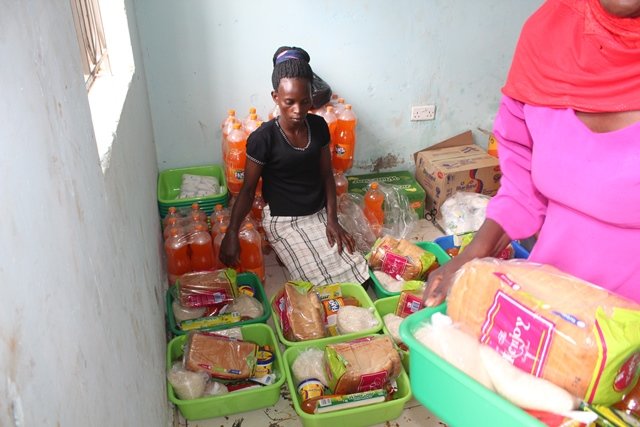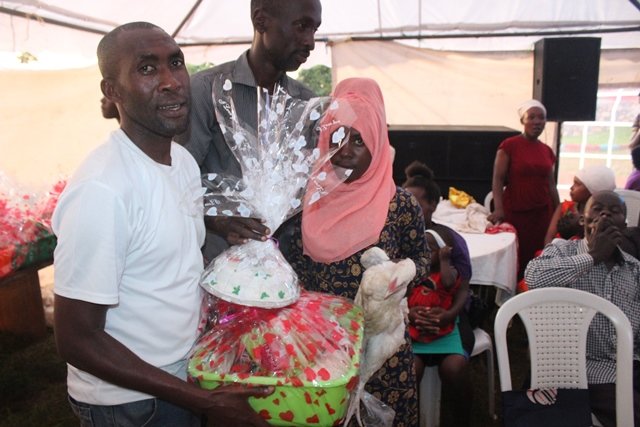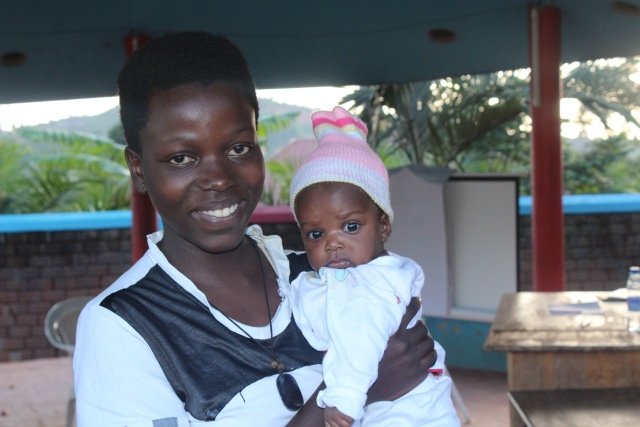 Links: