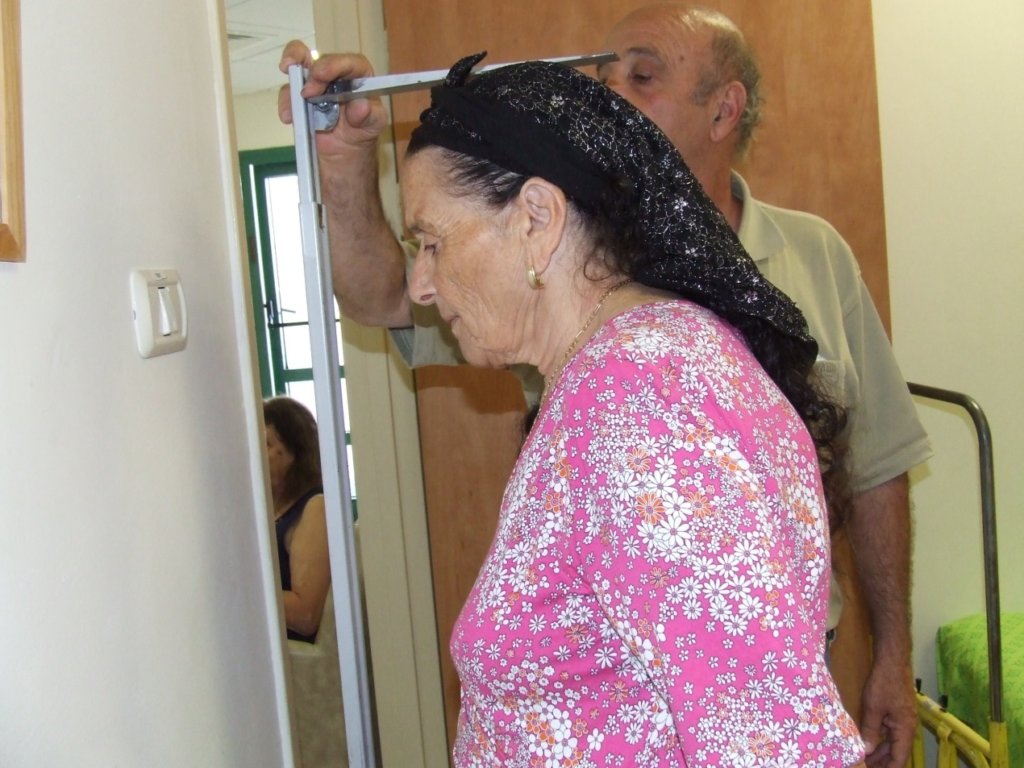 Mobile Center Goals
The goal of YEDID's Mobile Citizen Rights and Health Center is to empower and strengthen residents like Noami (story below) living in Israel's socioeconomic and geographic peripheries in the areas of health and social rights. The Center's objectives are to help clients navigate the national health system; to provide preventative medical services; and to supply information about legal rights and social benefits in the area of health care and housing and National Insurance among other rights.


The Story of One
Naomi (not her real name) is women in her sixties. She visited the YEDID Mobile Center when it was stationed in Haifa. Naomi receives Income support from the National Insurance Institute and she works 10 hours a week through a contract agency doing in-home-care.
Naomi worked with this agency for over three years. Before she began working she successfully completed the agency's mandatory course on in-home-care however the agency did not give Naomi her competition certificate, which she was entitled to receive. For three years Naomi has been asking the agency to give her the certificate but the agency has not responded to her requests.
Recently the agency dropped the amount of hours she was given to work. Naomi could not survive on her meager new salary even with the income support she was receiving. To make matters worse she was not able to look for work at another agency because without her certificate she could not show that she had already passed the required course.
Naomi in desperation turned to the YEDID mobile center. The center's director Irena Luria took up her case. On Naomi's behalf Irena called up the manager of the contract agency and explained the situation. The manager admitted that the agency had made a mistake and promised to send the certificate as soon as possible. Two weeks passed and the certificate had still not been sent. At this point Naomi sent a letter demanding the agency send Naomi the certificate without further delays. That day Naomi received a call that the certificate was ready for her to pick up.
Finally she was able to look for new work and improve her living situation, thanks to the wonderful work the YEDID Mobile Center.
Mobile Center in Numbers
CLIENT CASES:
From the beginning of January 2016 until the end of March 2016, the Mobile Center provided 121 clients with rights counseling. The most prevalent subjects for which people turned to the center for non-health related issues during this period were matters related to debt and repossessions (25%), problems in accessing benefits and rights from the National Insurance Institute (Social Security) (21%), issues concerning public housing and mortgages (20%),and issues concerning labor rights (10%). Clients served included immigrants and veteran Israelis, Holocaust survivors, Arabs and Jews. 62% of those who turned to us during this reporting period were women.
HEALTH DAYS:
Another focus of the mobile clinic are the "Mobile Health Days," which provide adults with preventative health care. These days are generally run in residential care facilities, including assisted living facilities, and "old age homes." These days have strong positive benefits for the participants; many clients who turn to the mobile center for preventative health care will also receive assistance on accessing their rights and benefits and vice versa. During the last three months there have been 15 health days and 1017 adults have been given a health check. For the aged access to these medical checks can be lifesaving.
Future Focus
The director of the mobile center is working hard to reach out to new centers in order to offer the mobile health days to the maximum number of residents, and build cooperative working relationships with these mainly private older adult centers and hostels so maximum amount of people will hear about and benefit from our work.
It's all thanks to YOU

The Mobile Health and Rights center is unique and presents a promising "vehicle" through which high quality, cost-effective advice and care can be delivered to clients, especial­ly in underserved areas
Without the generous support of donors like you we would not be able to continue this important job, so on behalf of YEDID's staff, volunteers, and clients thank you for helping us give the immediate and essential assistance that the center provides to individuals in peripheral towns across the country!