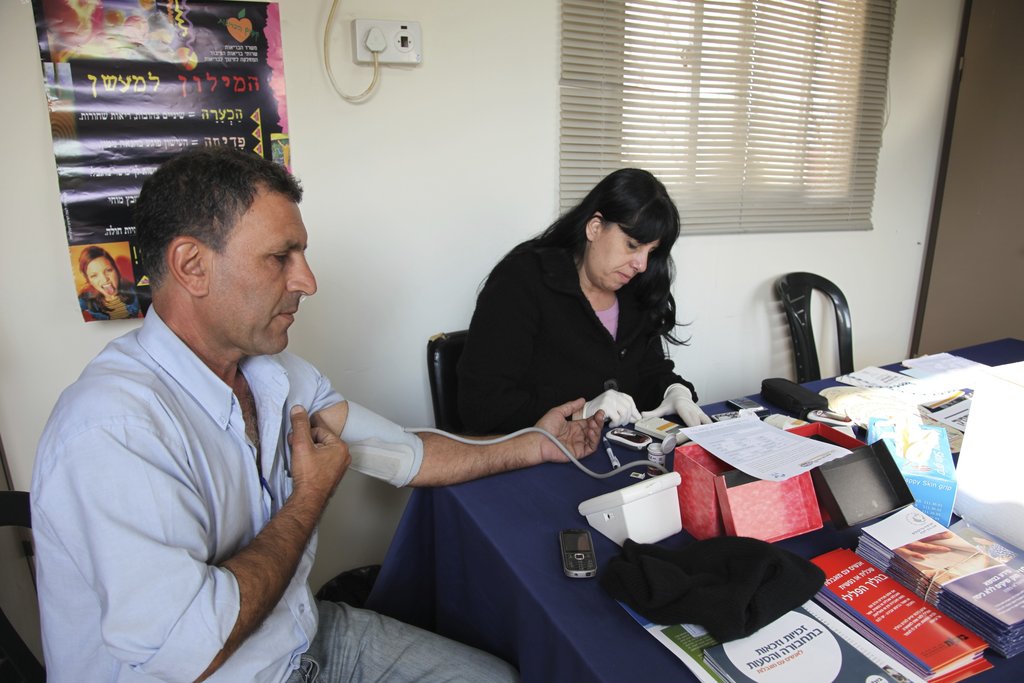 YEDID's Mobile Health and Rights Center travels the country to provide free, essential preventative health care and rights counseling to people living in the country's geographic peripheries and inner-city slums. The center runs Health Days in these different locations. When possible, the center coordinates with local facilities in order to work out of an actual room; otherwise, center staff treats clients from within the Mobile Center.
The center has two paid staff members - the center director and the driver - as well as five volunteers located in different areas of the country. These volunteers bring with them their own areas of expertise and life experience: one is fluent in Russian; one is a lawyer; one is a law school student; one is a pensioner and one is an empowered former client. The volunteers undergo regular trainings in relevant areas in order to ensure that the services YEDID provides are effective.
Since December 1, 2012, the Mobile Center has run 11 Health Days in Rechovot, Petach Tikvah, Emek Yizrael, Even Shmuel, Lod, Nazereth, Haifa and Afula. The center has provided 846 clients with preventative healthcare checkups and treatments, and has provided an additional 162 clients with rights counseling on navigating Israeli bureaucracy and accessing rights and benefits. The most prevalent subjects for which people turned to the center for non-health related issues help were matters related to public housing, debt management and dealing with the National Agency for Debt Collection, and obtaining benefits from the National Insurance Institute. Clients served include immigrants and veteran Israelis, Arabs and Jews. Some Health Days are geared towards targeted audiences: Holocaust Survivors and low-income factory workers.
There are many stories to tell about the clients who turn to the center for help. A particularly lovely example concerns a 28 year old paraplegic woman who turned to the center at the beginning of January. Rachel is completely cut off from her family, and is seeking to live her life to the fullest as an independent individual. She has done extensive volunteer work, putting a year and a half in as a volunteer for the Israeli Defense Forces, as well as numerous years of service at a nursery school for children with severe disabilities and at a center for disabled veterans. On account of her disability, Rachel is entitled to public housing immediately; yet because of the scarcity of available public housing units, she has been on a waiting list for the last TWO YEARS. At this time, she is living in a hostel, the fees for which devour nearly all of her disability benefits. Her situation is impossible.
The Mobile Center director recognized the urgency of the situation, and turned the case over to YEDID's Deputy Director. He immediately placed a call to the Ministry of Housing to demand that progress be made immediately on her case. He was stubborn and persuasive, so much so that four weeks later, the Ministry found Rachel a ground floor public housing apartment in Kiryat Chaim. She visited the apartment and agreed to take it.
The Mobile Center's plans for the coming months are to continue running Health Days, to recruit more volunteers with specific skills such as fluency in Arabic and Russian, and professional experience in relevant fields.
On behalf of YEDID's staff, volunteers, and clients, I thank our supporters for their partnership. The immediate and essential assistance that the center provides to individuals across the country could never happen without your help. Thank you so much!
Links: