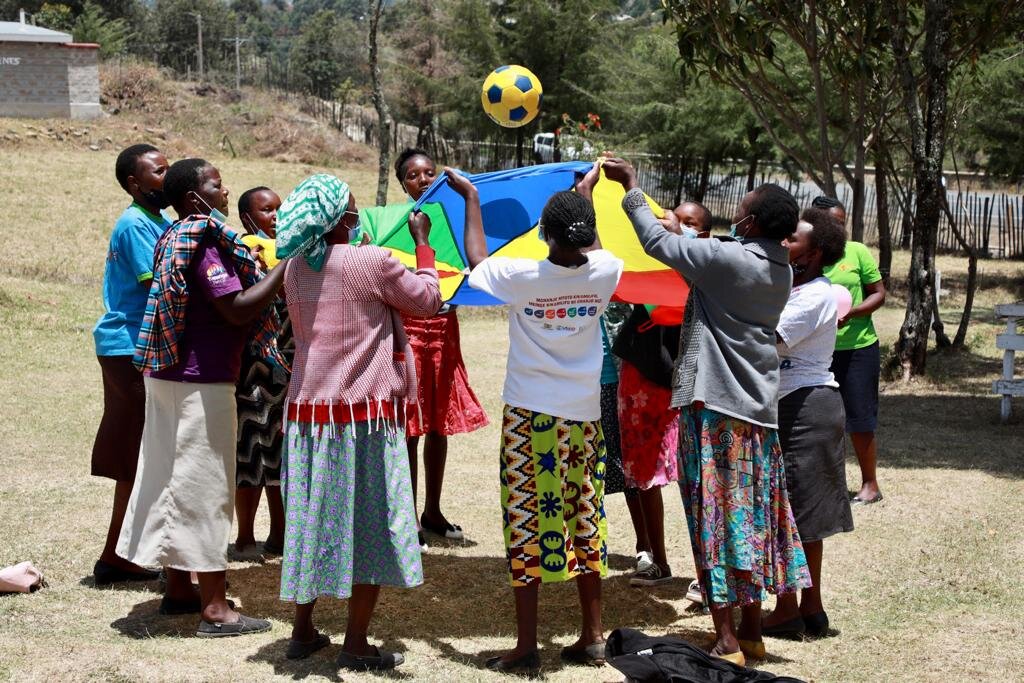 We would like to thank you for supporting this project set up for International Women's Day which this year was all about raising awareness about gender equality #BreakTheBias.
This is a day to celebrate women's achievements, raise awareness against bias and take action for equality. We did this by organsing events across the county to bring women and men together in a safe and welcoming space. In total 432 people took part from 17 different community units. Balloons and parachutes were involved to break the ice and have fun! A welcome break from the hard working lives these women lead. The women shared with each other their success stories, challenges, lessons learned. Coming from different backgrounds, they shared ideas and skills which offered encouragement and inspiration to each other.
The talked about the challenges they are facing and looked at how these challenges can be turned into change for the better. They talked about why it is important to talk about these challenges and how raising awareness in their communities will bring change leading to a more inclusive and gender equal world.
They heard about the programmes that Brighter Communities Worldwide have to offer them. Our staff and volunteer team came away from these events with a list of actions that include - responding to requests for specific programmes, more trainings for ambassadors in sexual reproductive health and rights and more sanitary kits for vulnerable girls and women in different villages.
#BreakTheBias International Women's Day focus doesn't stop here - it continues all year across all of our programmes. We have a gender focus to engage the whole community in the issues and challenges facing girls and women and how these can be overcome.
We are now going to retire this project and re-direct your support to another project where your donations will continue to support girls and women. If you have a recurring donation set up you don't need to do anything, your donations will automatically move to this project.
As we write, Kenya is in the grips of another surge of postive case of COVID-19 and with less than 30% of the population fully vaccinated this is a serious issue. We continue to do all that we can to lessen the impact this has on girls and women.
To finish, the staff team in Kenya shared this quote -"Feminism isn't about making women strong. Women are already strong. It's about changing the way the world perceives that strength." (G.D. Anderson)
Thank you so much for your support ensuring the strengthe of girls and women in the communities where we work is recognised and valued.