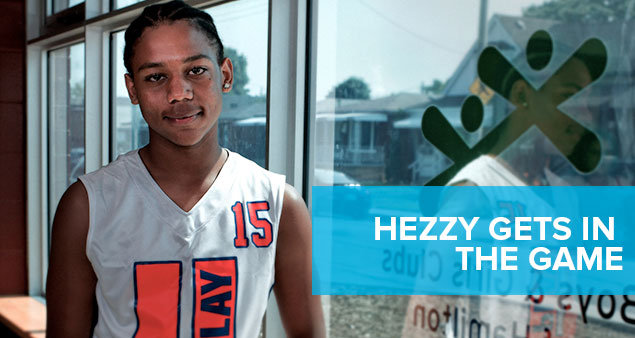 Thank you for your continued support! Boys and Girls Clubs across the country are very busy running programs and services for children and youth in Canada. A great example of a program that we offer is the Canadian Tire Jumpstart Get in the Game program. Please read about the program offered at the Kiwanis Boys and Girls Club in Hamilton, Ontario.
*****************************************************************************
Hezzy Gets in the Game
Getting a sporting chance with Canadian Tire Jumpstart
When 7-year-old Hezzy watched his older brother play drop-in basketball at the Kiwanis Boys and Girls Club in Hamilton, he knew this was the sport he wanted to play.
"I used to arrive at the Club before it opened, so eager to start playing," says Hezzy, remembering his first game 7 years ago. "Waiting for the staff to unlock the doors, I used to pass the time dribbling outside."
It didn't take long for the Hamilton Club to recognize that Hezzy had a gift that would open doors for him. By age 11, Hezzy's team had won 3 championships and he had been named Most Valuable Player by the Hamilton Basketball Association.
"When I was scouted by the Hamilton Wildcats Basketball Academy, I was really excited because I knew that competitive basketball is a big deal and you have to be at a high level to play in the Ontario Division. I was so grateful when they told me I made the team."
Now at the age of 14, Hezzy has recently made the Under 15 team at CIA Bounce. His U15 team competes against top high school teams in the United States and he has already played games in New York and Pennsylvania.
"I like exploring new cities and being on the road with the team," he says. "But I'm proudest of scoring 8 points in 30 seconds to help win the championship game by 3 points."
The 14-year-old rising star credits Canadian Tire Jumpstart Get in the Game for eliminating the financial barriers to competing at this level. Get in the Game provides funds and equipment to Boys and Girls Clubs so that members can enjoy the benefits of organized sports and physical activities, even when family budgets can't stretch enough to cover these costs.
Canadian Tire Jumpstart Get in the Game is currently offered at 13 Boys and Girls Clubs across the country and has helped more than 5,000 children and youth get in the game.
Looking to the future beyond high school, Hezzy hopes to play college basketball in the United States. "Just being able to play at such a high level would really pay off," he says, and it doesn't matter which college team he might play for. Glenn Harkness, Executive Director of Kiwanis Boys and Girls Club in Hamilton says he believes Hezzy is on his way to the NBA one day, like Boys and Girls Club alumni Anthony Bennett—the first Canadian to become a #1 NBA draft pick.
"If I didn't go to the drop-in program at my Club, I wouldn't be where I am now," Hezzy adds, as he heads back to the basketball court for practice. "Everybody was always so nice and the coaches were great. I have to thank all of them for helping me along the way and lending their support."